This article is written for wedding venue businesses, but the tips apply to any wedding business/industry.
When you're the owner of a local event venue, there are many best practices to consider in your venue marketing strategy. Knowing where and how to start can be hard when you have so many options. Word of mouth can only get you so far; you need a strong online presence to get more wedding clients, brides, and couples.
We'll talk about the strategies that work for some of the most successful venues in the wedding and event industry and provide some helpful tips on finding success from one of the top marketing experts in this field!
Do you have a wedding venue marketing plan?
You know all the basics already, right? Have a great website, attend the stuffy wedding expos, join all the wedding directories, reach out to wedding vendors, post to social media platforms and have a social media presence, post blogs, blah blah blah.
But have you ever taken the time to write out your venue marketing strategies including how to nail your target audience (millennials and gen z), how to dominate your location (search results) on Google local listings, and even how to appeal to those baby boomer parents (mother of the bride!)?
Honing in on your marketing efforts is a lot of work.
Let's focus on some of the lesser-known ways to boost your marketing so that this article ACTUALLY helps you! I will touch on some ways to improve your Google Business profile to get more leads.
1. Optimize your Google business profile like your life depends on it.

22,700 views to Mountain House Estate's Google business profile IN ONE MONTH.

523 visits to their website from this profile! 534 even requested directions – Google only tracks the first action  (i.e. they could open in Maps, then open the website afterward or call, but I have no proof if they visited the website so I won't speculate here…but I can say they get between 9,000-18,000 site  visitors per month!)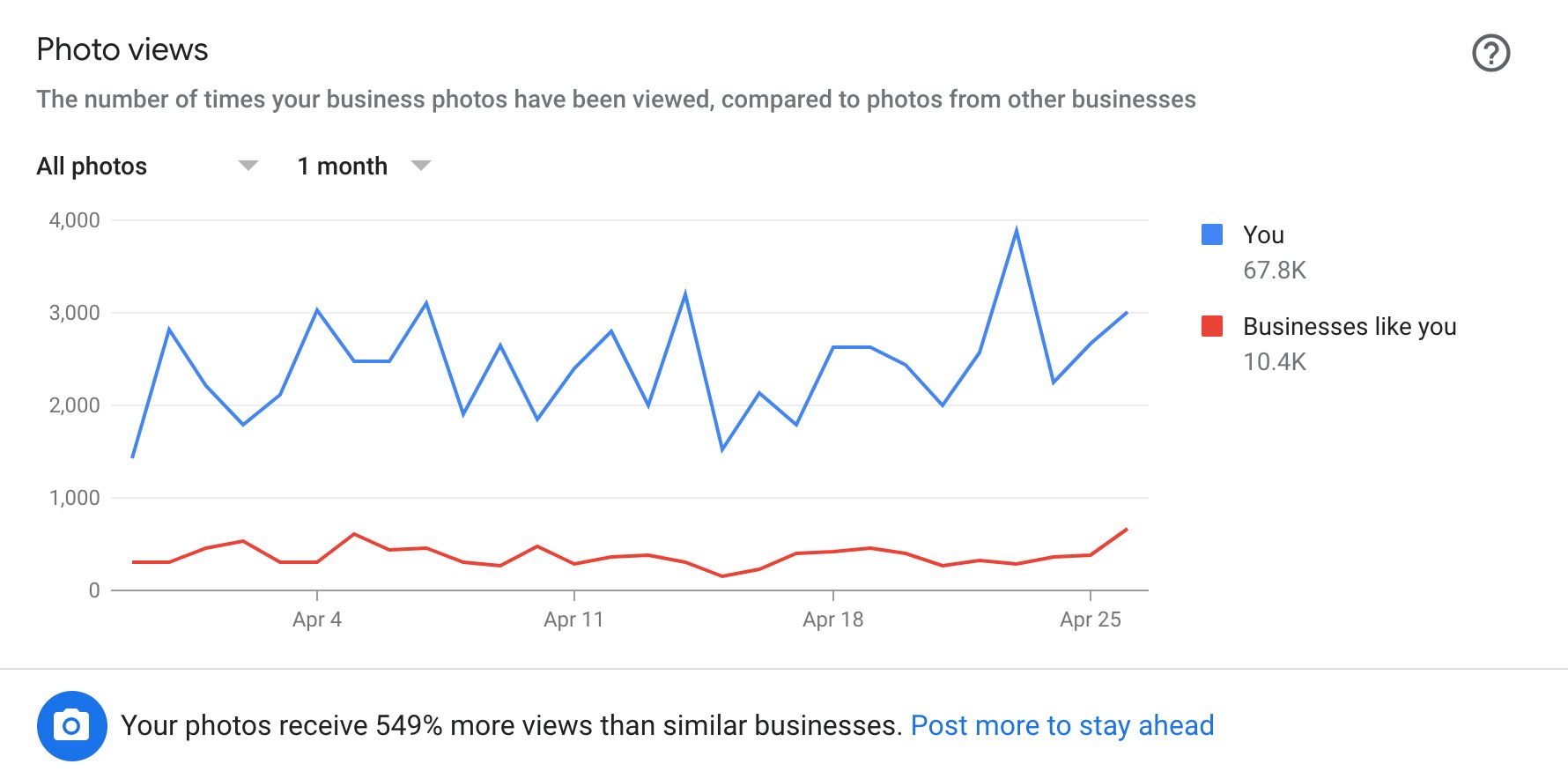 That's a lotta photo views!
You want to see your wedding venue get numbers like this, right? It takes a lot of work and some outside help, but it's achievable.
For starters, make sure you've added to every section possible – Google will give you recommendations, just run with it. Make sure e to add relevant keywords to your business description too.
2. Add 100 photos to your Google Business profile, then upload those 100 photos to your website (with the same metadata).
Studies show that if you have under 100 photos, your Google business wedding venue profile won't rank as well. If you have 100 images, your website will rank better. But don't worry about adding over 100 photos – the graph flattens out after 100! Be sure to add pictures of your logo, team members, interior and exterior images.
3. Optimize the Question & Answer section on your Google My Business profile.
You have a cousin, sister, aunt, or best friend, right? Have them visit your Google profile and ask at least ten relevant questions. Then, wait a few days and go in and answer those questions with relevant keywords.
Want to see that in action? Visit this link, which takes you to Mountain House Estate's Google Business listing. Then check out the Question & Answers section to get some ideas for questions and your replies.
4. Add your recent blog posts with optimized keywords to your Google Business Profile. 
Your wedding venue Google My Business profile is arguably more important than your website. Why you ask? When people search for wedding venues locally, Google shows LOCAL search results before organic page results (move aside, The Knot and WeddingWire!) Not only will more people find your profile if you add more posts to it, it'll also look more updated and attractive than your competitors.
The Knot and WeddingWire pay tens of thousands of dollars each month for SEO, so it's hard to outrank them – this doesn't mean you shouldn't work on your onsite SEO, by the way! More on that later.
5. Reply to your wedding venue reviews using strategic keywords. 
No one says it better than your past wedding couples, so ask them to leave you a Google review (the most crucial review platform). I  know, you're thinking "yeah, yeah, nothing new here." But here's two things you might not have thought to do:
Make it super easy for them by sending them a link to review right on the spot. Here's how to do that straight from Google:
On your computer, visit this link: https://business.google.com/.
If you have multiple locations you manage, open the one for your venue.
In the left menu, click Home.
In the "Get more reviews" card, you can copy your short URL to share with customers.
Reply to those reviews using strategic keywords, but don't make it sound iffy.
Google values authentic reviews and replies. So if you want to reply to a client who raved about how you offer the best all-inclusive package.
Your review could say something like: "Thanks, Emma! We're delighted to hear how much you enjoyed our all-inclusive package at Mountain House Estate because we've worked so hard to be one of the few California wedding venues that offer that! Thank you for taking the time to leave us such a sweet review."
Now let's talk content. I am NOT going to tell you to write about wedding trends or celebrity weddings – people can get that info anywhere. And don't get us started on Instagram or social media, you shouldn't be pouring money into those outlets.
6. Write about content relevant to your wedding venue, not generic content they can get anywhere.
Your wedding venue content should be original and not the same as other wedding blogs out there. You want to provide Millennials (wedding couples) with new ideas that they haven't heard of before, especially those directly relevant to your venue. For example:
What is distinct about your venue?
What benefits do you offer that others don't?
What are your unique selling points?
What are your popular wedding packages and why?
How do you work with the couple to make their day unforgettable and unique?
P.S. Make sure you do your keyword research before spending time writing blogs.
PRO TIP: However, if you have the budget for it, you can consider getting into more wedding planning topics, such as wedding colors, timeline, planning help, and more. It shows wedding couples that you are informed, online, and a thought leader in the wedding industry by posting these topics. Booking a property tour with you'll put them more at ease. But if you're starting your writing journey, write that cornerstone content that'll get more visitors to your website.
For example, we put together Wedding Planning Resources at Mountain House Estate. See more here: https://mountainhouseestate.com/wedding-planning-resources/
Here are some more best practices of marketing for wedding venues.
First off, with the market saturation of wedding venues, you're best off hiring a pro.
How do I market my wedding venue?
Ensure your website is the most beautiful and has as much information as possible. Millennials (and baby boomers) are judging your website. 'Nuff said.
Be clear about your wedding offerings and how it's different or better than other venues.
You can answer this by explaining any distinguishing features that your venue has and why it is a good fit for couples looking for these same things. For example, if you offer overnight accommodations with a welcome breakfast and most other wedding venue options in the area don't, you want to highlight this! You don't have to look far and hard to find what's best about your venue – head straight to your reviews! No one says it better than raving past couples.
Be creative! Show Millennials (wedding couples) what your venue is like through virtual tours and wedding photos.
-Post updates regularly about any new changes at the property or improvements that have been made to stay current with trends in weddings. Hint: use your Google Business profile to do this! You can cross-post to Instagram and your other social media accounts.
Consider posting content that you know your target audience (Millennials, baby boomer parents, couples) will want to see. We touched on this above, but I can't emphasize it enough! Don't spend too much time writing Instagram captions- no one reads them closely.
Give people a good reason to call or email by providing contact information and links on the website so they can quickly get in touch with your venue! Give them plenty of ways to contact you: call, text, email, schedule a tour (sync with your calendar), or fill out a form.
Don't force them to fill out a long form. Worry about filtering out leads once you start getting too many and want to trim down to quality leads – a common good problem to have that our wedding venue clients experience!
I hope you found this article useful and are already ready to market your wedding venue to brides and couples using these tips. Even if you don't have a robust marketing plan, this short list can help ramp up your wedding business. If you need any help or further clarification, don't hesitate to reach out to me!