The Best Practices for Wedding Venue Websites
Do you own a wedding venue? If so, congratulations! You are in the wedding industry which is one of the fastest-growing industries. In order to be successful, it is important that your wedding venue website reflects how awesome you are and what you have to offer.
Every wedding venue's website is different, but some mistakes seem to be repeated. This blog post will share the four most common mistakes people make on their wedding venue websites. Hopefully, you'll avoid these pitfalls and can update your site!
Mistake #1: Not Enough Info on the Home Page
What does your website do for me? Why should I be there? If you don't straightforwardly answer these questions from the get-go, people will bounce off your site faster than they can say "chia pet." The home page is your best opportunity to establish what's so great about this venue – and it needs to make an impression fast!
A hero video is not a great way to display info about your wedding. No one will sit and watch your hero video; they're already scrolling down the page to find more photos!
Not to mention, hero videos slow down a website tremendously. Find the very best photo that you have and make that your hero image. Then, overlay it with "your information (who, what, where)." For example:
Title (h1): The Magnolia Terrace
Subtitle (h2): A Secret Garden Wedding Venue in Frisco, TX 
The first thing people see when viewing your website are those big ol' thumbnails or photos. Make sure that each one tells a story or highlights something unique about this place; in other words, be descriptive as possible without getting too wordy.
What to include on your venue website
Your wedding venue website should include:
pricing
bookable site tours
catering menus if applicable
virtual tours
galleries
real weddings
helpful resources (like to help them with wedding planning)
easy contact info.
list of inclusions
Trusts us, engaged couples will appreciate it!
Besides, if you don't have your pricing upfront, do you want to deal with those tire kickers? I'm thinking no!
I hate to break it to you, but nobody wants to fill out a form to get a pricing brochure only to get bombarded with automated texts and emails.
It's essential to think about your engaged couples and what they need. They want an excellent, clean site that gives them all the information they're looking for – preferably without having to contact you first!
Including contact information on the website is not just helpful for customers: it can be invaluable in case of an emergency or any questions.
Your venue website's job is to sell engaged couples on booking their wedding at your venue and convince them why they should host the most important day of their life there.
Mistake #2. A poor layout that is hard to navigate
The second mistake is that your website has too many navigation buttons. Many wedding venues websites have a clunky menu bar.
Your main goal should be to provide information on inclusions, amenities, packages, pricing, and a contact form. Your website should have seven or fewer menu items; otherwise, it'll overwhelm visitors.
The third issue people often have with their website is not upfront about what package prices include or don't include. This includes amenities such as catering, alcohol, set-up time before ceremony/reception starts – anything that could be considered "special" that might come up during conversation when comparing.
If it's important enough for them to know ahead of time, then put it front and center on your homepage or contact.
Make your wedding venue website a good experience.
A good layout is crucial to the success of your wedding venue website. You want your site to be easily navigable for the customer because it will make their lives easier and they'll enjoy their experience on your site more!
Don't forget that if you have different packages, each one should be easy to find. Make sure that customers can easily compare the different prices.
Don't have too many items on your menu – this will confuse people! If you do offer packages, consider adding them as toggles so people can see the differences.
Not only do you want happy and educated wedding couples, but also ones who don't get frustrated with navigating around your site. They're going to leave without contacting you, and that's a missed opportunity to book a prime wedding date.
What to include on your navigation and layout
Keep it as simple as possible and guide them to do what you want them to do. If you want them to visit the home page, then the wedding page, and then pricing, and finally to book a tour, then do just that! Don't have too many calls to action or buttons – it's confusing, trust us.
Nowadays, we remove the "ABOUT US" page altogether or keep it in the footer. Wedding couples are all about "me", so they're not focused so much on the about page information.
Mistake #3. Too much information about your venue and not enough about your unique selling proposition.
It would help if you highlighted your unique selling proposition to outperform your competitors because wedding couples are looking at their venue website, too.
Information about your property and what you offer are essential factors in the wedding couple's decision-making. They should be at the forefront of your site instead of hidden away on your "About" page.
This applies to both traditional venues with a lot of different features and destination spots with one or two big selling points. You need to tell all potential customers why their money would be more valuable spent booking with you than elsewhere.
This information needs to be upfront and center:
Information like date availability, pricing options, capacity (in terms of headcount), amenities available for an additional cost, restrictions/guidelines – everything pertinent to help them make a decision-should get top billing on your website, especially your HOME and WEDDING pages.
It would help if you put these points on the contact page. You want potential customers to feel like they know what you'll provide before they start asking questions and filling out forms.
But don't annoyingly display your information. Blocking content with intrusive popups that ask for more information than is necessary (such as your social media links or special offers) will drive away visitors.
Too many pages can frustrate visitors when trying to navigate a site that doesn't offer clear pathways from the homepage > resources/pricing info.
Bonus: If you have personalized wedding planning help, consider adding this information to your website – it's invaluable to wedding couples who are viewing the site.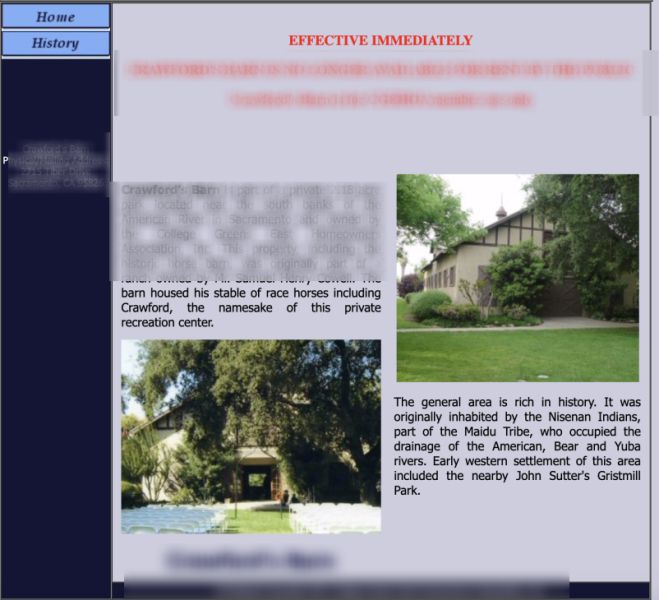 Mistake #4. Outdated website design (even if it doesn't look dated to you!)
You may think your website looks great, but I hate to tell you that some wedding couples might not. It's an awkward conversation that I have with many wedding venue owners.
Even if your website design is recent, it might not have been designed by a wedding industry expert who knows what wedding couples are looking for.
Website design trends change over time (along with wedding trends!), and your site might be looking dated even if it doesn't feel that way to you.
Web designers are always coming out with new techniques in web design, so the more current your website looks, the better. You'll also want to make sure your colors match a few of today's popular wedding themes (think: blush pink).
It may not seem like an important thing when there is so much on your plate, but trust me – as soon as the wedding couples visit their first few event venue websites, they will automatically compare yours to a few other venue websites that have great designs.
If people don't notice how fantastic everything else about your venue is because the design of your website is dated, they'll default to their next choice of wedding venue!
Mistake #5: Slowing down your wedding website with flashy website design
Video headers, animations, and fancy buttons were all the rage in the 2010s. We'd come a long way from the simple website of the '90s and many web designers wanted to show off their design talent.
Unfortunately, the more features you have on your website, the slower it will become. This includes oversized images, videos, Instagram feeds, and flashy sliders.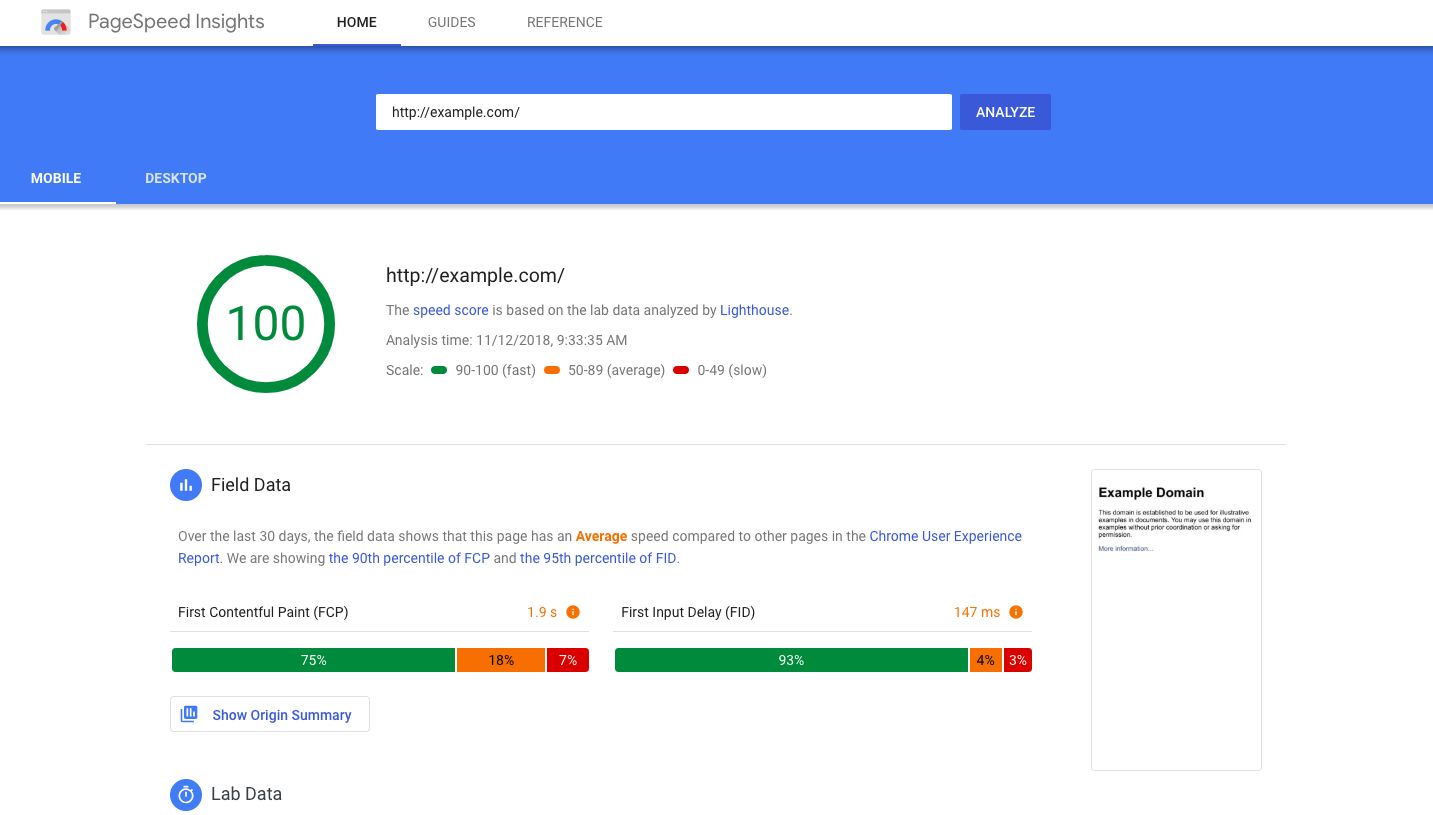 Google's June 2021 Algorithm Update
Google is looking for websites that load very quickly. With their huge update in June 2021, many websites are now being penalized for having a slow mobile speed.
The wedding venues website needs to be designed with a focus on speed, followed by design. This will mean it is less flashy and may not look as good but you'll get more traffic from Google searches because of how quickly it loads. Besides, the wedding couples are there for the photos of the venue and real weddings, not a flashy design.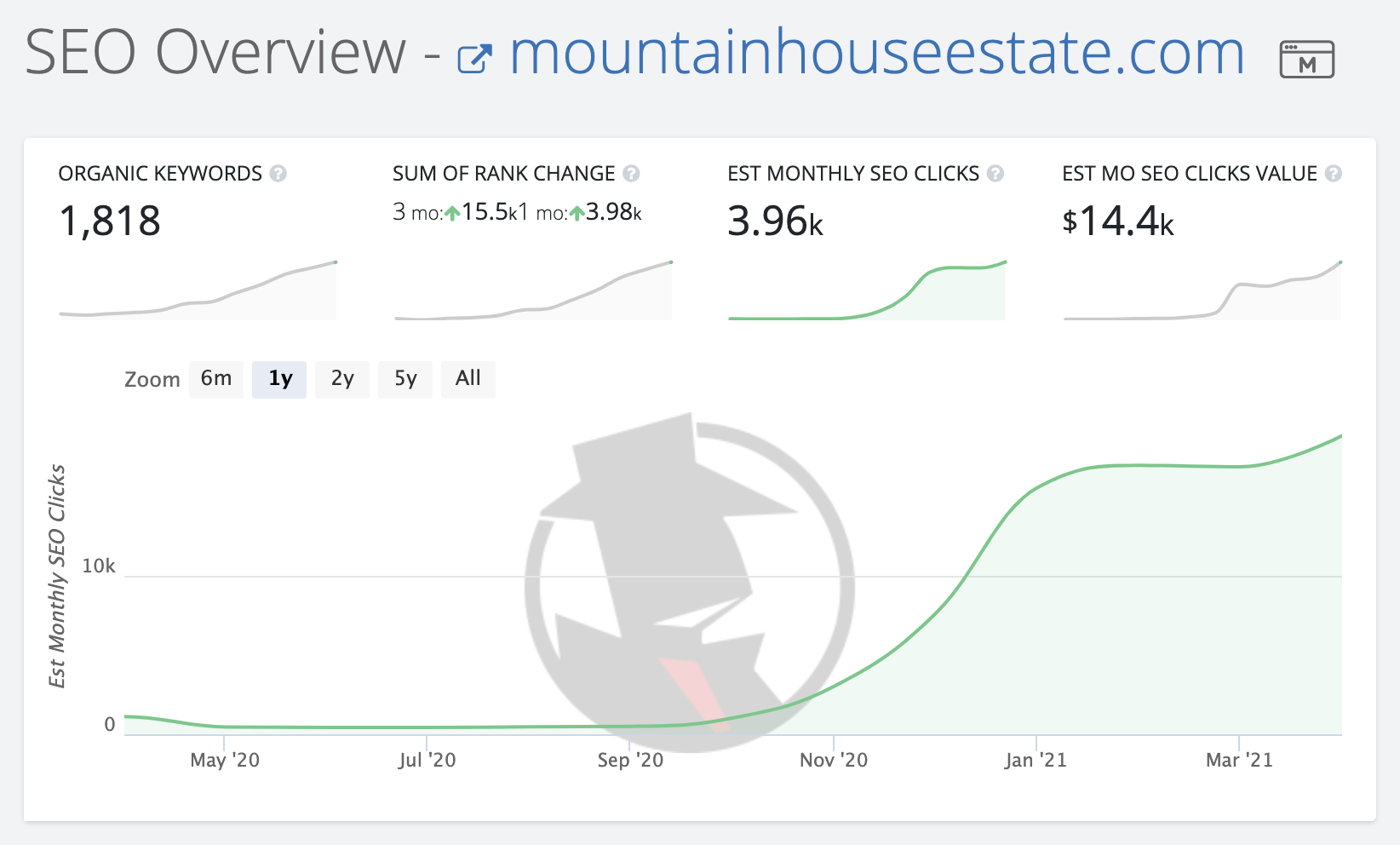 Use these tips when creating your event venue's website on WordPress:
– Use small wedding photos instead of big photos and images for headers, logos, gallery, etc. Bigger photos usually mean longer load time! Make sure they are sized appropriately for mobile devices so that visitors can navigate without difficulty if they're viewing the site on their phone. Photos that are served as. webp instead of .jpg or .png are favored by Google.
– Don't put too many plugins on your wedding venue website, only the ones that are necessary. You don't need Google Analytics plugins or plugins to insert Instagram feeds or other clunky plugins. They only slow your website down and deter potential site visitors.
– Use Rank Math's SEO plugin instead of Yoast. It's less bloated and has more features, and won't slow your event venue website down. You can even import your Yoast SEO settings into Rank Math.
– Use an optimization plugin such as Light Speed Cache. This will finetune your website and help your site speed.
Less is more. If you're an event venue owner and you need more help than listed above, reach out to us!
Mistake #6: Having poor SEO
So you've got a beautiful sight, but what does it matter if wedding couples can't find it when they search? And how do you really know if your event venue website is fully SEO optimized?
The wedding and event venue industry are saturated, as you know. Directory listings such as The Knot and Here Comes the Guide will always have the top spots on Google for wedding venue searches, because they pay thousands to do just that.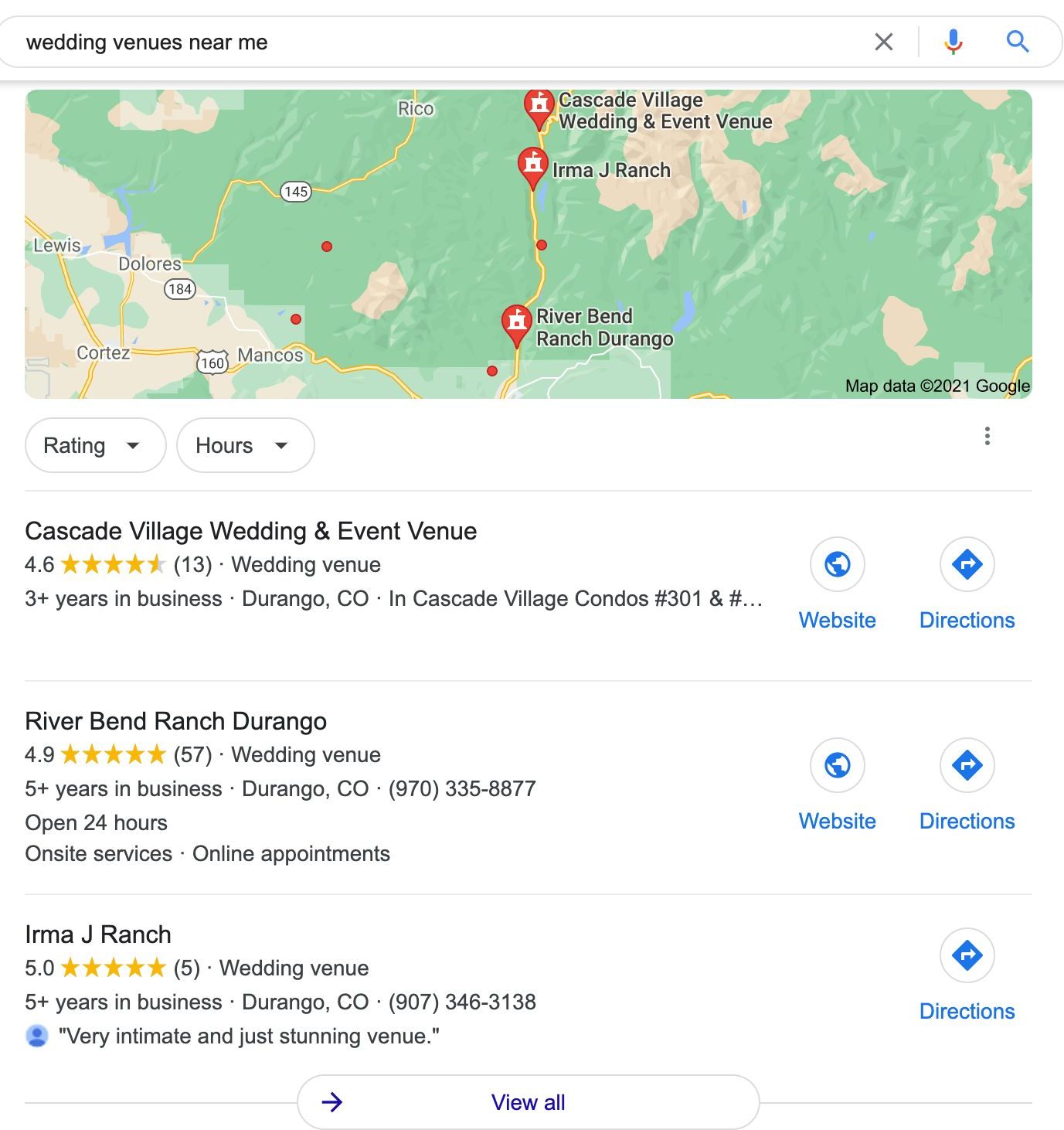 Your local venues ranking on Google
So if you don't have thousands of dollars to spare every month, how do you rank your event venue website higher in Google?
Well, there's a little space in Google where these big nationwide websites can't be seen: local Google Map results.
When you search for a local business on your phone, the map listings show up before the other listings. This is your place to shine in the search engine!
If you optimize your site just right, your event venue website should show up when people search for "wedding venues in CITY_NAME". It takes a lot of work (that's why they pay us the big bucks!) but it pays off tremendously.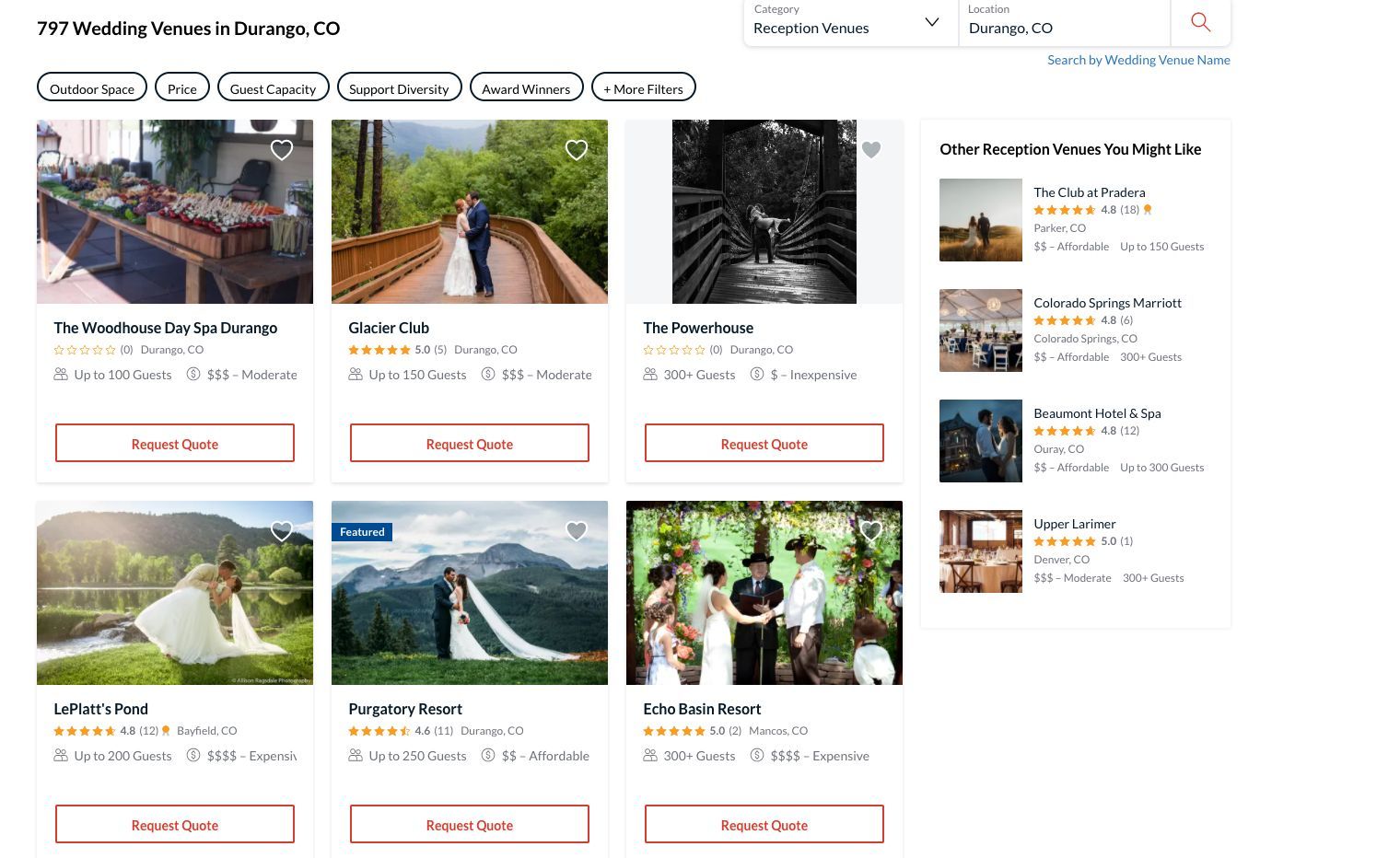 Does it matter more than my event venue listing on The Knot?
Yes and no. You'll never outrank The Knot outside of local listings, but you should at least have a free search listing on the Knot to have a backlink to your website.
We always encourage event venue clients to spend their money on Google Ads and SEO over The Knot. Why? On the Knot, you're competing with a gazillion other wedding and event venues. Once someone fills out that generic form that gets sent to you, they're bombarded with five other event venues to look at. Then your event venue becomes less special to them.
Get their undivided attention.
If someone is on the search for "wedding venues in CITY_NAME" and you come up first, whether it be from paid placement or organic placement, their attention is 100% on you instead of scattering their attention to all the venues listed on The Knot.
Mistake #7: Sharing personal contact information
Another mistake of the wedding venue website is sharing personal contact information. You should avoid always sharing your personal email, home address, and even phone number on your wedding website.
Consider making your website have a "contact form." Alternatively, you may create a business email account (that has no relation to your personal email ) for wedding guests to use.
It is not a good practice to share personal contact information on your wedding website publicly to all access.
Mistake #8: Having poor images and communication
Your wedding venue website is one of the most important aspects of your marketing and outreach.
It is often the first impression a couple will have of your venue, so it is crucial to make sure it is up to par. This includes having excellent images that showcase your venue in all its glory.
Wedding venues make the mistake of not having great images to show off on their website.
As a result, many browsers will not even bother reading the text on the website. Venues need to be sure to use high-quality photos, preferably taken from real weddings, to capture the attention of potential clients.
Photos should reflect the four seasons, different styles of weddings, and specific angles. You should also have an extensive photo gallery with professional-grade photos that depict every aspect of your venue.
Furthermore, you should also ensure that communication is top-notch so that customers can easily get in touch with them.
Mistake #9: No clear call to action on your Wedding venue website
Most wedding venue websites make common mistakes that can be easily avoided. One of the most common mistakes is not having a clear call to action (CTA).
This means that potential customers don't know what to do next or where to go on the website.
In order to fix this, make sure your CTAs are clear and easy to find, and that they appear throughout the website.
Additionally, post-awards prominently on the site (in either the header or footer), include a Frequently Asked Questions section, and showcase photos and testimonials from happy couples.
Make sure your site has a strong call to action that lets people know exactly how they can contact you, schedule a viewing, or find a listing.
You should also have a business email or "contact us" page so that potential customers can easily get in touch.
Mistake #10: Not reviewing your Google Analytics
Installing Google Analytics on your website can help you understand how people are discovering your website (by Google searches, from directories, blogs, social media), how they are viewing (Desktop vs Mobile phone), where they're located, what they view, and how long they stay on your site.
This information is crucial in understanding how to improve your website's search engine optimization (SEO) and marketing strategies. Wedding venues can also benefit from having a mobile app for emergency needs.
Last tips and ideas to help you shine:
When people are in the beginning stages of planning their weddings, they're usually pretty clueless. It's difficult to know where to start.
If you can prove that you are an invaluable resource to them when planning their weddings, they'll already have a closer attachment to you than other unhelpful websites. If you have ideas, tips, vendors, past events, an updated gallery, reviews, tools, budget calculator, inspiration, team members, and other useful information, they'll be able to make a much more informed decision.
Final Thoughts
In conclusion, wedding venue websites can be a great resource for couples looking for the perfect venue, but it's important to be aware of the mistakes that many of these websites make.
By being mindful of these mistakes, couples can avoid being disappointed and have a more positive wedding planning experience.
Good luck with your venue website design!
We hope that this blog post has been helpful to you. Please feel free to contact us if you have any questions about your web design, SEO strategy, marketing plan, or anything else related to weddings, ideas, tips, digital content, and website maintenance!
You can continue reading to see the top FAQs regarding website venue websites.