Optimize Your Google My Business Listing for SEO (for free!)
Google My Business is a free tool that allows you to claim, update and enhance your business listing on Google Maps.
Are you a business owner and too busy for digital marketing but want to quickly bolster your search rankings? Or maybe the phrase "SEO", "search ranking," or "online presence" makes your eyes roll into the back of your head. Either way, you should probably read this.
We get asked a ton of questions about Google My Busines Local SEO. We'll do our best to answer those questions and also show you our favorite free ways to optimize your Google My Business Profile.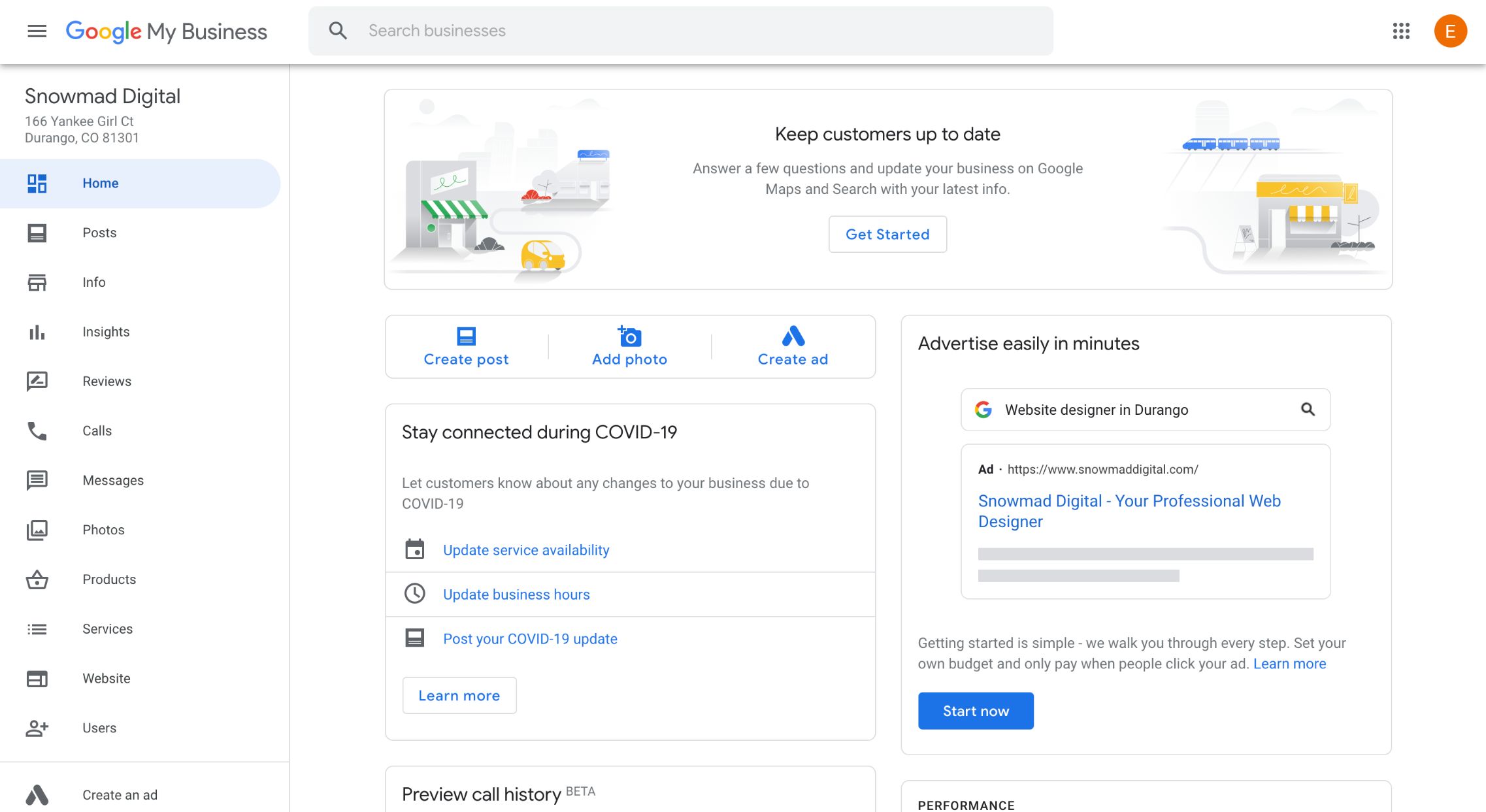 Is Google my business good for SEO?
Fact: Your customers use Google to find local business online and you 100% need to do your darndest to place at the top of local search results. They'll use it to look at your website, phone calls, browse reviews to make sure you're legit and get directions to you.
What is Google My Business Local SEO? Why is Google My business is important for SEO?
A well-optimized business page can help attract new customers by increasing the chances of showing up in search results or even making it to the top spot!
How can I improve my Google SEO for free? How can I improve my business SEO on Google?
In this blog post, I will share my SEO strategy tips for optimizing your Google My Business profile so you get more customers. You need this. I know this. Let's go.
Local SEO is vital for any business that wants to thrive.
Your Google My Business Profile gives you an opportunity to do some hands-on SEO, even if you aren't an SEO expert. Using Google My Business can help your local business get to the top of search results and outrank the rest of the local pack, AKA your competitors.
How do I use Google my business for SEO?
Even though your competitors have Google My Business listings, you can still outrank them on local search if you read this blog, take advantage of the key points, and do your homework.
Once you get familiar with the Google My Business dashboard, you'll find that the tools are relatively simple and straightforward. And most importantly, they are very helpful with local businesses SEO and search results.
Business owners: If you haven't created a Google My Business listing yet, you must first verify your business.
Claim your business on Google My Business by visiting the site and clicking "Add or claim a new place." You will be asked to verify ownership of this business so make sure you have an email address and a business address associated with it.
Snail Mail in 2021? Yes! Google will send you a postcard with a printed verification code.
Then, update your business information. Add as much information about your business as possible! You can update your contact details, name, address, phone number, photos (including cover photo), operating hours, business location, business category, and other details for customers to see through Google Search Maps by clicking "Edit" from the top menu bar.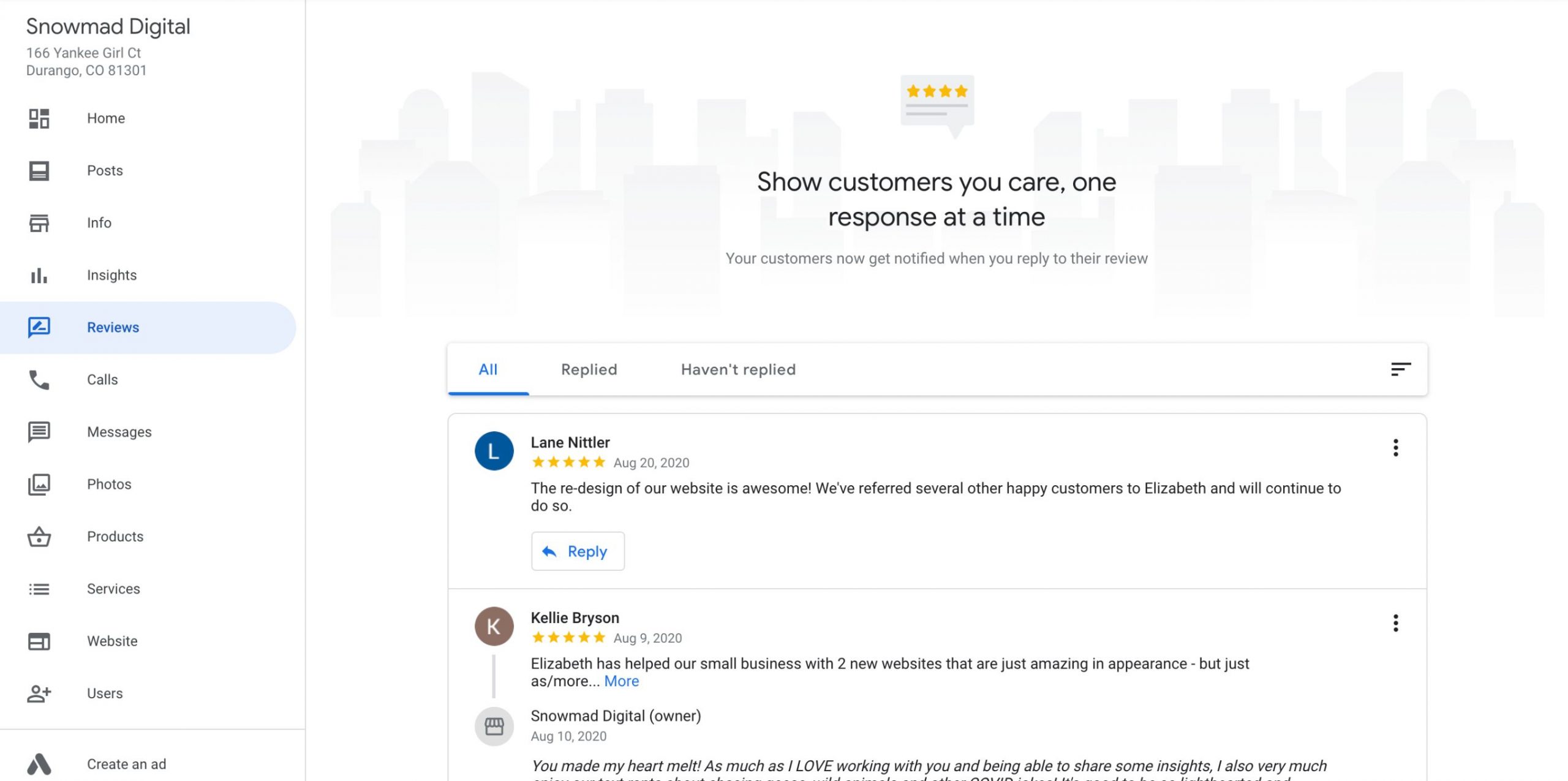 1. Respond to Google My Business positive reviews and include your business name + keyword
I always get asked these three questions.
Do reviews help Google ranking?
How much do Google reviews affect SEO?
Why are Google reviews important for SEO?
HECK YES they do.
Responding to reviews makes Google happy, but did you know that if you add in your business name and a keyword, it'll also bolster your local ranking?
Google My Business reviews are a great way to interact with your customers and provide them with valuable information. Reviews act as content, so the more you respond on Google My Business, the higher your ranking will be in search engine results pages (SERPs).
There are many ways that you can respond to reviews:
-Mentioning specific details of their experience or what they liked about your business.
-Offering coupons for future visits if applicable.
-Asking if there is anything else that could have been done better or improved upon
– Drop your business name and a keyword!
Here's an example of how you can do this.
Review Example:
"I love how Lane and John who own MHE have a nice list of vendors that they have used in the past. It makes it so much easier to find your perfect match! Lane and John are so nice and they care so much about your special day and they always tell us it's all about the bride and groom. We can't wait to get married there next September!"
Review Reply:
Thank you, Audrey! We want every couple to have the best day possible at our Northern California wedding venue. The vendors on our list have earned their way there by their actions, guest experience, and how they work with the other vendors to make your day perfect. Looking forward to your wedding day here at Mountain House Estate. ?
Are you dealing with a few negative reviews?
Most companies do, whether it's a competitor or a client who just couldn't be satisfied. These are the most important ones to reply to because your reply shows your potential customers how rational and empathetic you are.
Unfortunately, people pay more attention to negative reviews, and that's just human psychology.
More Google My business negative review help.
There are some things you can do to minimize the damage of negative reviews. First, ask your customers to leave a review -send out emails, texts, snail mail, whatever it takes! Get as many positive and honest reviews as possible.
You can request to remove them or try to hire a company that removes them, but honestly, neither usually works, so don't waste your money. Just bury them with happy reviews :)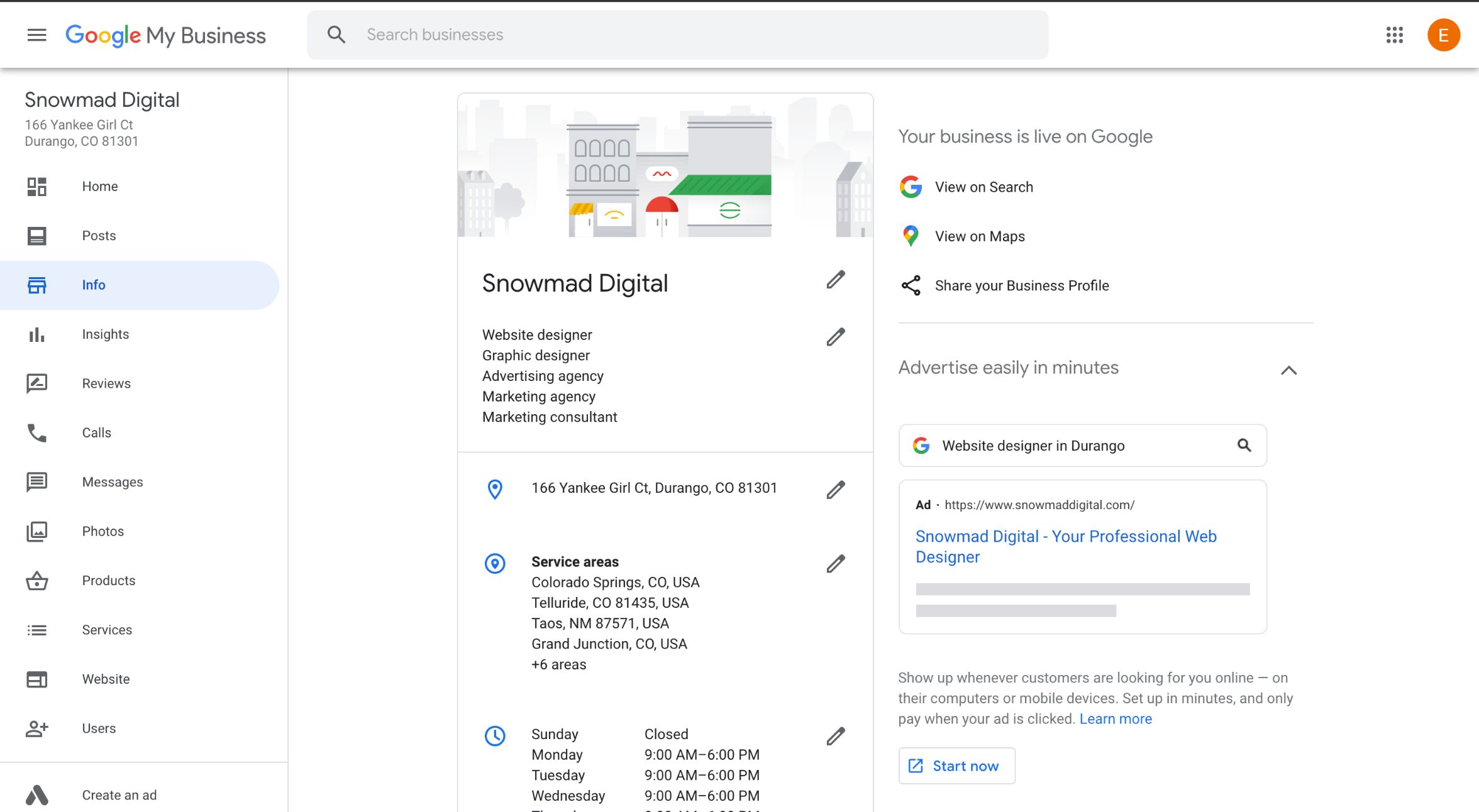 2. Include your business name and keywords in your description.
The same logic as above applies to your business info and description. If you can sneak in a few relevant keywords, it will help Google show your listing to those who are searching for those keywords.
3. Add at least 100 photos to your Google My Business Profile.
The catch here is to also add those same 100 photos to your website. Google will cross-reference the metadata from your photos on your website and Google My Business listing.
Add photos so that potential customers know what their experience will look like. These images are important because research shows that 88% of consumers say visuals help them make purchase decisions. That means you have an excellent chance of getting more traffic if people see gorgeous pictures.
4. Add 10 questions to your Q&A Section.
Simple enough, right? Think of this as an FAQ section. It's yet another place for you to sneak in a few relevant keywords. You can ask the questions from a friend's email, or your personal email address, then answer them as the Google business manager (whatever email that is associated with).
Here's an example:
Question: What happens with different weather issues?
Answer: Unlike many other wedding venues in California, we actually have both indoor and outdoor options (and a plan in case of rain!). In case of rain, the indoor space can comfortably seat up to 124 at tables.
With larger groups, you have the option to rent a tent. In the case of heat, the indoor space is air-conditioned and we provide some market umbrellas to create shade on the patio or lawn. As with rain, tents can also provide shade options in various areas for your celebration.
Hope that helps you!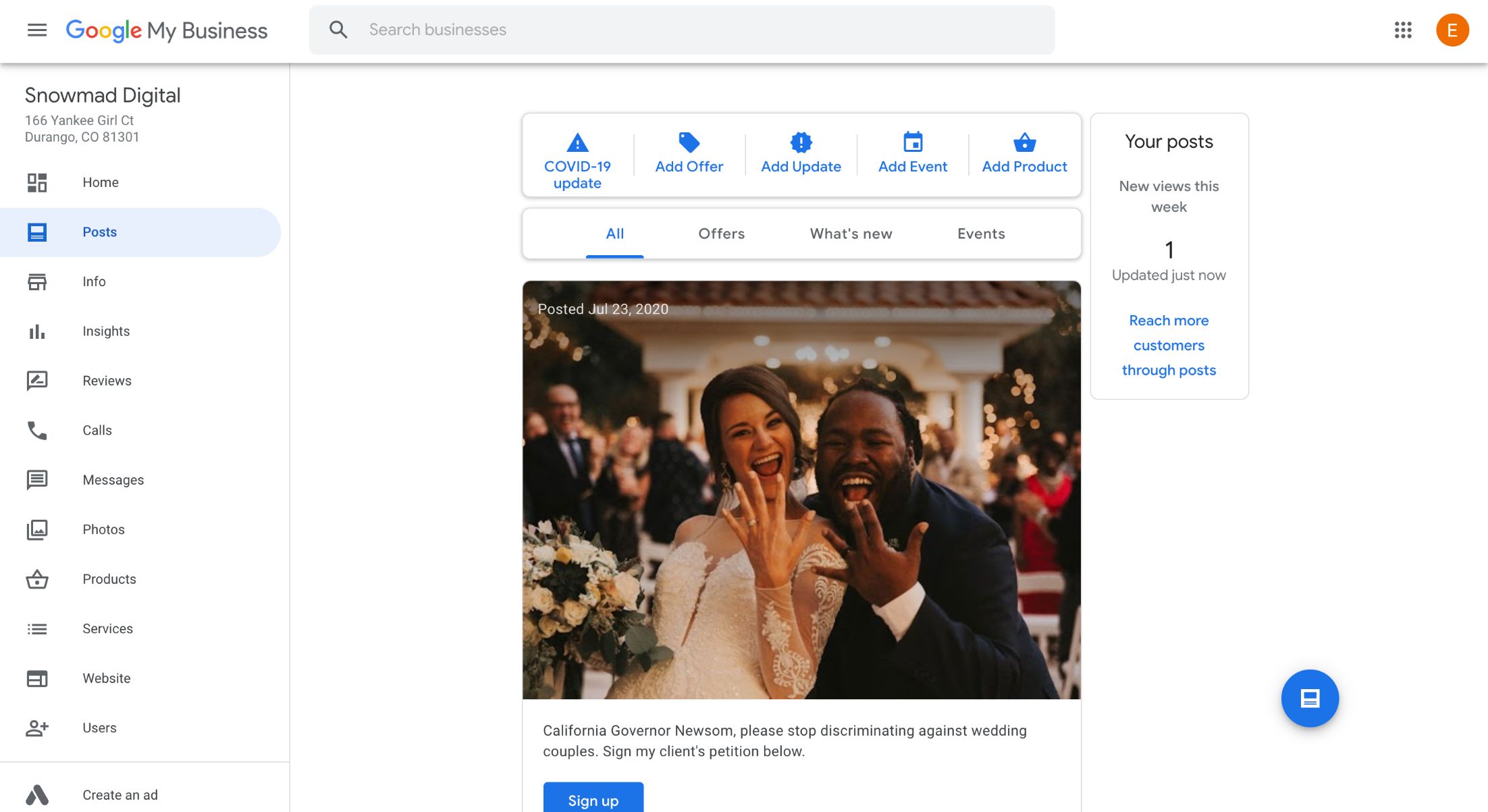 5. Add a Google My Business post once a week, or as often as you'd like.
It can be a social media crosspost, a business update, blog post, or any new business news. Google likes to see that you are regularly updating your Google My Business profile by adding Google My Business posts (AKA Google posts). Try to schedule some time once a week to add 1-3 posts.
– Include appropriate keywords in your title to make it easier for people searching online to find specific topics that relate directly to what they are looking for.
– Hashtags are irrelevant on your Google My Business/GMB listing.
– Use a combination of text and imagery for your posts to provide more information about who you are, what you do, or any other topics that may be relevant.
– Include the location of your business in the title so people can find an exact address on Google Maps when they search for your company's name. This will also help with SEO because it increases both accessibility and visibility.
– Create multiple posts each week to encourage engagement from potential customers since this is one way to rank higher in searches if you have a strong content strategy.
6. If applicable, list all of your products and services.
This is a quick and easy way to optimize your Google My Business account. Whether you sell products or services, or both, you can add these directly into your Google My Business listing.