The Knot and WeddingWire (AKA WeddingPro) is the biggest wedding industry advertising platform.
Check out my video below covering this blog if you want to hear me talk through this content.
But are WeddingWire and The Knot worth the investment?
P.S. Thank you for featuring this article, Business Insider! I'm probably on an FBI watch list for this article, but I'm on #teamyourSUCCESS, not #teamwastemoney.
Find out the best way to invest in marketing to wedding couples and get the best ROI.
The Knot is the leading wedding planning platform in the world, with the largest audience of wedding couples.
If you're a wedding vendor, you already know all this. Recently, they've gotten some not-so-great press and decided to address it.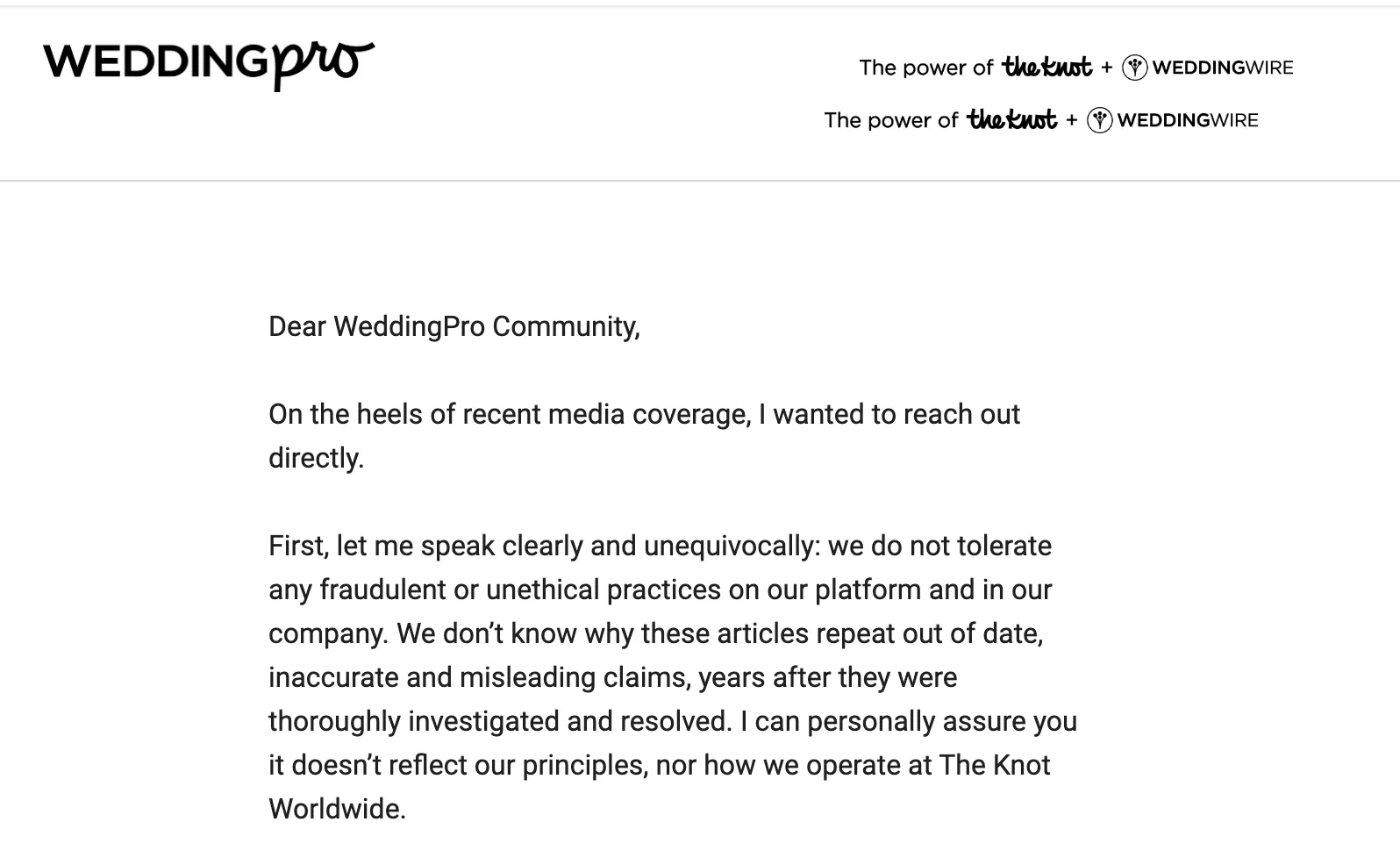 And the people spoke!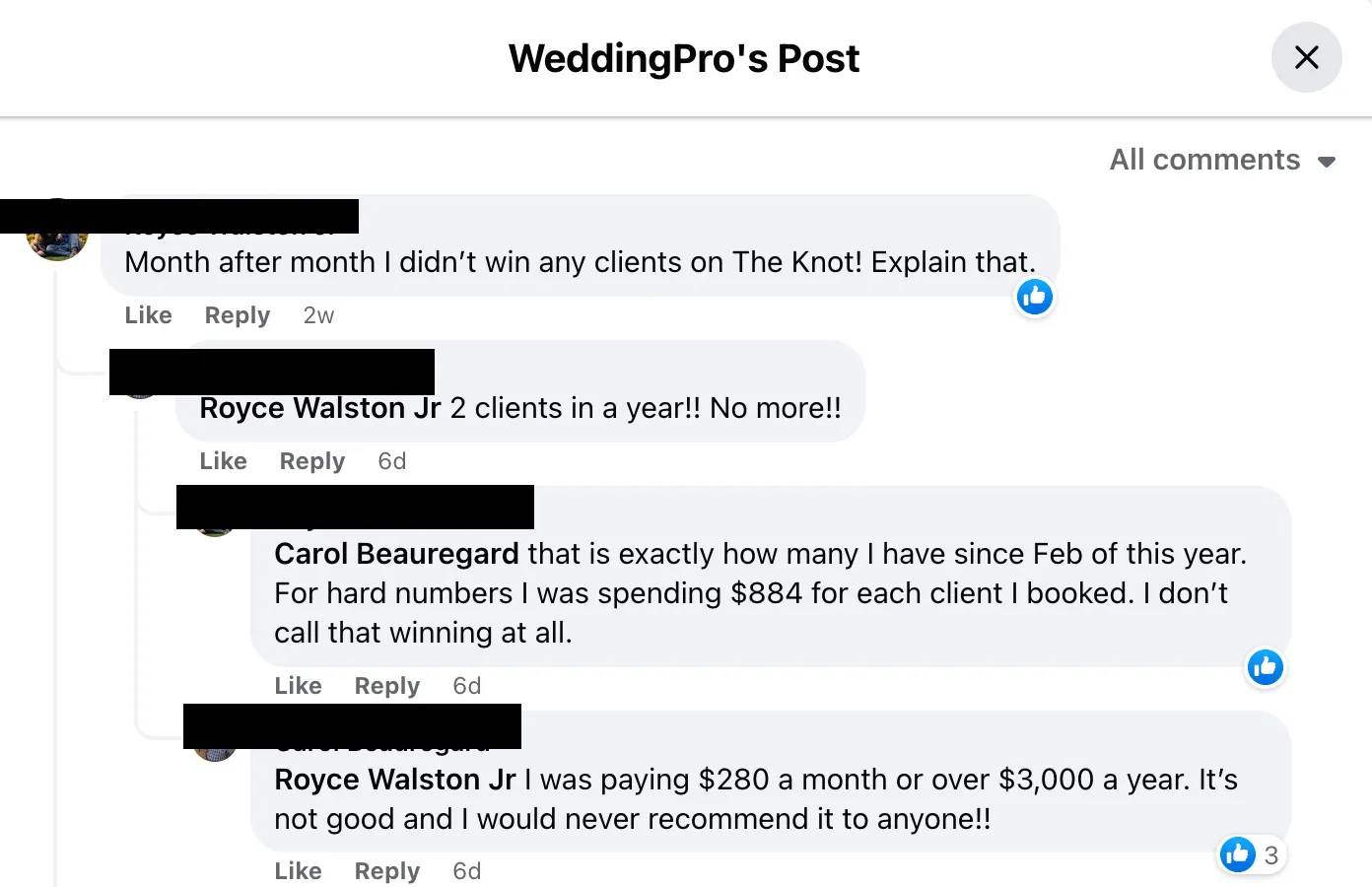 Sound familiar?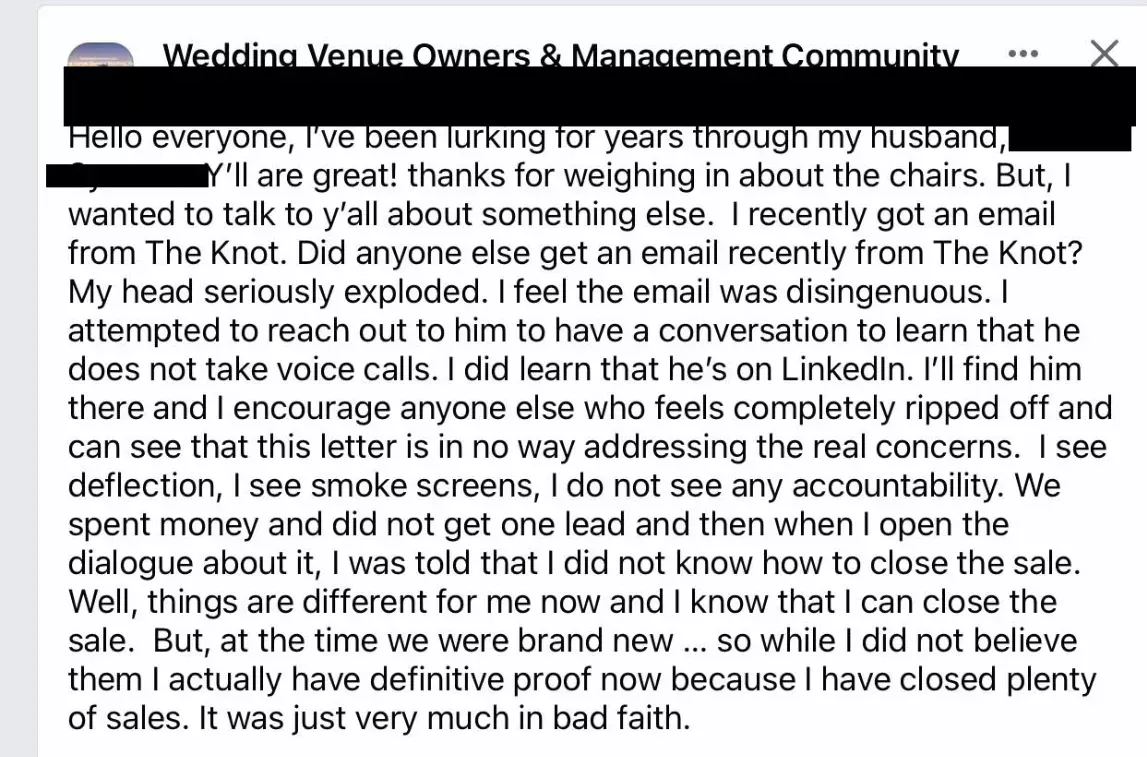 Okay, enough tea. Let's get to the nitty gritty, AKA real data to back up conversions.

Why do my wedding vendor clients no longer pay for The Knot advertising?
Many wedding venue and wedding businesses/vendors I work with are members of the Knot, but none of my clients pay for The Knot. Why? It's pricy and produces poor-quality leads.
Once we started working together and increasing their SEO/SEM and leads from Google Ads, they did not need to spend thousands of dollars and countless hours on The Knot and WeddingWire. All of my clients still keep a free listing for backlinks, though.
Too many choices and not enough differentiation.
When couples search for a venue, photographers, or a planner on The Knot, they'll hopefully see your listing and business info. And then about 100 more listings in your vendor category.
You've probably gotten hundreds of those generic emails from leads saying, "I'd love to get more information about your wedding venue!"
Once they get excited about your venue or category, they are shown 15 other wedding vendors, giving them too many choices. This automatically makes you less special because they're bombarded with options.
The Knot draws brides and wedding couples in with The Knot Magazine and their free wedding site.
No doubt it works. But not all of these brides or wedding couples use it for anything but that. Wedding Pros will use these figures to get you to act on advertising annually and having a featured listing, but are the leads really that great?
Most of the time, those leads vanish 👻
How much time do you spend filtering those leads out? Probably too much.
With a directory listing, you don't have the best opportunity to showcase why you're the best wedding vendor in that category in your region. Wedding businesses with advertising and vendors with a free listing…. have almost the same exposure. Plus, even if you're featured, wedding couples are still shown other options after they message you.
Maybe you'll snag a few bookings out of The Knot.
So our opinion (and analytics-backed facts) of its ROI is really related to our wedding industry experience and the venues and vendors we work with, which may be a different experience than yours. If it works well for you, you don't need to be reading this article anyway. If you get high-quality leads and messages from The Knot, which some vendors do. It's just not the feedback that I get from my clients when they reach out to me looking for saving grace.
But if it isn't working for you and you're questioning its value, keep reading.
Why spend thousands of dollars and waste countless hours fielding low-quality leads? You can reach out to Wedding Pro (some refer to as WeddingPros, but not to be confused with The Pros) customer support, but you probably will be told the same old – reply to reviews, mention social media, add info to every section, blah blah blah.

You should be investing your marketing dollars in SEO and SEM.
People who find your website organically when searching for wedding venues or vendors will have a more authentic and committed attachment to your business than if they found your website on a directory listing such as The Knot or WeddingWire.
Why? Because your business gets 100% undivided attention. You're front and center. On The Knot, you're just one among many vendors. We're not saying that you don't have unique offerings or services. We're just saying that it's harder to differentiate between all the different vendors.
You'll attract higher-quality leads further down the funnel.
With the opportunity to showcase your past weddings, prices, planning tools, experiences, and service, you'll attract better leads and get more qualified leads contacting you.

They will probably be searching for other venues or vendors, but if you're one of the first they see and are attracted to, your odds of signing the contract are much higher.
From a consumer behavior standpoint, people will be more loyal to you if they find your website organically. Because they FOUND you, it wasn't forced.
But SEM (search engine marketing, like Google Ads), also gets high-quality leads, IF done correctly.
Most people won't even notice it's an advertisement, especially if your headline is mouthwatering enough for them to click.
Organic SEO takes time, so it's best to supplement with SEM (Google Ads).
Ranking #1 on Google for your vendor category in your region doesn't happen overnight, and for many vendors, it never happens. That's why the second-best way to capture leads is by running Ads on Google.
You'll reach people actively searching for a wedding venue or services.
People actively searching for wedding vendors will be displayed in your Ad and will visit your website. If your wedding venue or service resonates with them, they'll contact you for a tour or more info. Simple as that. Whether you take them through a drip email or text campaign or email each couple individually is up to you.
I don't advertise for wedding clients on Facebook or Pinterest – only on Google.
Aside from the major iOS update allowing people to opt out of tracking, it's just not as effective. I love remarketing to couples using Facebook, but it isn't as effective (and thankfully, targeting is creepy).
I'd rather advertise to people actively on the hunt for wedding services than Facebook folks who just happened to be engaged or in a relationship. Who knows if they're even going to get married anytime soon?
Pinterest Ads produce high clicks, a high bounce rate, and low conversions.
I love that Pinterest can drive people to your website for a low cost per click, but they hardly convert to paying couples. Why? People on Pinterest are there to browse, imagine, and dream.
There's literally no telling where they are at in the planning funnel. They might not even be planning to get married.
Google is the most effective, most highly targeted Ad option.
My clients pay anywhere between $250-$4,000 monthly to advertise on Google. Most conversions (wedding couple filling out the contact form to schedule a tour or get more info) cost between $20-$100, depending on the cost of the venue.
I like trackable numbers, and too many directory websites don't have trackable figures for you to determine your ROI.
But I can't outrank The Knot and WeddingWire on Google! They pay tens of thousands for SEO and SEM 😱
Actually, that's fake news. Local listings (map listings) show up before they do. Look at the screenshots below.
Whether you're advertising on Google or on Google Maps listing (or better yet, do both!), you will show up before The Knot, Wedding Wire, Wedding Spot, Venue Report, Martha Stewart, Here Comes the Guide, etc.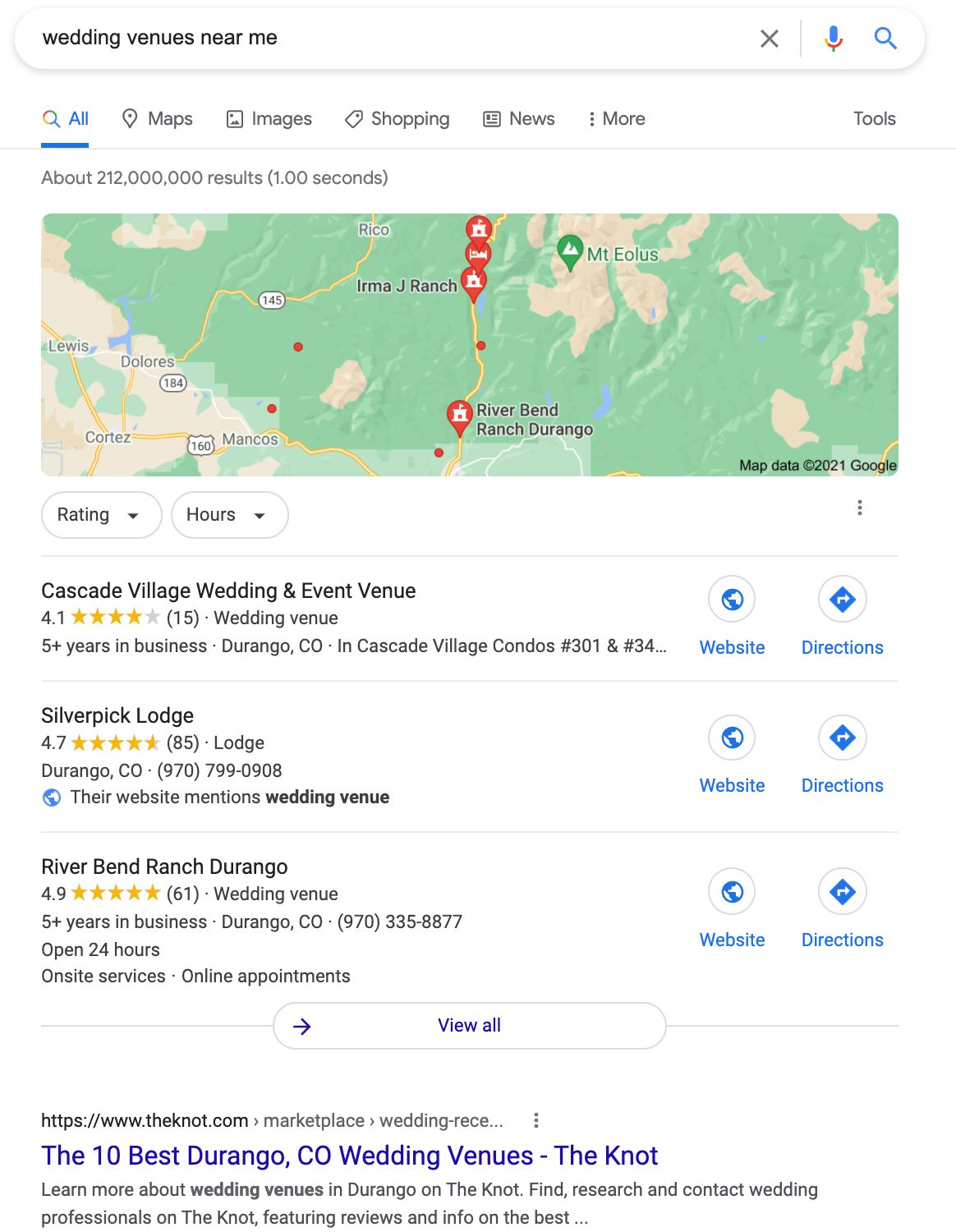 You can optimize your local listing and website and run Google Ads to outrank all of these top competitors. And by doing so, you're showing up before all of your other competitor's listings on those directory sites and in organic search.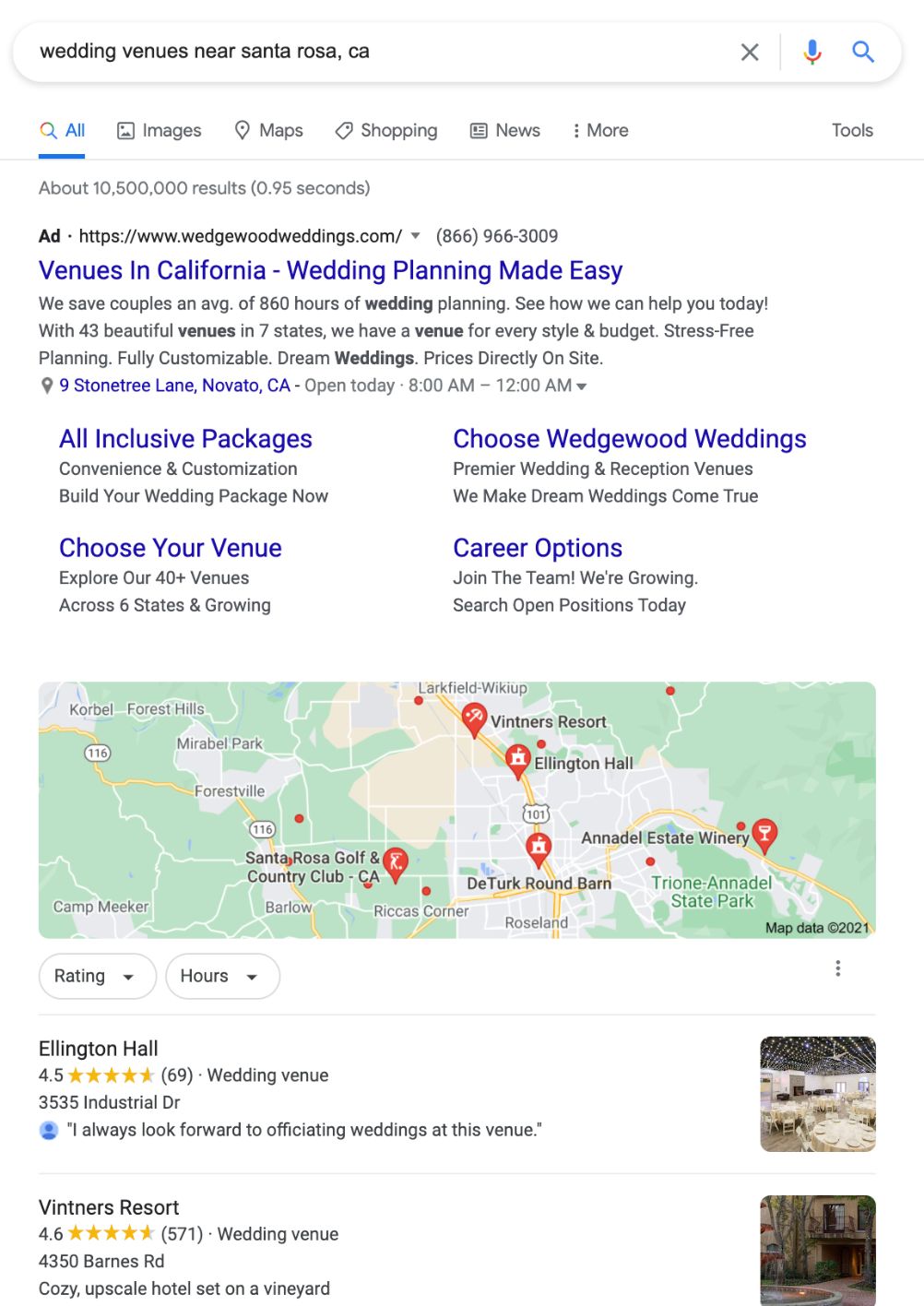 So that's what I do for my clients every month – in a nutshell. It keeps me very busy working on these tasks, and I am always optimizing Google Ads because competitors are constantly changing their wording and budget.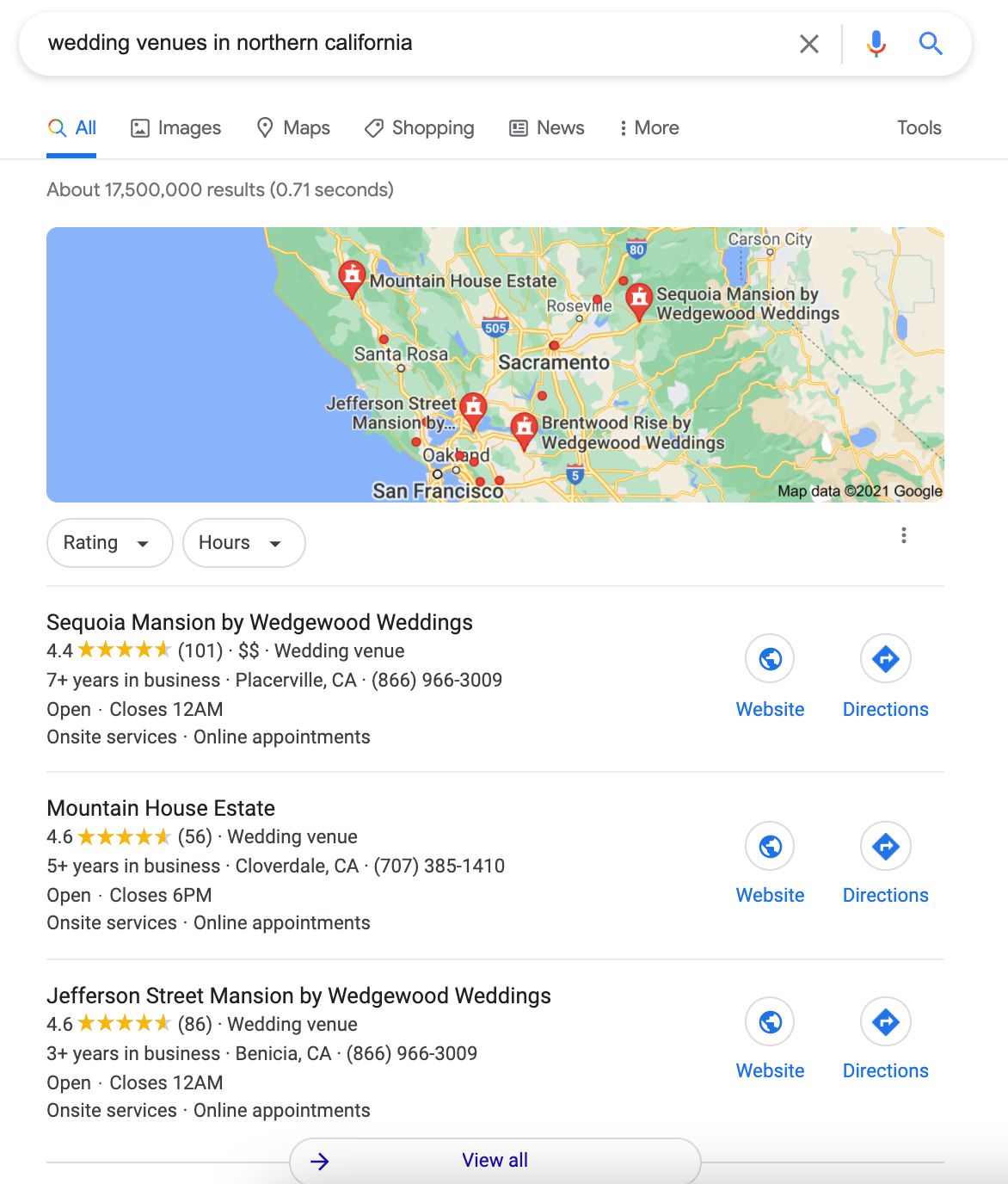 My wedding venue and vendor clients pay me $1,000-$4,000 monthly to keep them on top of Google and send high-quality leads to their websites.

Most of my clients receive between 80-450 leads per month.

So here's the bottom line.
A feature on The Knot isn't the worst option ever. A feature listing can cost between $5,000-$14,000. It's not a lot of marketing money for a whole year. But think about the time spent fielding all the tire kickers and low-quality leads.
I'm sure you have better things to do. And if you're spending more time working with high-quality leads, you can keep raising your prices annually (or bi-annually) and make more money with less stress.
You're better off investing in yourself in the long term.
Better leads, less wasted time, more money. Don't be part of the pack or be a "featured" member.
We know you're the best and want them to know too. Stand out and show the couples why you're the best option for them, and show them before they even see anyone else.
That's my goal for you.
Want to work with me? SEO starts at $1,000 a month.
And if you don't have that kind of money or you are hesitant to work with me, I have an affordable solution.
Talk to you soon!