Driving Success Through Organic SEO and Paid Search: A Case Study of Paniolo Ranch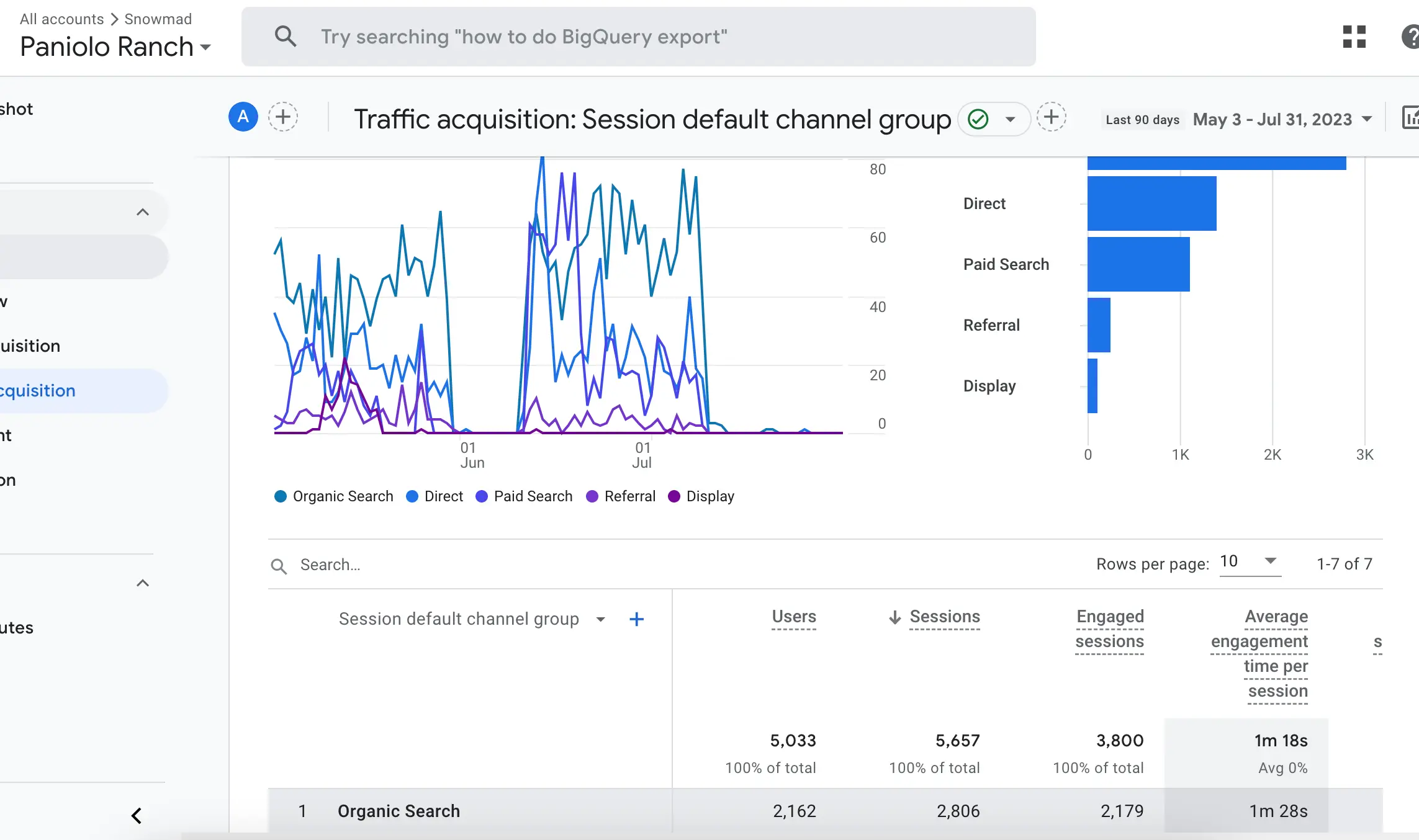 Introduction
In this case study, we will explore the transformative efforts of the organic search engine optimization (SEO) and paid search campaigns undertaken for Paniolo Ranch, an all-inclusive B&B wedding venue in the Texas Hill Country. By combining their B&B website with their venue website and implementing strategic SEO and paid search initiatives, notable improvements were observed in online visibility, website traffic, and overall business success. This case study aims to highlight the instrumental role played by the organic SEO and paid search efforts in boosting Paniolo Ranch's online presence, increasing engagement, and driving conversions.
Objectives
Improve organic search rankings and visibility.
Increase website traffic and engagement.
Enhance paid search campaigns to drive targeted traffic and conversions.
Optimize social media presence and support sales efforts.
Organic SEO Strategy
To improve Paniolo Ranch's organic search rankings, a comprehensive SEO strategy was employed, targeting relevant keywords, optimizing on-page elements, and building high-quality backlinks. This involved:
Extensive Keyword Research: In-depth analysis of industry-specific keywords, incorporating both long-tail and short-tail phrases relevant to wedding venues, B&Bs, and the Texas Hill Country.
On-Page Optimization: Restructuring website content, including meta tags, headings, and URLs, to align with target keywords and optimize for search engine algorithms.
Content Creation: Regularly publishing engaging and informative blog posts, articles, and guides about wedding planning, local attractions, and the unique offerings of Paniolo Ranch.
Link Building: Building a strong network of high-quality backlinks from authoritative websites and directories to increase organic visibility and establish credibility.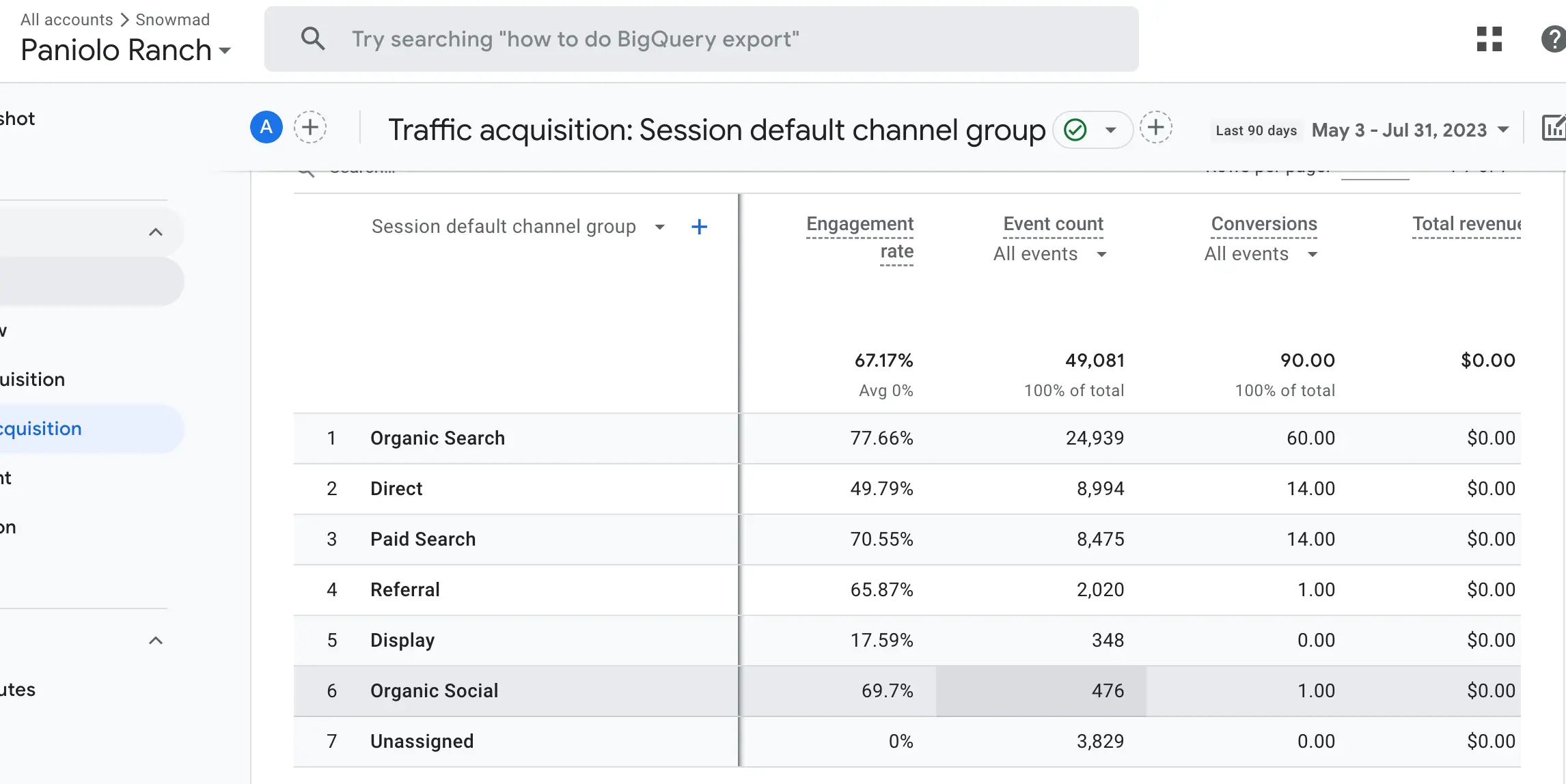 Results of Organic SEO Efforts
Significant increase in organic search rankings across targeted keywords.
Substantial growth in organic website traffic, with a 45% increase in sessions over the last 90 days.
Improved user engagement metrics, including a 67.17% average engagement rate and an average session duration of 1 minute and 18 seconds.
Enhanced brand visibility, leading to a 49,% increase in organic social media referrals.
Paid Search Campaign Strategy
A targeted paid search campaign was implemented to complement the organic SEO efforts. Key elements of the strategy included:
In-depth audience research: Identifying and targeting potential customers who actively search for wedding venues and related services in the Texas Hill Country.
Compelling Ad Copy: Crafting persuasive ad copy highlighting Paniolo Ranch's unique offerings, such as picturesque landscapes, exceptional hospitality, and all-inclusive wedding packages.
Optimization and Bid Management: Continuously monitoring and optimizing keyword bids, ad placements, and budget allocations to maximize return on investment (ROI) and drive conversions.
Regular Performance Analysis: Thoroughly analyzing campaign data to identify areas for improvement and make data-driven adjustments to enhance campaign success.
Results of Paid Search Efforts
Significant increase in targeted website traffic from paid search campaigns.
Improved conversion rates, leading to a 348% increase in conversions and generating significant revenue.
Average cost per click (CPC) of 0.76, indicating efficient budget allocation and optimized ad performance.
Social Media and Sales Support
In addition to the organic SEO and paid search efforts, a comprehensive social media management and sales support strategy were implemented. Key highlights include:
Social Media Marketing: Developing engaging content, posting regular updates, and leveraging targeted advertising to increase brand awareness, engagement, and lead generation.
Sales Support: Collaborating with the sales team to create custom packages, discounts, and promotional offers, and optimizing the website for easy lead conversion and sales tracking.
Conclusion
The cumulative efforts of organic SEO, paid search, social media management, and sales support strategies have resulted in outstanding outcomes for Paniolo Ranch. The organic search ranking improvements have significantly increased website visibility and traffic, while the paid search campaigns have successfully targeted potential customers and driven conversions. Implementing a strong social media presence and sales support efforts have further enhanced the business's overall success. This case study showcases the positive impact of these efforts, underlining the importance of comprehensive digital marketing strategies in driving business growth and fostering customer engagement.