Teton Pass is something you have to experience for yourself.
If you love skiing, Teton Pass is the place for you. It's some of the best backcountry touring access in America, and it has a unique charm that sets it apart from other places around North America.
Disclaimer: I am not a backcountry tour guide. Be smart and tour at your own risk.
If you're not experienced, go to Jackson Hole. Jackson Hole Resort offers world-class skiing with over 200 trails and >4,000 feet of vertical descent. Targhee is also across the pass and offers more mellow terrain and local vibes.
skin track mail cabin creek
Teton Pass is not the same as Teton Pass Ski Area.
This blog is about Teton Pass in Wydaho.
I've lived in Victor, ID, on the west side of Teton Pass for the past three winters. Winter 2021/2022 proved very dry, which sparked my interest to start backcountry touring. This blog will cover all the bullets above and my take on living here and working from home near Teton Pass.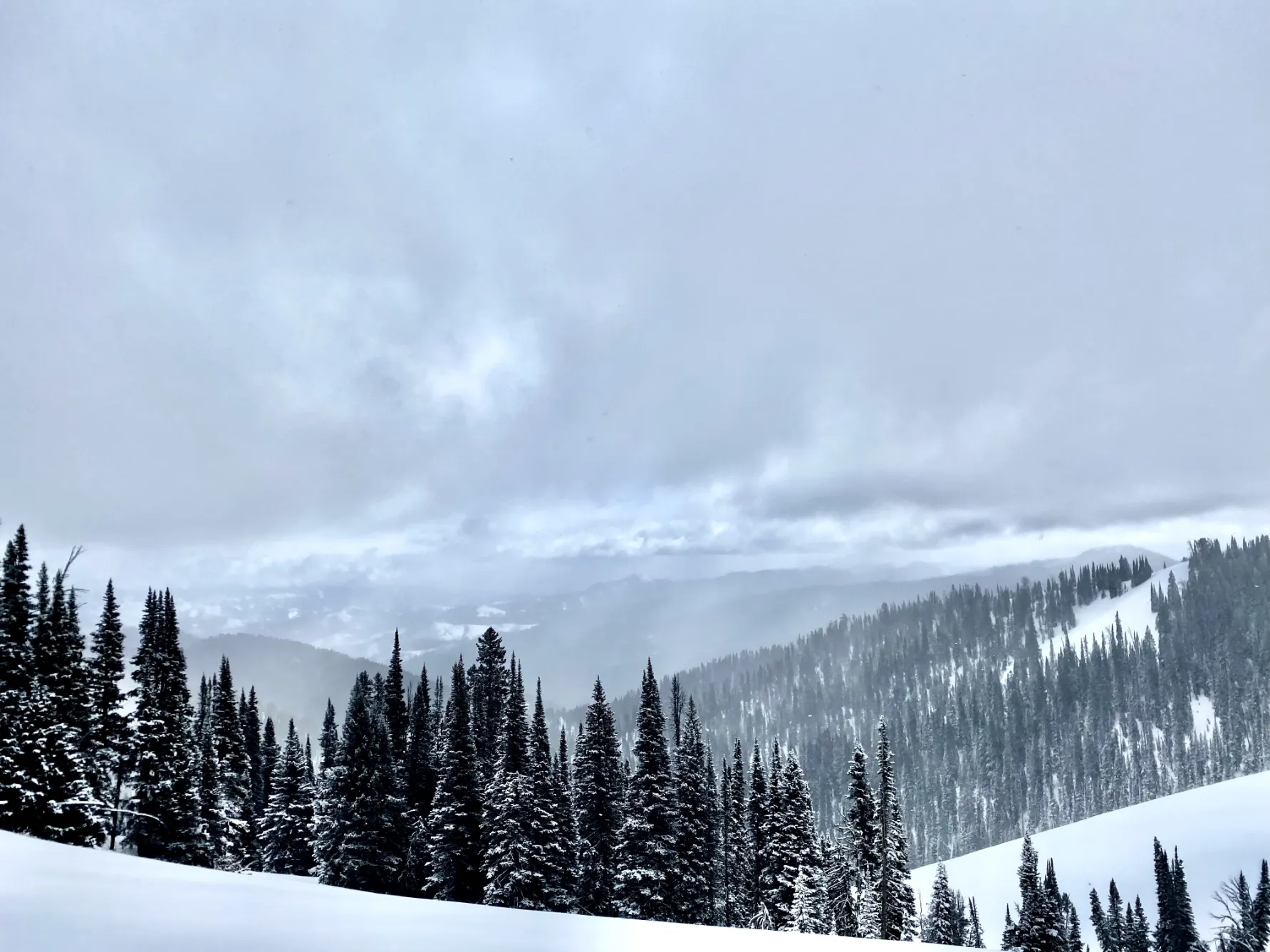 Teton Pass Webcam
Teton Pass Avalanche Report & Conditions
If you plan to ski or snowmobile, check out the avalanche report at https://bridgertetonavalanchecenter.org/.
Jesse on the top of Glory
Teton Pass Weather Conditions
Open Snow is a fantastic resource to check out the cams, snow, wind, cloud coverage, and weather conditions. You can also check out NOAA for more weather details and conditions. The weather changes quickly and frequently, so be prepared for any weather conditions, from negative temps to cloud coverage, strong winds, and heavy snow.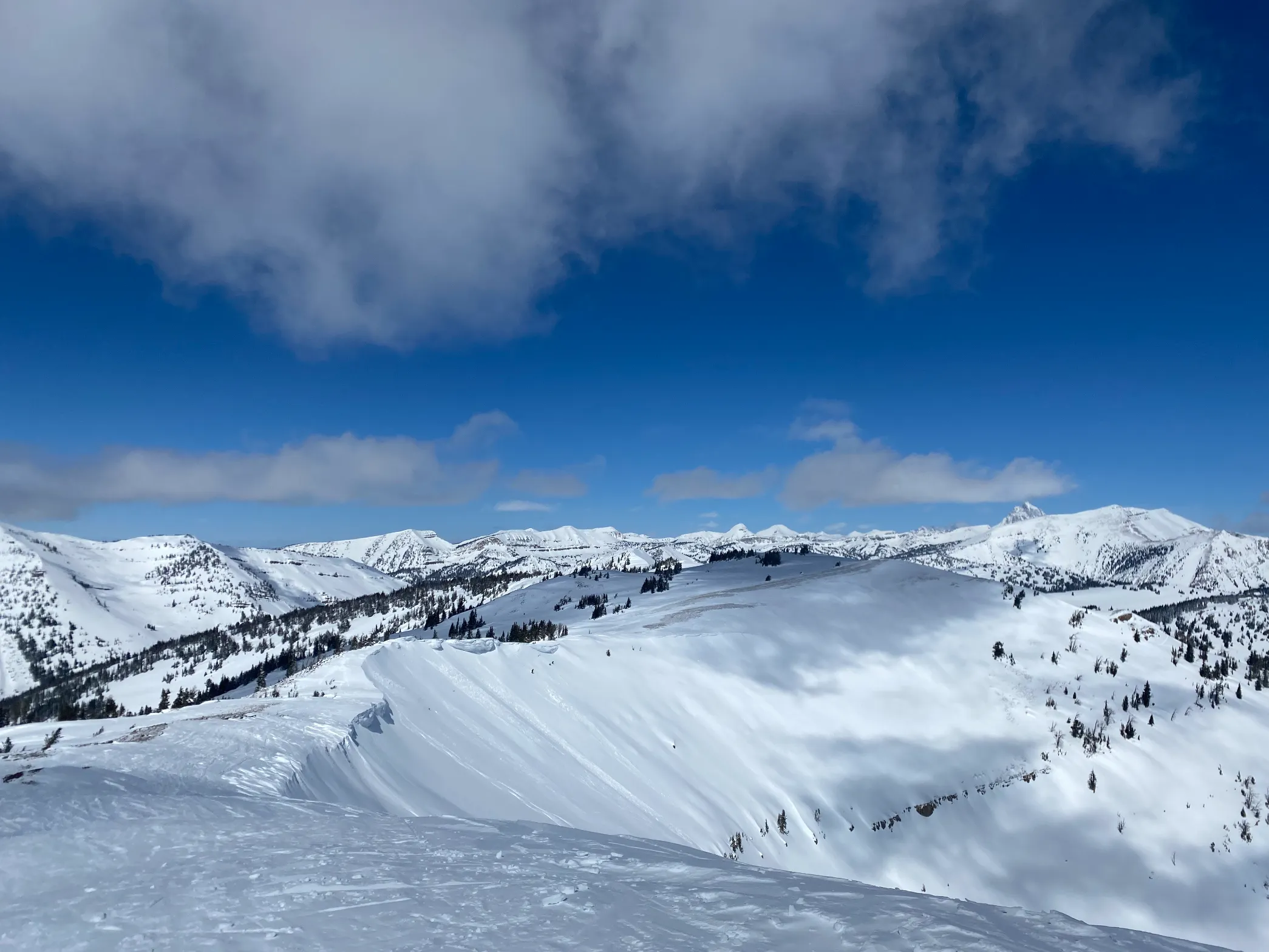 Teton Pass Backcountry Guide
The best book to start preparing and planning backcountry ski tours in Teton Pass is this book. I would never recommend just picking up a book and heading out, so at a minimum, please make sure you have the following:
Your Avy 1 Course complete and are aware/understand avalanche terrain and dangers
Beacon
Shovel
Probe
Water & Snacks
skin track at mail cabin creek
My Teton Pass Ski Tours & Beta (Bootpack and Skinning Tours)
I could write a website about Teton Pass, but I strongly feel it's up to you to learn and explore. That said, I'm happy to share some beta to get you on the right track. So I'll discuss some areas along the pass that makes for great ski tours.
Note: These are tours from my very first season of ski touring. I poured myself into the Teton Pass guidebook all winter and planned these routes. Some were better than others :) but all were an adventure and a hell of a workout.
Mail Cabin
Gliding skins may be best for Mail Cabin access because there are about 2.5-3 miles roundtrip of flats. I personally don't mind, and it also cuts out most of the lazy ski tourers, which means more pow.
***NOTE***: The FATMAP embed looks better on a computer than a phone.
Note: I most definitely fell in the creek, and it wasn't the first time :)
The Quickest Tours
Teton Pass Hitchhike or Shuttle Trips
Glory to Coal Bank
This is a pretty fun and straightforward one. You probably need skins if you get stuck in the flats near Coal Bank.
Bootpack up Mt Glory (~1,680 ft). Then descend northeast/east all the way down into Coal Creek, and make your way to the Coal Creek parking lot. It's twice the descent for minimal ascent, but you need two cars or to hitchhike to make it happen.
Here's another good shuttle, but almost twice the vertical climb than Glory > Coal Bank.
But the trees in Jamaica are so dang good, I can't resist this tour.
Other Shuttle Ideas
Technically, you can also start at Teton Pass and end up at the campground/road/roundabout in Wilson (Trail Creek Country Road?). It's a bit flatter and, therefore, probably more enjoyable for you skiers :) I've seen people boot up Glory, ski down, cross the highway, and ski down to Wilson. You could also start directly at the parking area or higher up.
Bootpacking
The two common boot-packing routes are Mt. Glory and Taylor Mtn. Mt. Glory boot pack is just across from the highway, parking at the top of Teton Pass. Taylor Mountain boot packing goes up the spine of Taylor Mountain from the parking lot. There is also a skin track I've used – I haven't personally done the bootpack, but I know it's steep and can be sketchy and exposed at times. You can do a lot in the pass without skins and a splitboard, so don't let that hold you back.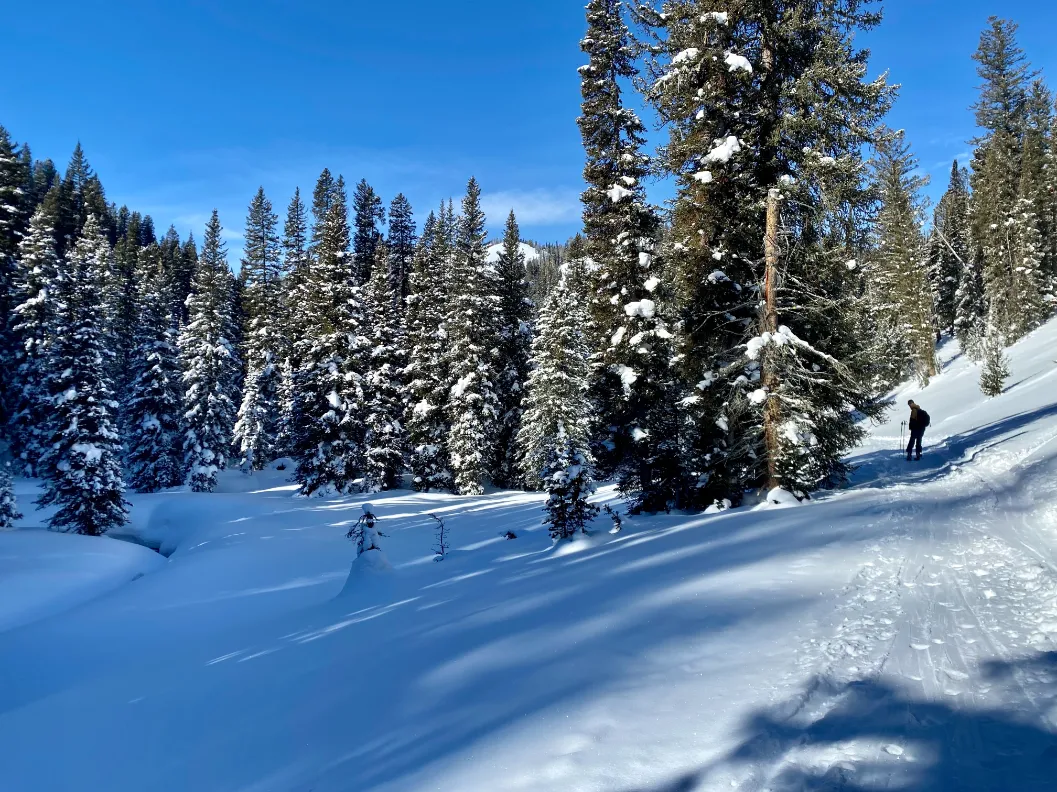 Things to Watch Out For
CREEKS. Yup. I've almost fallen into a creek many a times. It's only bad on a low snow year (looking at you, 2021/2022) and hasn't presented as much of a problem this year (2023) so far.
If you're touring Olivers Peak (a very steep and icy skin track at times, you want to avoid Burbank Creek.
If you're touring the Pass, make sure you don't descend the wrong slope and end up in Mosquito Creek (or as I affectionately call it, Skeeter Creek).
Finally and again on the pass, try to avoid descending into Trail Creek if you're descending into an eastern-facing slope from Old Pass Road. It's tempting to keep descending, but if you can help it, stay high and meet up with History Trail/the faster and steeper skin track to the parking lot.
Can I bring my snowmobile to Teton Pass?
Yes you can bring your sled. It has to be on the bed of your truck because no trailers are allowed on the Pass between December – April. The only place to sled is Phillips Canyon. All other access points are tour only.
skin track mail cabin creek
Locals Guide to Winter Restaurants, Lodging Events, and Entertainment
Mangy Moose – Live Music
I had the pleasure of seeing Dirtwire here as well as SkiiTour. The Mangy Moose is located at Teton Village, and if you're visiting after 6, you can park right in front for free. I like the venue a lot.
The Knotty Pine – Live Music
Pretty sad that the Kitchen Dwellers sold out on both nights, and I missed out, but there are lots of incredible music acts that come through here.
Highpoint Cider – Events & Tasty Cider
Get the transplant if you don't like super sweet cider. I spent my NYE here, and they are a great addition to the community because they host many local events like comedy shows, trivia nights, and more. Highpoint Cider is much needed in a bleak and desolate ski town, and the owners/brothers are pretty cool.
Trap Bar – Live Music at Targhee
This place is so fantastic that it doesn't even need a website. But if you want to see their page on the Targhee website, click here. The Trap Bar hosts events like NYE parties and brings in local talent and musicians on tour. My only quip is that it's a gnarly drive home if you do stay out late. Don't drink & drive. Sometimes they bring the bus to carpool folks back home.
I recommend checking out Butter Cafe for breakfast in Victor, ID. The only place I don't like is West Side Yard, and I'm sure I'll get some hate for that. But the food is overpriced and not that great for simple bar food. Pampanos is affordable, and The Knotty Pine has big portions and fantastic live music. I'm sad that I didn't see the Kitchen Dwellers last week (Jan 17, 2023).
Chiang Mai is my favorite restaurant. However, it's closed (as of Jan 22, 2023) due to burst pipes, and Annie's Thai is taking over once that's fixed.
Over on the other side of the pass in Wilson, I like Streetfood @ The Stagecoach for some simple street food. The loaded Al Pastor fries are my fave.
Note: I'm stretching my back. Don't tour hunched over like this ;)
Work from Home/Work Remotely in Victor, ID
Coffee shops? Not much. Victor is a pretty small town. The same is to be said about Driggs. When I am in another town, I often work at coffee shops to get out of the house. That's not to say there aren't opportunities here, but it's definitely not as famous as other towns like Durango, Silverton, SLC, etc.
The first year, I lived at the Teton Valley Motel. It leaves much to be desired, and the management sucks, but it was a highly affordable option. We brought in our double burner, cutlery, etc.
This year, we're staying at a studio in Victor. It's not the most ideal work-from-home situation, but it's tough to find anything in Jackson or Victor < $3,000 per month. The place has fantastic views.
I'm booked to stay in Bend OR, next year (because Bachelor is AMAZING), but if I find a short-term rental on the Facebook Marketplace, I'm definitely switching.
Like in many ski towns, things can sometimes feel lonely and depressing. Especially when it doesn't snow. My advice is to get outside at least once a day (even for a drive, if not a ski tour) and to find other things to occupy your time. Jesse & I love cooking, and baking, and spend lots of time working (and writing stuff like this). I look for local events when I can, but it's not a big city, so there isn't something happening every weekend.
There is a bit more "action" in Jackson, but it's not really my vibe. So if you want to try a rental on the other side of the pass, it may cost more but it's definitely more lively than the Idaho side.
Groceries tend to be expensive here, so I order mine online from Misfits Market.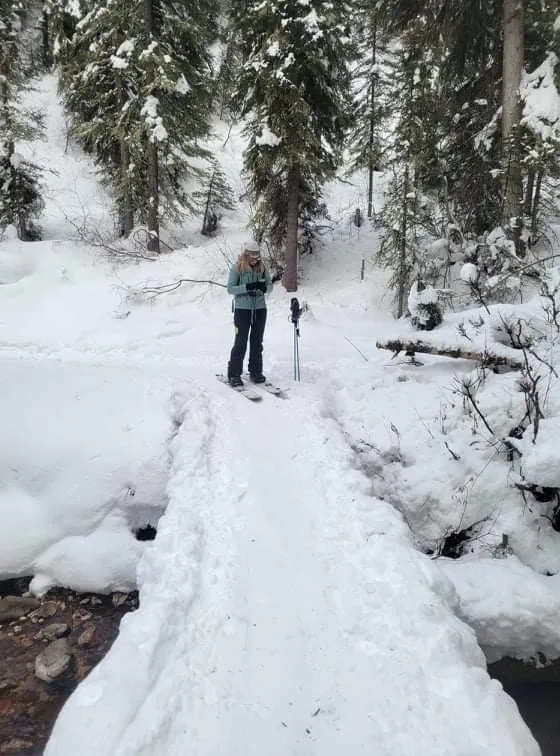 Teton Pass FAQ
What is Teton Pass?
Teton Pass is a high mountain pass located in Teton County, Wyoming, between Wilson and Victor, Idaho. At an elevation of 8,431 feet (2,570 m), it is a popular destination for mountain bikers, backcountry skiers, and snowboarders.
The Teton Pass highway in Wyoming is designated as State Highway 22, and the pass is approximately eleven miles (18 km) out of Jackson. The maximum grade on the road is 10%, and several avalanche slide paths traverse the road along its length, including Glory Bowl slide area. It also provides access from the Jackson Hole valley in Wyoming to the Teton Valley of eastern Idaho, including the access route to Grand Targhee Resort through Driggs, Idaho.
The area is famous for backcountry skiing and snowmobiling due to its high elevation, spectacular views, and abundance of snow. Respect and responsibility are essential when visiting, as your actions can help ensure future access and protect this special place.
What to expect when visiting Teton Pass
Attractions and activities available at Teton Pass include skiing and snowmobiling, wildlife viewing, mountain biking, backcountry skiing, and hiking. The Teton Pass area offers many trails to explore, including Glory Bowl, Blacks Canyon, Lithium, and the Arrow Trail. The overlook at the top of the pass provides a great view of Jackson Hole Valley.
Other nearby attractions include the T.A. Moulton Barn (18.4 miles), Schwabachers Landing (20.5 miles), Cascade Canyon Trail (20.7 miles), Jenny Lake Trail (21 miles), Hidden Falls (21.1 miles), Fall Creek Falls (21.5 miles), Jenny Lake Overlook (22.1 miles), String Lake (22.8 miles), Grand Teton National Park (24.4 miles), and Jackson Lake (30 miles).
What activities are available at Teton Pass?
At Teton Pass, there are numerous activities available for visitors to enjoy. From skiing and snowmobiling in the winter to biking and hiking in the summer, there is something for everyone at Teton Pass. Backcountry skiing is especially popular at the top of the pass, and visitors can also check out local wildflowers and wildlife.
Visitors can enjoy biking the Blacks Canyon and Lithium trails in the summer or hiking the Phillips Trailhead.
Teton Pass has a long and fascinating history, as it used to be the primary mail route into Jackson.
What type of terrain can be found at Teton Pass?
Teton Pass is a premier destination for winter recreation and offers many miles of biking and hiking trails as well as excellent backcountry skiing and snowmobiling. The terrain in the area consists of steep, rocky slopes with plenty of challenging inclines and declines, as well as some shorter, more gradual sections. The area also features a variety of wildflowers and wildlife, making it an excellent spot for outdoor exploration.
Are there any lodges available at Teton Pass?
Are there any lodges available near Teton Pass? No, there is no lodging available along the pass. However, there is nearby lodging on both sides in Victor and Wilson. Victor is a little bit more affordable.
Are there any rental shops at Teton Pass?
No, there are no rental shops at Teton Pass. You can check out Driggs, Wilson, or the Village for a rental shop.
Is there any wildlife at Teton Pass?
Is there any wildlife at Teton Pass? Yes, Teton Pass is home to wildlife, notably moose and elk. I've seen an ermine once, which was quite a treasure.
Respect and responsibility are essential when visiting the area; your actions can help ensure future access and protect this special place. Wildlife can also be seen from the overlook at the top of the pass, where visitors can take in the scenic views of Jackson, WY, in the distance.
How do I access the webcam for Teton Pass?
Is there avalanche control at Teton Pass?
Yes, there is avalanche control at Teton Pass. During the winter, the road may be closed for avalanche control or if there's a big dump and the plows need more time to get the road ready.
Trailers are not allowed over the pass during this time to ensure safety, and I'm not even sure why a semi with a trailer would WANT to drive the pass because it's sketchy in the winter.
It is crucial to check the Bridger-Teton Avalanche Center's daily forecast before venturing into the backcountry, as even a low-danger day can be deadly.
What type of safety equipment is recommended for activities at Teton Pass?
The type of safety equipment recommended for activities at Teton Pass includes avalanche safety gear such as a beacon, shovel, and probe. I also think a walkie-talkie is smart.
For backcountry skiing and snowmobiling, a helmet is also recommended. Skiers should take extra precautions when going near high-danger areas, as some avalanche paths run above the highway and can cause serious harm if triggered.
It is also essential to check the Bridger-Teton Avalanche Center's daily forecast and to become familiar with the terrain in the area. Additionally, people should always go with experienced partners and be sure to familiarize themselves with the current snowpack. Finally, mountain bikers should pick up a map from Wilson Backcountry at the base of the pass.
Are there any restaurants or dining facilities at Teton Pass?
No. There are no restaurants along the pass. There are restaurants in Victor, ID, and Wilson, WY.
How long is Teton Pass?
Teton Pass is 28km (17.4 miles) long, running from Wilson (in Teton County, Wyoming) to Victor (in Teton County, Idaho). At the summit, the elevation is 2.571m (8,435ft) above sea level.
How difficult is Teton Pass?
Teton Pass is a high mountain pass with an elevation of 8,431 feet (2,570 m) above sea level, located in Teton County, Wyoming. With a maximum grade of 10%, the road can be pretty challenging to traverse. The area is also known for dangerous avalanches, and the road is often closed during the winter months for avalanche control.
Despite the challenges, Teton Pass is popular with mountain bikers, backcountry skiers, and snowboarders who enjoy the views of Jackson Hole at the top of the pass. The pass also provides access to the Teton Valley of eastern Idaho, where adventurers can find incredible trails, fishing spots, and scenic drives.
Recreation Areas
Other recreation areas available at Teton Pass include Grand Teton National Park, Yellowstone National Park, and other state parks. These areas offer visitors activities such as day hiking, mountain biking, horse riding, whitewater kayaking and rafting, skiing, snowboarding, and incredible fly fishing.
Scenic Drives
What scenic drives are available near Teton Pass in Jackson Hole, Wyoming? I like to drive to the National Elk Refuge and where the road ends and turns into a private road, there is a small pull-out with fantastic views of the Tetons. As you're heading through the main road in Jackson, keep heading straight instead of turning for GTNP.
My other favorite drive is to head to GTNP past the Jackson Hole Airport. There are tons of pullouts to view the Tetons.
Popular Teton Pass Mountain Biking Trails
I'm not going to pretend I am good at mountain biking, but I want to include this info for you dirt senders in case you're reading this so you don't feel left out.
Black Canyon (6.5 mi) – Intermediate/Difficult
Jimmy's Mom – Very Difficult Downhill Trail
Phillip's Canyon (5.3 mi) Difficult
Lithium (3.5 mi) Very Difficult
Is Teton Pass paved?
Yes, Teton Pass is paved with sharp turns. Surprisingly, there are not many potholes (as of Jan 2023). It is known as Wyoming Highway 22 (Teton Pass Highway) and becomes Idaho State Highway 33 at the Idaho border. The first road to the summit was built in 1913 and has seen many improvements.
I still tour Old Pass Road and sometimes use it to skin up from Teton Pass descents. It's longer and more gradual than other skin tracks, so only if I'm particularly wiped and feeling slightly lazy :)
Is the Grand Teton Pass open?
Yes, the Grand Teton Pass is open. But it's not called Grand Teton Pass, so maybe you're confusing it with Teton Pass. There is also Grand Teton road which costs $$ to go into Grand Teton National Park.
Road closures can occur during the winter due to weather conditions, so checking the live traffic cameras and webcams from Teton Pass is advisable to ensure the road is open and safe.
Is Teton Pass scary to drive?
That truly depends on a few things.
Are you a Jerry?
Do you have 4WD?
Do you have traction tires?
Do you have experience driving on snow and ice?
I've driven my Subaru and now my truck over it without ever slipping, but I drive with caution and sometimes get passed when I get down to the flat part of the drive.
How long does it take to go over Teton Pass?
35 minutes on a clear road day. About 45 minutes on an icy/snowy road day.