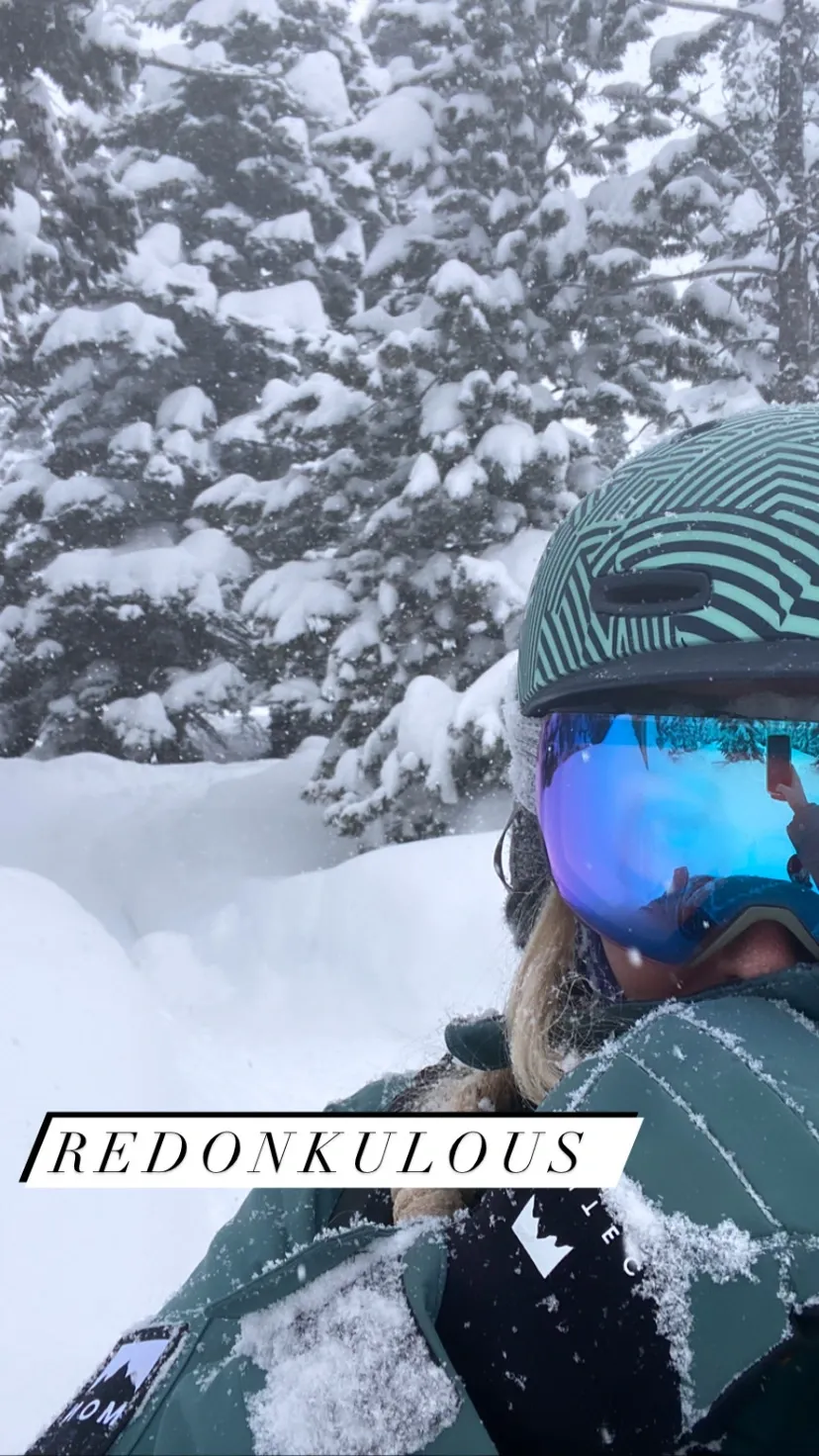 I mean, I think it is. Or it's pretty close. Then again, I've only skied in North and South America, so I can't compare it to Japan or European resorts. However, I've skied at over 34 places across the world, so I have a pretty good idea :)
Read this if you want to learn about my favorite places to ski on the mountain and some other things to make your trip more fun or comfortable.
Jackson Hole Mountain Resort in Wyoming is an experience you don't want to miss.
If you love powder and steep turns, Jackson Hole is your place. It's one of the best ski resorts in America and it has a unique charm that sets it apart from other places around North America.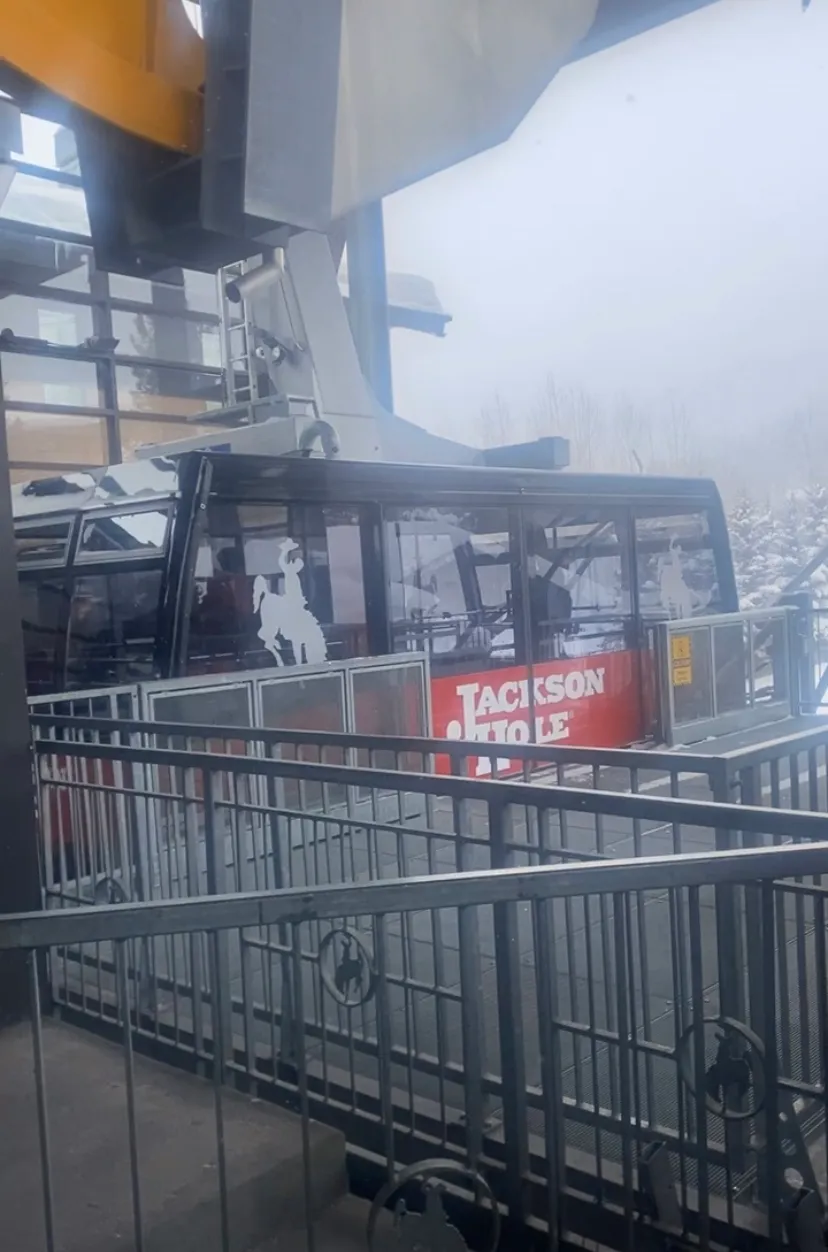 Disclaimer: My favorite conditions are waist deep and sh*t your pants steep tree runs.
Jackson Hole Resort offers world-class skiing in stunning scenery with over 200 trails and more than 4,000 feet of vertical descent on its world-famous tram and lifts. And if all this isn't enough for your enjoyment, there are plenty of gondolas, chairlifts, and four seasons of recreation.
Why I'm writing this: I live here, and I've skied here for over three years.
JHMR Beta:
Teton Lift is my favorite. It's not too steep but has some very fun tree runs. I love cutting from Bridger over to Teton at the beginning of a powder day. The tree runs off to skier's left are fantastic.
Sweetwater almost always has a short line, but there are normally some stashes if you ski straight down it. It's quick access to Casper, which has a pretty fun stash park.
Casper is fun in the spring; right alongside the lift has fun moguls. I like to ride up Teton Lift, then cut high over and ride the pow stashes above the Casper Lift.
The Tram is a must, but sometimes I skip it for the line length. The Hobacks are south-facing, so plan accordingly (it can be icy or chundery). Most of the time I ride the Tram; it's a white out up top and super gnarly, so keep that in mind if you're a fair-weather skier. That being said, the Tram is undoubtedly the G.O.A.T.
Marmot and Sublette can get a bit windy, but the terrain is pretty splendid.
Apres is great, low angle, mellow turn terrain, and we love heading over to Saratoga Bowl.
Studying the snowfall and wind will help you determine which runs will be the best. Jackson Hole is largely south facing, but thankfully the sun hardly comes out.
Sidecountry is accessible, but that DOES NOT MEAN you should go. Read for more details.
I love riding the resort on powder days. It's generally safer (but always be aware), and I can get more powder laps in. Once the powder is gone in the resort and conditions have chilled out in the backcountry, I head to Teton Pass, Teton Canyon, and Grand Teton National Park.
Another slight downside is that there is no free parking at the mountain. You have to park in the Stilson Lot and ride the shuttle.

However, if you want to make a friend, go wait at the bus stop at the Stilson Lot and wait for a car to pull up and ask if you want to carpool to the Ranch Lot (free if you have 3+ in your car). A great way to make friends and get to the pow faster.
I'll touch a bit more on some of my favorite spots in more detail and key statistics so that Google likes my little blog post.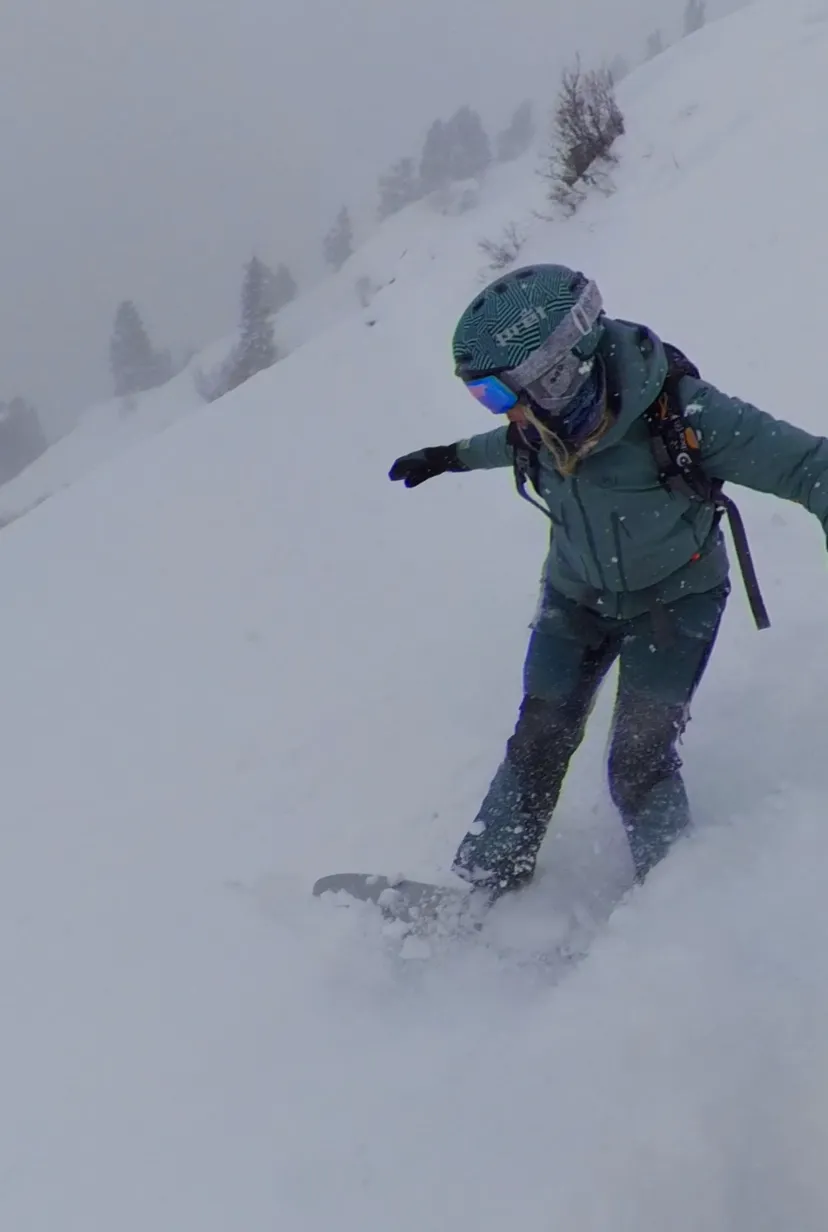 JHMR Stats
Elevation:
Vertical:
Number of Runs:
Snowfall:
Average Snowfall: 458 inches (1,163 cm) annually [2]
Other Key Statistics: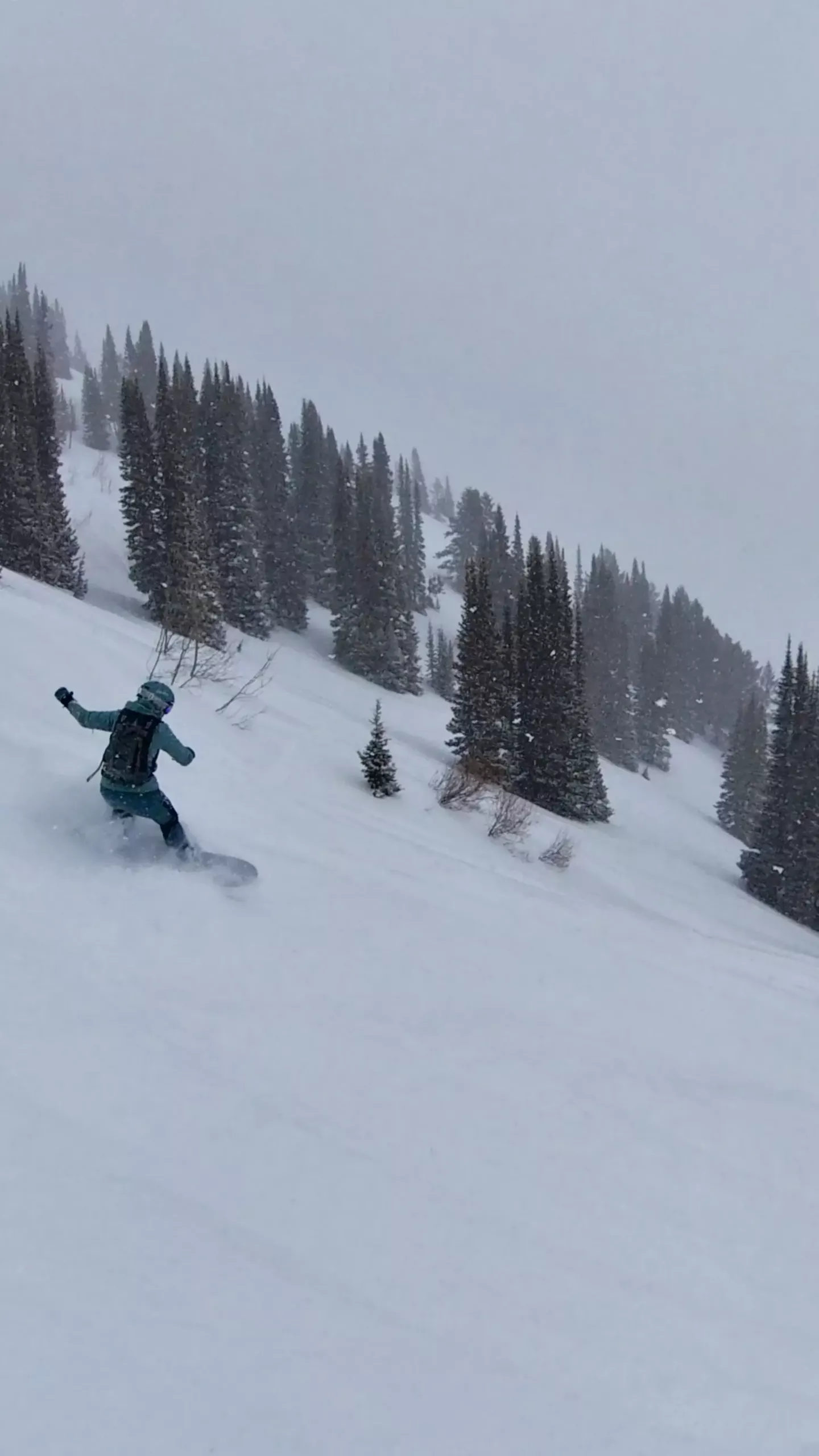 The Hobacks
The Hoback and other backcountry ski areas at Jackson Hole Ski Resort offer a unique and exciting experience for advanced skiers and snowboarders. These areas include Granite Canyon, Rock Springs, and Cody Bowl, each with their own terrain and difficulty level. Granite Canyon offers steep chutes and tree skiing for advanced skiers, while Rock Springs has a mix of open bowls and tree runs for intermediate to advanced skiers. Cody Bowl offers a mix of steep chutes and open bowls for advanced skiers. Skiers and snowboarders can expect challenging terrain with deep powder and breathtaking views. It is important to note that exploring these areas requires proper equipment and knowledge of backcountry safety.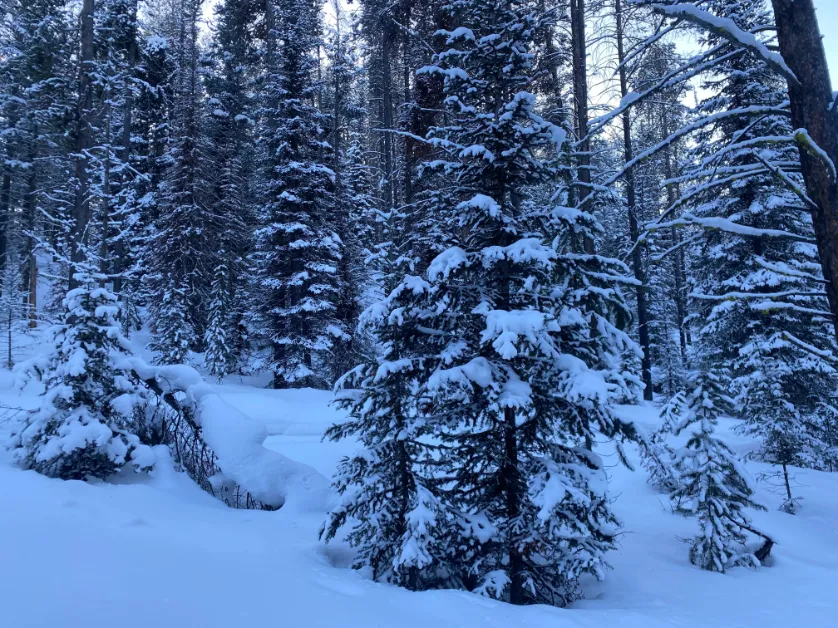 Backcountry Access
Before YOU READ THIS: Beacon, Shovel, Probe, check the conditions.
Backcountry Gates: The resort offers access to backcountry terrain through marked gates. The terrain is challenging, with steep chutes, cliffs, and tight tree runs. The snow conditions can vary from powder to hardpack, and it is important to check weather and snow reports before heading out. The level of difficulty is advanced to expert.
This SICK map is courtesy of 57hours.com.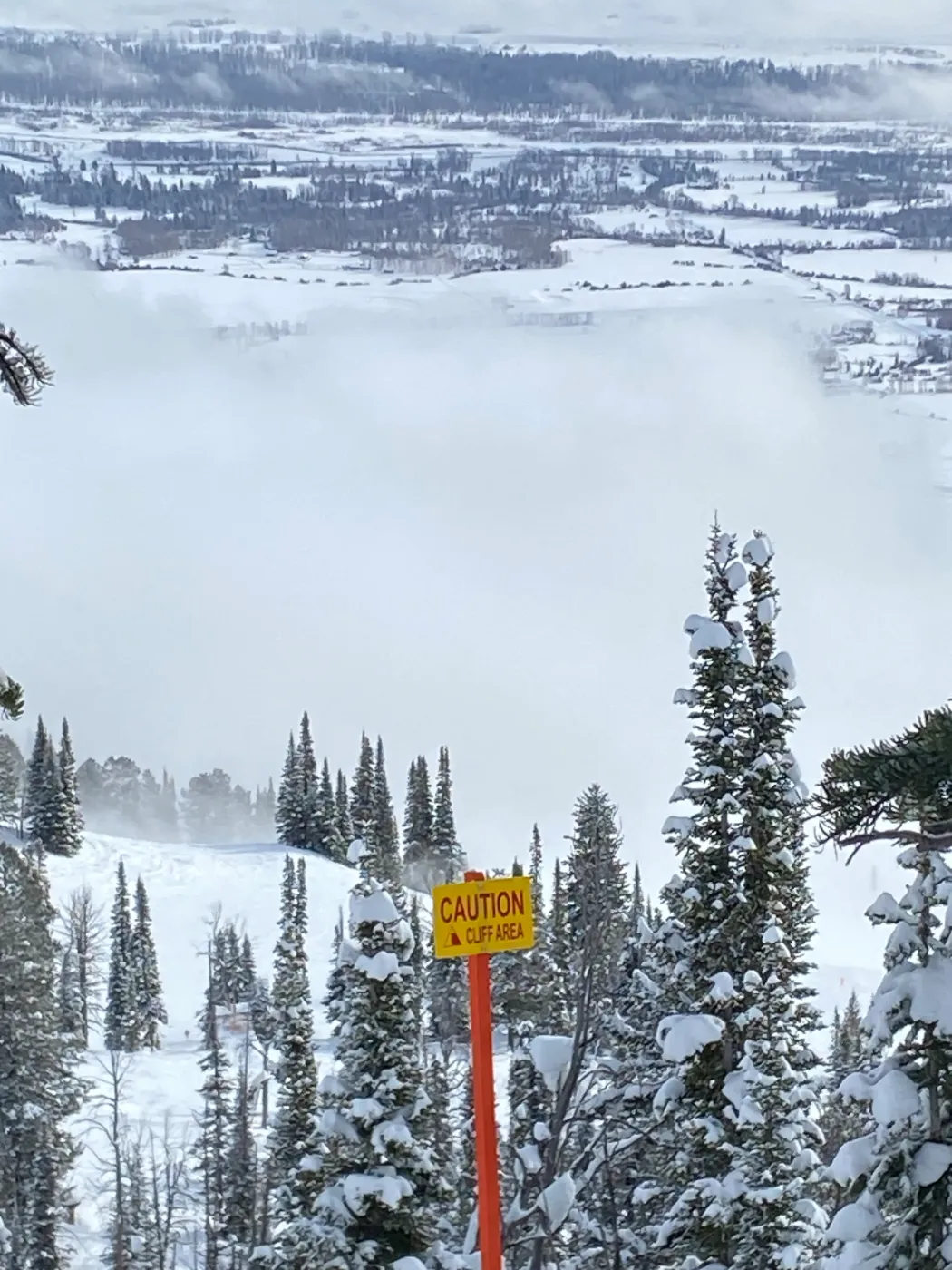 Why Jackson Hole is My Favorite Ski Resort
It's really a no-brainer, I am a powder hound and love big mountain terrain. JHMR only has two terrain parks – one off of the Teewinot and that fun stash off Casper- and the rest of the mountain is dedicated to pure mountain goodness.
To cool for a helmet? I recommend you bring one to JHMR! I won't roast you too hard, but it might save your life. Most resorts are pretty mellow. You can definitely find yourself on a cliff accidentally in Jackson Hole. As Wu-Tang said, protect your neck.
I absolutely love the Teton Lift and shredding Moran Face, which is close to the Natural Selection Tour.
I also love the AV lift and traversing over to the Saratoga Bowl on that side. It's a long traverse back to the lift on a snowboard, but well worth it on a deep day.
I don't get on the Tram as often as I should because I will work my way over to Sublette and the terrain on that side. That being said, when I do work up the patience to get on the Tram, the Hobacks are unbeatable.
#Skitheghee if JH is Too Gnarly.
Grand Targhee is a more mellow local mountain. It's hard to compare to Jackson Hole, so I made a table.
| | | |
| --- | --- | --- |
| Aspect | Grand Targhee Ski Resort | Jackson Hole Mountain Resort |
| Location | Teton Range, Wyoming | Teton Range, Wyoming |
| Snowfall | Receives more snow | Lesser snowfall |
| Terrain | Vast and varied | Steep and challenging |
| Crowds | Less crowded | More crowded |
| Price | Lower prices | Higher prices |
| Lift System | Standard | Superior |
| Amenities | Limited | More restaurants and shops |
| Scenic Beauty | Breathtaking views | Impressive mountain vistas |
| Appeal | Powder enthusiasts | Advanced skiers and riders |
| Family-Friendly | Yes | Yes |
One thing I did not put in this table is VIBES. JHMR rarely passes the vibe check, but Targhee passes is 24/7/365. Be warned, Targhee is pretty flat in some spots and not snowboard-friendly. But suppose you plan a ski trip and feel Jackson Hole is too out of your comfort zone. You'll love Targhee and depending where your lodging is, it's not too far away.
Grand Targhee Stats
Mountain Stats for Grand Targhee Resort:
Location: Alta, Wyoming, on the western slope of the Tetons.
Season Dates: Winter season runs from November 17, 2023, to April 21, 2024. Summer season is from June 16, 2023, to September 17, 2023 [1].
Skiable Area: 2,500 acres [5].
Vertical Rise: 2,270 feet [5].
Base Elevation: 7,408 feet [5].
Summit Elevation: 9,862 feet [5].
Trails: 72 trails [5].

Beginner Trails: 10%
Intermediate Trails: 70%
Advanced Trails: 15%
Most Difficult Trails: 5%

Lifts: 5 lifts in total [5].

Quad Chairlifts: 3
Double Chairlifts: 1
Surface Lifts: 5

Longest Ski Run: 3 miles [5].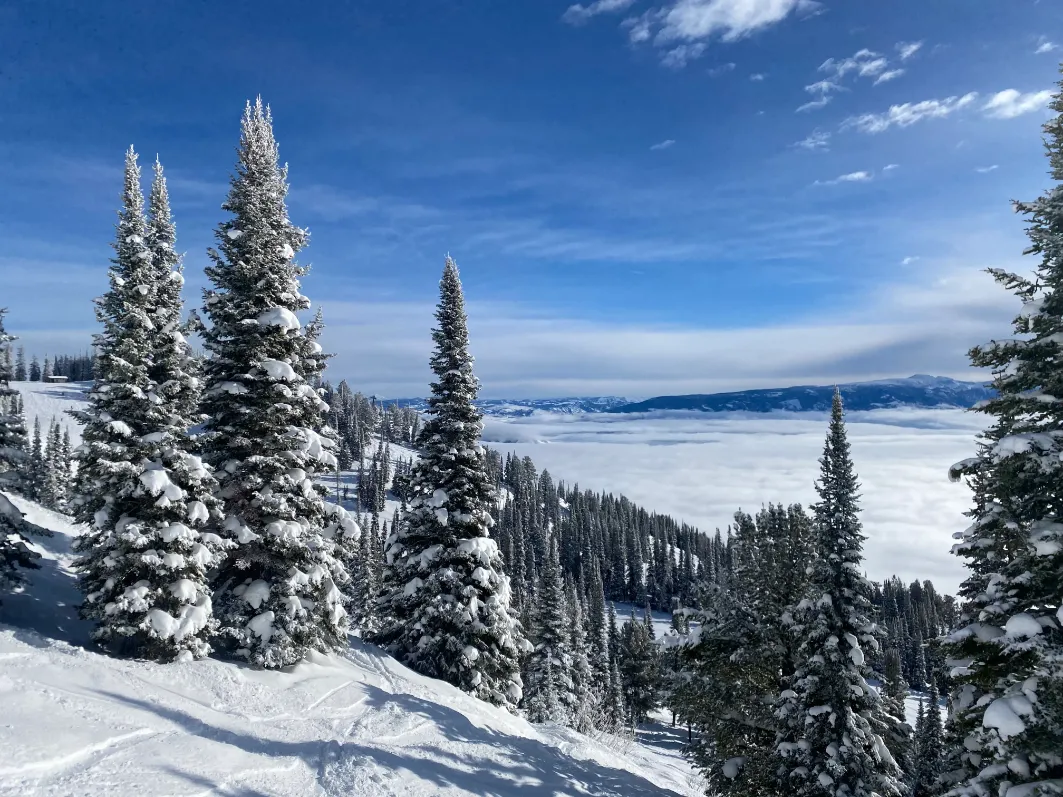 FAQs About JHMR
What ski and snowboard terrain is available at Jackson Hole Mountain Resort?
Jackson Hole Mountain Resort offers a diverse range of ski and snowboard terrain. Here's an overview of the available terrain based on the provided information:
The resort spans 2,500 acres of in-bound terrain [2] with a vertical drop of 4,139 feet. The mountain consists of two main peaks: Apres Vous Mountain and Rendezvous Mountain [7].
Apres Vous Mountain caters to intermediate skiers and offers gentle beginner slopes at the base. It provides a suitable terrain for those new to skiing or snowboarding [7].
Rendezvous Mountain is known for its challenging terrain and offers a wide range of options for advanced skiers and snowboarders. It features steep chutes, bowls, glades, and tree runs, providing thrilling experiences for proficient riders [7]. This mountain includes both groomed and ungroomed black runs, wide bowls, and tree skiing, making it ideal for advanced and expert riders [7][9].
In recent years, Jackson Hole Mountain Resort has focused on improving the intermediate skiing and snowboarding experience. They have introduced new "blue" terrain and upgraded lifts to high-speed quads, such as the Teton Lift and the Casper high-speed lift [3][7]. These enhancements have expanded the intermediate terrain and provided a variety of blue runs for skiers and snowboarders of different ability levels [3].
For freestyle enthusiasts, the resort offers a selection of terrain parks. Four Burton Stash Parks are spread across the mountain, utilizing natural features and local wood to create a unique and environmentally friendly riding experience. These parks cater to different riding and skiing styles and levels. Additionally, traditional terrain parks like Antelope Flats and Bronco Park offer various features for different skill levels [5].
It's worth noting that the resort's trail offerings consist of 50% expert level, 40% intermediate, and 10% beginner trails [2]. With over 130 named trails available, skiers and snowboarders can explore and enjoy a wide range of options.
| | |
| --- | --- |
| Run | Rating |
| Sundance | Blue |
| Dicks Ditch | Diamond |
| Bivouac | Black |
| Cirque | Black |
| Alta Chutes | Black |
| The Headwall | Black |
| Rendezvous Bowl | Black |
| Expert Chutes | Black |
| The Hobacks | Black |
| Corbet's Couloir | Diamond |
Is there any backcountry skiing near Jackson Hole?
Backcountry skiing is popular among Jackson Hole Ski Resort visitors, offering a chance to explore the natural beauty of the surrounding mountains and terrain. Here are the top backcountry skiing options available near Jackson Hole Ski Resort, listed in order of difficulty level:
Teton Pass: I wrote a whole blog about Teton Pass. Why don't you go check it out? https://snowmaddigital.com/teton-pass/
Grand Teton National Park: With its stunning views and challenging terrain, Grand Teton National Park is a popular destination for experienced backcountry skiers. Want to start easy? Try 25 Short or Wimpy's Knob. I'm not advising you to ski GTNP.
Granite Canyon: Right off the Teton Lift. Be warned, I am not advising you ski this.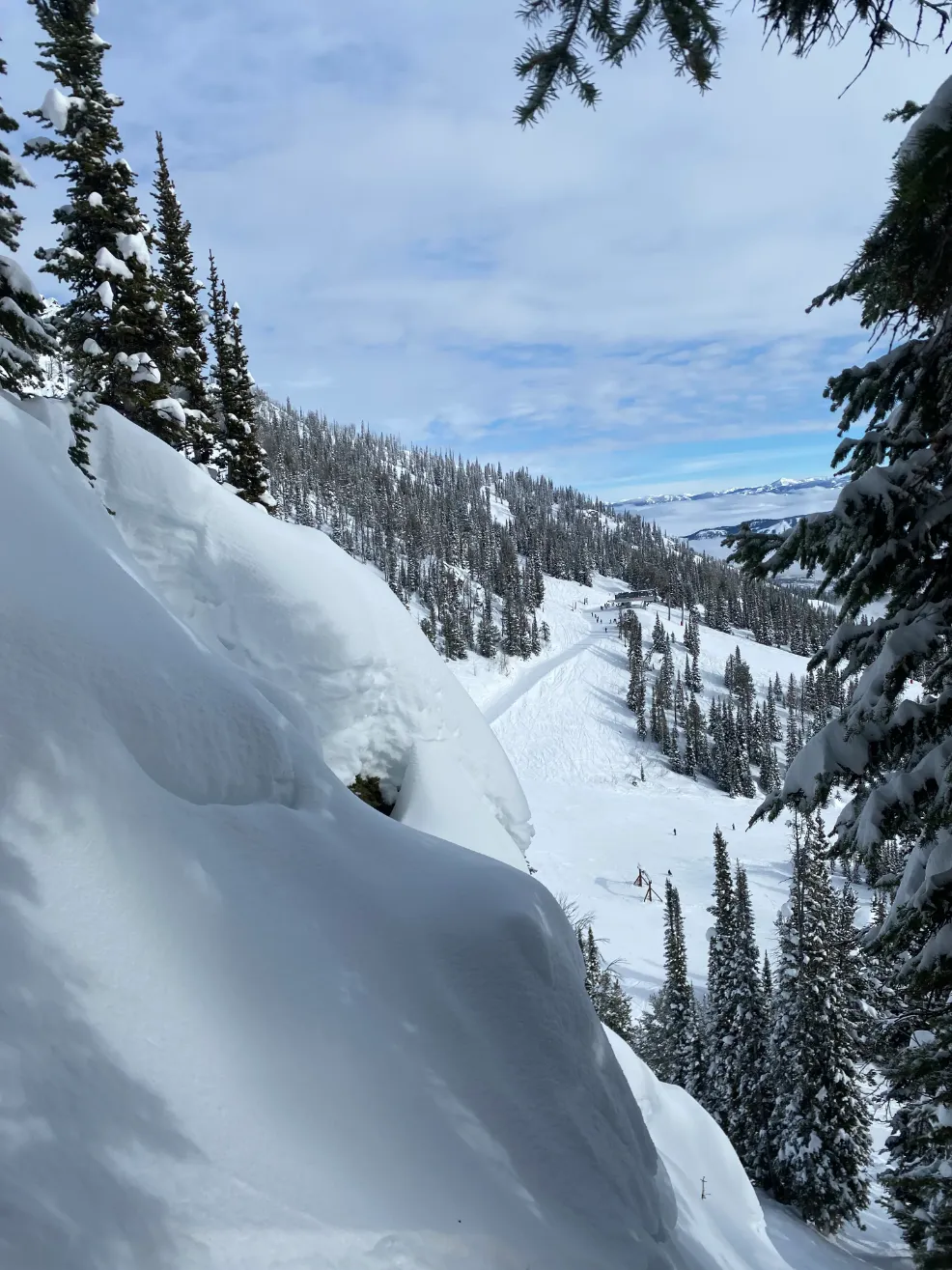 The Inside Scoop
More details that touch on the beta I shared above.
Best Time for Snow
FEBRUARY. End of story.
Terrain Overview
Jackson Hole Ski Resort is a world-renowned ski destination that offers a diverse range of terrain for skiers and snowboarders of all skill levels. The resort covers two mountains, Apres Vous and Rendezvous, with over 2,500 acres of skiable terrain. The intermediate terrain is primarily located on south-facing Apres Vous Mountain, while Rendezvous Mountain has more advanced terrain, including bowls, glades, and chutes. The ski area is known for its challenging terrain, including the infamous Corbet's Couloir, which towers over the rest of the resort and has people testing their wits every winter. Half of the terrain is rated expert, 40% intermediate, and only 10% beginner. In addition to the skiable terrain in bounds, there is an even larger area to be explored off-piste (out of bounds). These areas are accessed through marked gates by expert skiers/boarders equipped with avalanche safety gear. Overall, Jackson Hole Ski Resort offers a high-quality terrain that caters to experienced skiers and snowboarders seeking a challenging and unforgettable mountain experience.
Total Lifts: 13
Jackson Hole Ski Resort has 13 lifts available for skiers and snowboarders. These lifts are classified into gondolas and trams, high-speed quads, and other lifts. There are three gondolas and trams, four high-speed quads, one double chair, and two surface lifts. Notable features of the lifts include the Thunder High-Speed Quad, which has a vertical rise of 1,456 feet and a capacity of 2,400 people per hour, and the Aerial Tram, which passes over Corbet's Couloir and has a vertical rise of 4,084 feet. The variety of lifts available at Jackson Hole Ski Resort allows for efficient and convenient access to the resort's 116 kilometers of ski slopes. It also provides skiers and snowboarders various experiences, from the more leisurely gondola rides to the thrilling high-speed quad lifts.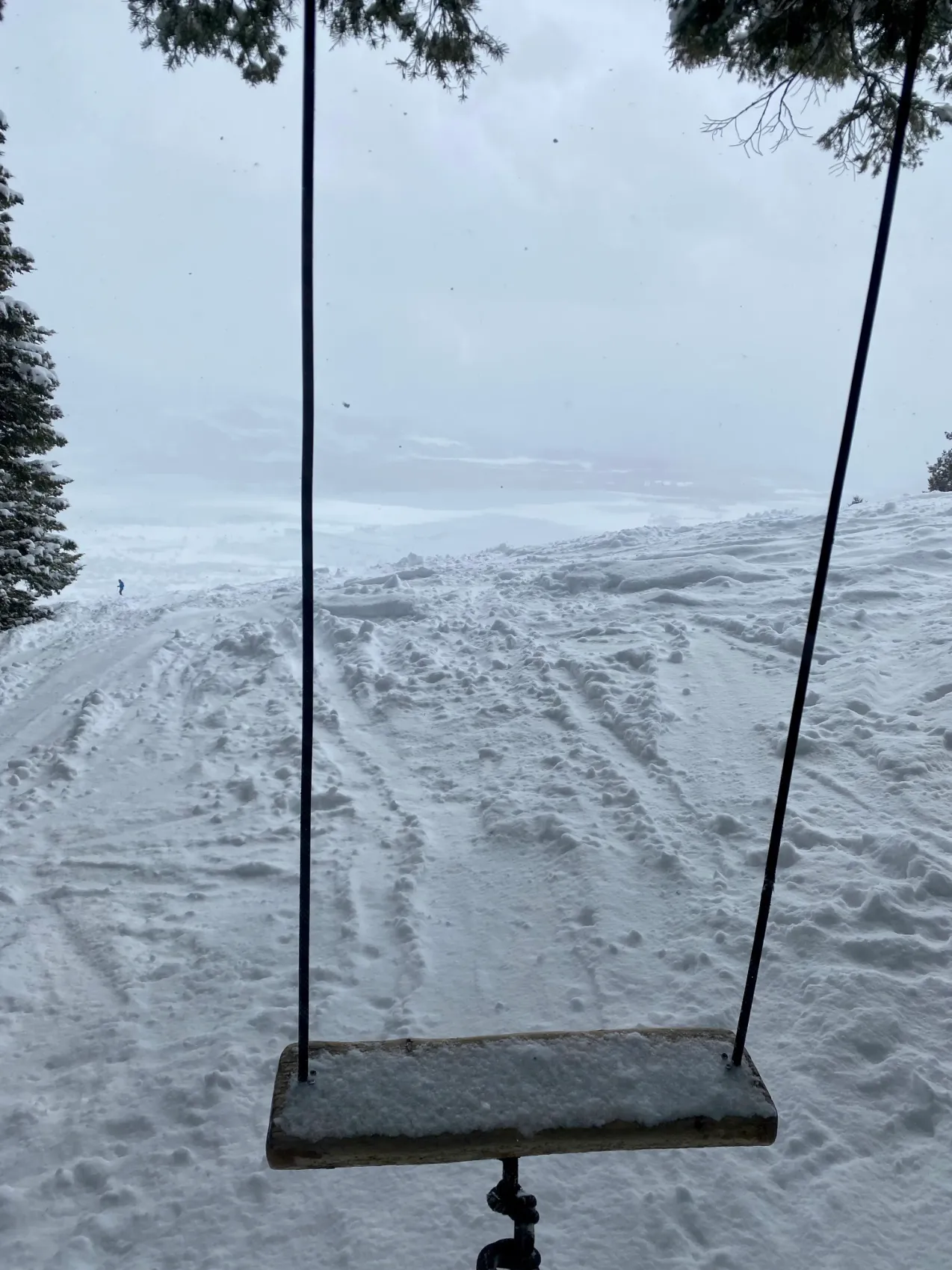 A Brief Teton History: From Trappers to World-Class Skiing
European Trappers and the Birth of Jackson Hole Valley
In the early 1800s, European trappers were lured to the pristine Jackson Hole valley for fur trading. In the 1820s, French trappers named the prominent peaks "Les Trois Tetons," or "The Three Breasts," leaving a lasting legacy.
Adventure Beckons: Backcountry Skiing's Deep Roots
The captivating Teton mountains caught the attention of adventurers, leading to a profound connection between Jackson Hole and backcountry skiing. In 1930, Fred Brown and Allen Hanks blazed a trail as the first skiers in Grand Teton National Park.
Post-WWII Surge and the Rise of Jackson Hole
The aftermath of World War II witnessed a surge in skiing, fueled by the influence of the 10th Mountain Division. In response to the growing interest, the Jackson Hole Winter Sports Association formed in 1945, paving the way for Wyoming's first chairlift on the local town hill the following year.
Jackson Hole Mountain Resort: Opening New Frontiers
In 1965, Jackson Hole Mountain Resort (JHMR) opened its doors, ushering in a new era of skiing experiences for the public. The resort's inauguration marked a turning point, solidifying Jackson Hole as a world-renowned skiing destination.
Bill Brigg's Triumph and Lasting Traditions
1971 witnessed Bill Brigg's fearless descent of the towering Grand Teton, a monumental achievement reverberating throughout big mountain and backcountry skiing. Even in his 90s, Bill Brigg continues to captivate locals with his banjo performances at the Stagecoach Bar in Wilson, preserving the cherished tradition of "Church" for the past 50 years.
From Lawless Beginnings to Legendary Status
Transforming from a lawless cowboy operation, the Teton region has evolved into an internationally acclaimed destination, offering unparalleled skiing experiences that rank among the finest on Earth.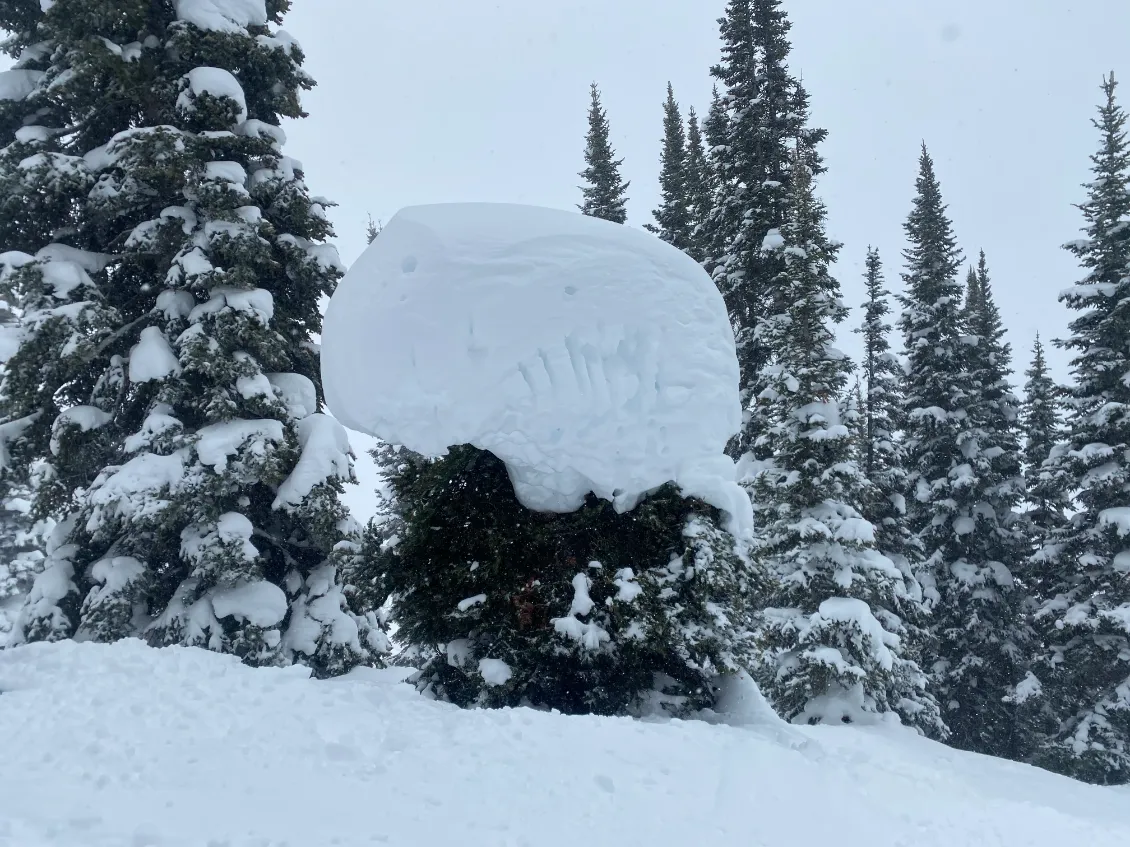 Come Experience JHMR for Yourself.
My time living in Jackson Hole and skiing at Jackson Hole Mountain Resort has been an extraordinary and transformative experience. This place has captured my heart, from the breathtaking natural beauty of the Teton Range to the exhilarating slopes that have filled my days with joy. The warm and welcoming community, vibrant arts scene, and endless opportunities for adventure have enriched my life in ways I could have never imagined. Jackson Hole is a truly magical destination that beckons those seeking a connection with nature, thrilling experiences, and a sense of belonging. Come and discover the wonders of Jackson Hole for yourself, and let this captivating corner of the world leave an indelible mark on your soul.