Avoiding the Ring Road and Creating Your Own Unique Adventure
If you're anything like me, planning a trip to Iceland can seem daunting. There are SO many things to see and do, and it's hard to know where to start. And how do you skip over the generic stuff (looking at you, Blue Lagoon) and skip to the secret spots?
I've got you covered with this comprehensive (yet flexible) Iceland itinerary, complete with excursions and tips for going off the beaten path.
So whether you want to plan your Icelandic adventure or get some ideas for what to do when you're there, read on. I'll share what I loved, liked, and what I felt was overrated.
P.P.S. – When I arrived in Iceland, I realized most photos I saw beforehand were heavily photoshopped. Mine are not photoshopped and were taken with an iPhone :)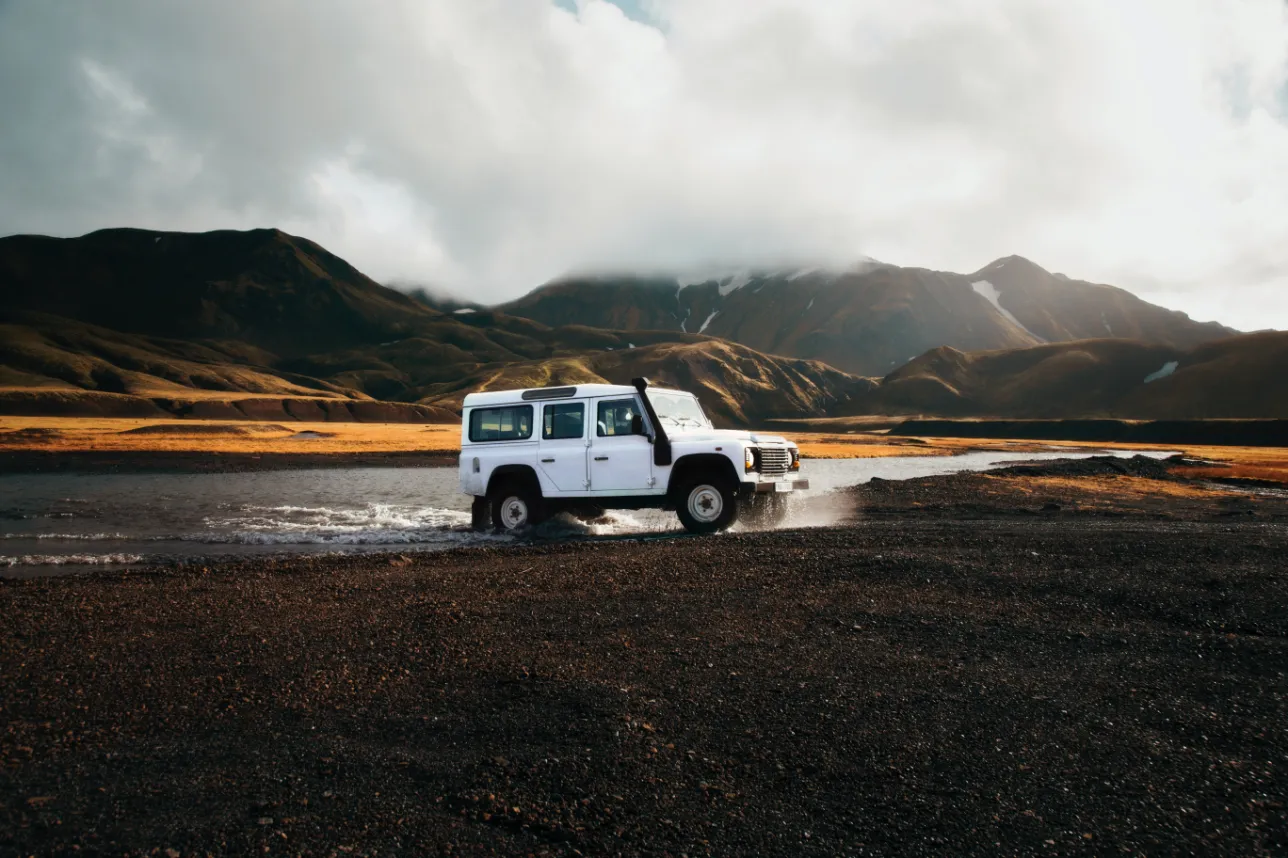 How much will a trip to Iceland cost?
How much will your trip to Iceland cost? Well that entirely depends if you are a budget traveller or not and what is on your travel itinerary. We slept at campgrounds, hiked, and only did a few guided tours and spent around $2,400 including food and gas, flights, 4×4 rental car with soft camper top, and accommodations.
The trip was 13 days and (would have) cost $2,928 total per person.
Here's a breakdown of the costs:
$685: flight round trip (airfare costs/trip airfare) from Durango, CO > Reykjavik
$45: flight insurance
$1,046: 4×4 rental car with tent (Dacia Duster) with full camping gear and unlimited WiFi (We did not use a camper rental company)
$752: tours (paragliding, snowmobiling, glacial ice climbing, white water rafting)
$400: accommodation prices (camp for eight nights, Airbnb for five nights)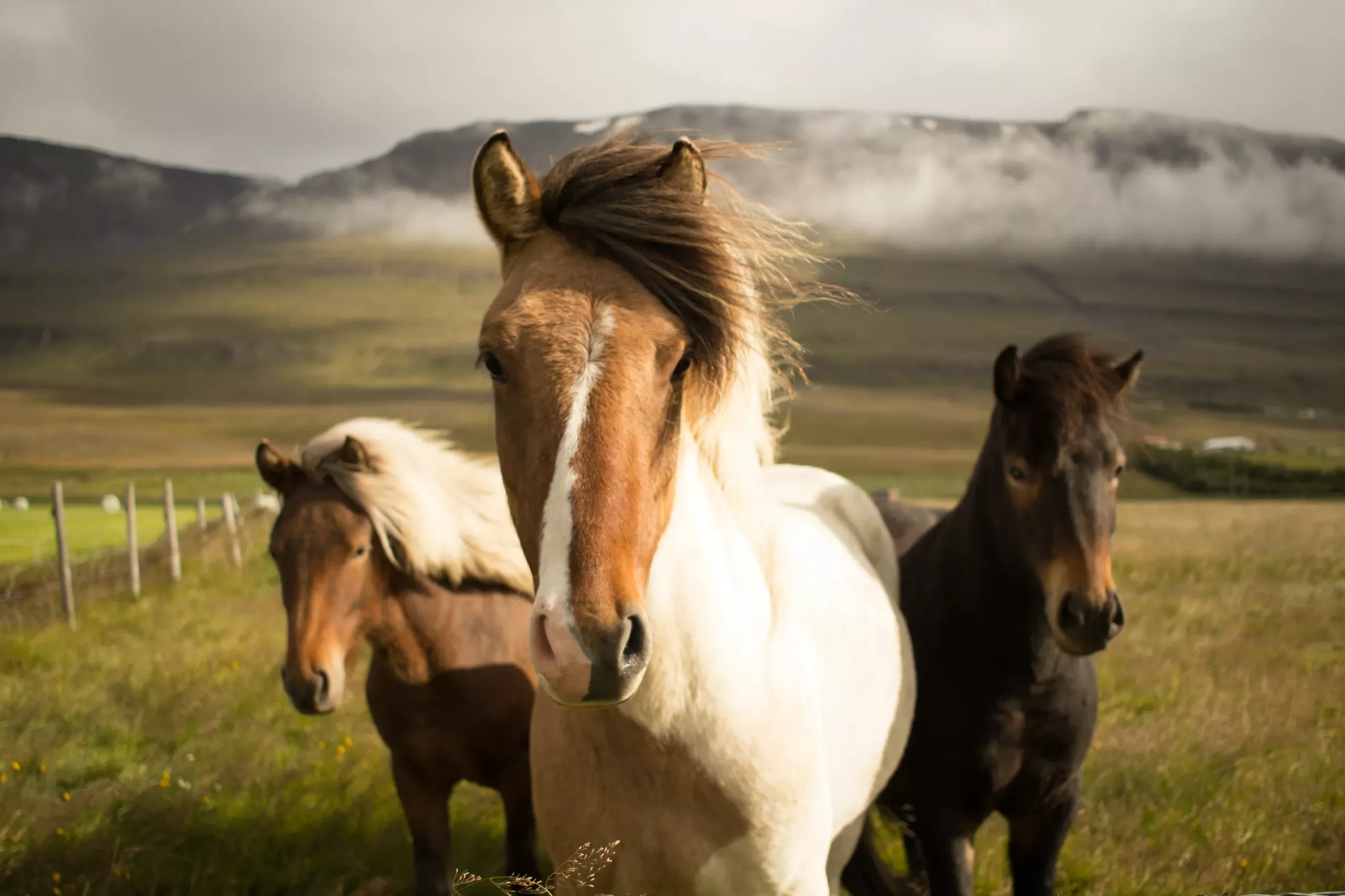 Day 1: Keflavik Int'l Airport > Geysir, Iceland
Faxi Waterfall
Gulfoss
Geysir
We took our trip around the time that the volcano was erupting. We arrived just after it stopped and it mainly was smoking, so there was no hot lava. Although we hadn't slept in 24 hours, we hiked around here for a few hours before heading to our Airbnb in Geysir where we passed out for a few hours.
Around midnight, we got up to go check out the Faxi and Gulfoss waterfalls and more around Geysir.
Because we opted for a midnight trip, we saw no one except a very angry goose.
The highlight for me was Faxi because it was so peaceful and serene. Gulfoss is a much bigger waterfall. I wasn't super impressed with Geysir – it's not much different than any other geothermal area (but this is Iceland, so it's all about waterfalls & geothermal activity).
Day 2: Snowmobile Langjokull glacier + Off-Road to Thingvellir (Þingvellir)
F Road 338 & 550
A quick stop in Thingvellir
Road 365 back to Airbnb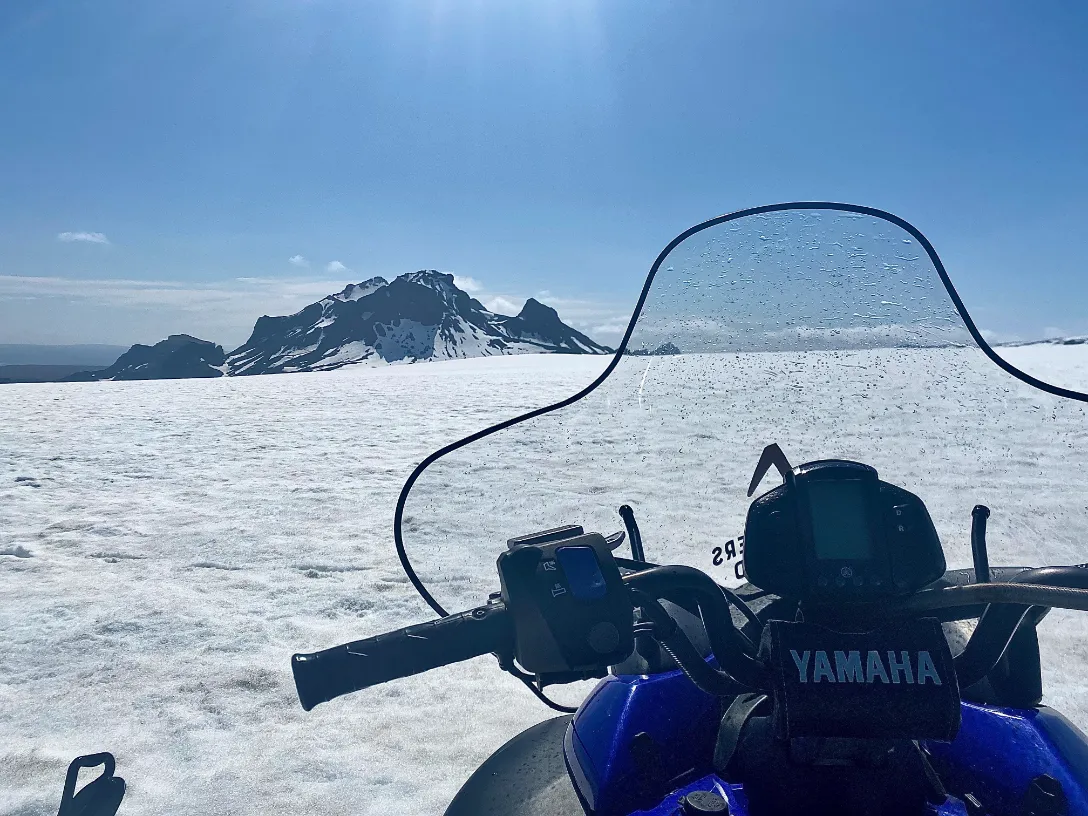 The snowmobile tour was breathtaking. If you have been on a sled before and are experienced, that part is not as fascinating. But the trip starts in a super rad off-road vehicle before you gear up and get on your sled. And it's cool to say you rode on the Langjokull glacier in Iceland.
We stopped at a manmade ice cave along the trip before riding back. The ice cave tour was informative.
After that, Jesse and I took an F Road (338 & 550) to Thingvellir, which was a bit sketchy but a fun drive with a few small river crossings. Thingvellir seemed more crowded but was beautiful, so we were glad we didn't spend much more time here. I think most of the appeal is it's proximity to Reykjavik.
Day 3: Geysir > Brennisteinsalda Camping & Landmannalaugar
Hjalparfoss
Sigoldufoss
Sigoldugljufur (cross the road to find it)
F Road 26 & 208
Hike Brennistalda
This drive was breathtaking. We only had one semi-sketchy river crossing, but it depends on the snow that winter and how much it rains so be sure to check conditions. I've seen some of the most beautiful mountains with pristine reflections.




We stopped at many waterfalls before getting to Brennisteinsalda to see the colorful, striped mountains of Landmannalaugar.
We spent about 5 hours hiking around before heading to the hot springs. Note: the hot springs were not that great and were mainly cold, with only a few "hot spots" :)
Also worth noting: there are lots of people who camp here. Someone will likely park near you and be noisy at night when you are trying to sleep. Keep those earbuds and eye masks handy.
Day 4 Brennisteinsalda Camping > Paragliding in Vik > Skaftafell Campground
F208 south to Vik
Easy gravel road with 20 river crossings
Paragliding was canceled due to the weather
Hike Hjorlenshofoi (hike up is steep) – park by the cave, hike up steep, back down the other side is pretty
Fjadrarglujufur – super pretty but too crowded
Stop and see various waterfalls and get to Skaftafell to camp
Hike to see Svartifoss and Sjonarnipa
This was one of the best drives of the trip. We had about 15 "river" crossings.
Since our paragliding was canceled due to foggy weather (a common occurrence here), we decided to check out the black sand beaches and a nearby cave. I wasn't extremely impressed with the black sand beaches (the ones LATER ON are MUCH more awesome) or the cave hike, but it was a great way to spend our time. The cave hike (Hjorlenshofoi) proved to be a bit scary, for me at least. You must use the chains to pull yourself up because it is steep. Jesse had no issue though, so maybe it's just me :)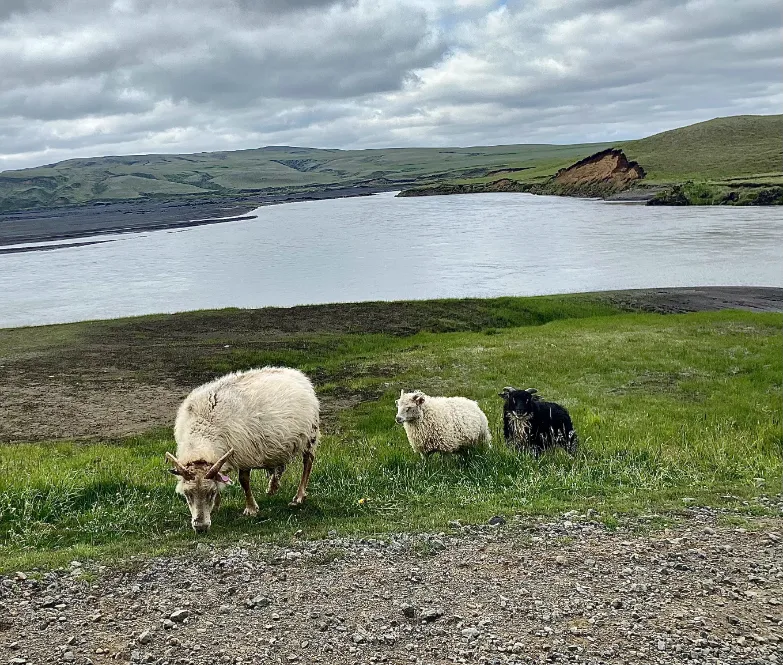 We did stop at Fjadrarglujufur, but if I could go back in time, I'd skip this altogether. Yes, it is beautiful, but so are many other places in Iceland. The vast herds of humans and noisy drones killed the appeal.
We continued our drive to Skaftafell, which was breathtaking. There are many other waterfalls to stop at along the way, and you can see them on Google Maps or right from the road. We started a hike around 9 PM to Svartifoss and Sjonarnipa (the big glacier). The highlight was spotting an arctic fox, but it was too dark to photograph as it blended in with the dark rocks.
Day 5: Skaftafell Campground > Vatnajokull & Diamond Beach > Haukafell Campground
Múlagljúfur
Fjallsárlón
Jökulsárlón Glacier Lagoon & Diamond Beach
Camp at Haukafell Campground
If I could go back, I'd break this day up into two. Ice climbing was a fun journey, but if you've been ice climbing before, it's not the ice climbing part that is exciting. It's being on the glacier and getting to say you climbed the glacier :) The ice climbing tour was fun, and even better was getting beta from another couple to check out Múlagljúfur, which was one of the best parts of our trip.
We had difficulty figuring out where to park because NO ONE was there, so I took us off-piste. The way to get to Múlagljúfur is to hike down to the house, turn left at the river, and hike up the river to the waterfall. Unfortunately, I ended up heading right and bushwacked through the backside to the waterfall, which was cool but probably considered trespassing, so don't be like us. We had so much fun hiking down the river using large rocks and seeing lots of obsidian. I didn't take many photos because I was having too much fun.
There is tons of information online about Fjallsárlón, Jökulsárlón Glacier Lagoon & Diamond Beach so I won't touch too much on that here. My only regret is not breaking this up to spend more time at Fjallsárlón, Jökulsárlón Glacier Lagoon & Diamond Beach.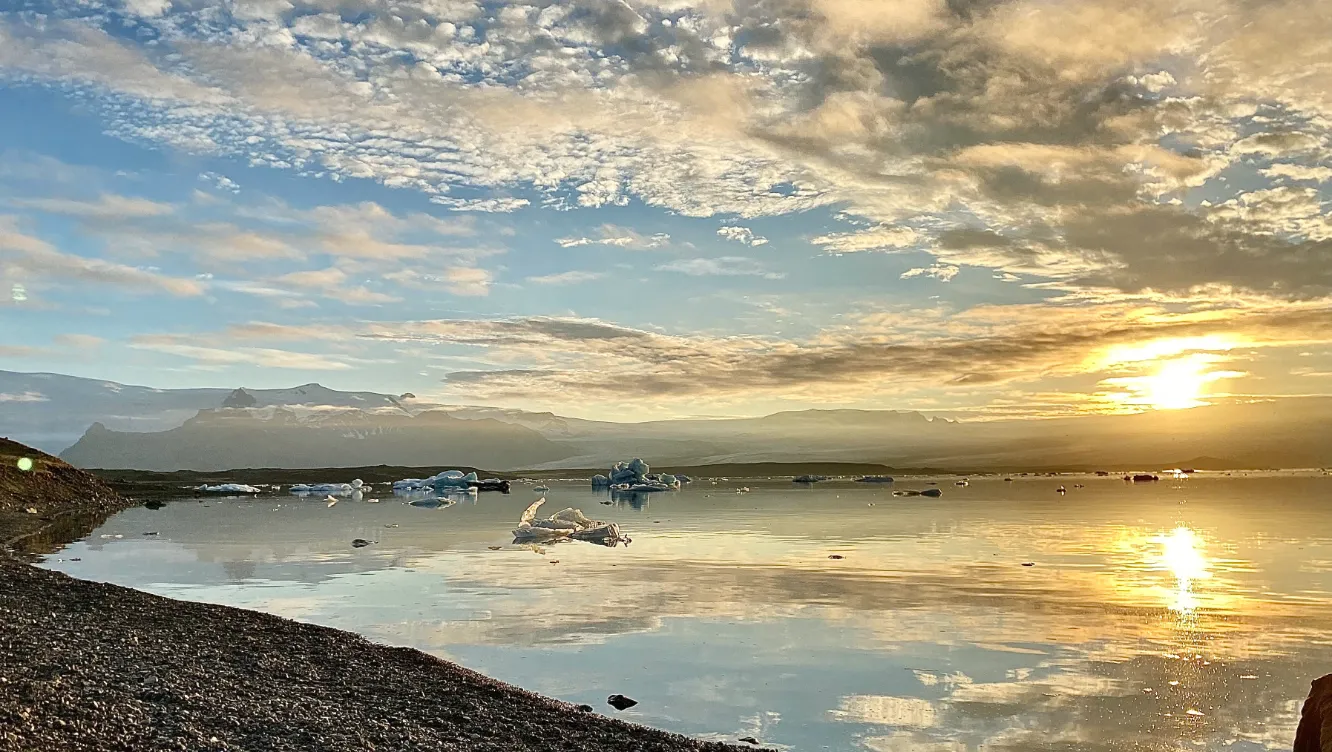 I loved watching the seals swim close to me and the icebergs break off. If I did my trip over, I'd spend at least a half day more here marveling at the beauty. We spent at least four hours enjoying the lagoons and Diamond Beach. Then, we camped at Haukafell Campground.
PRO TIP: We used multiple flashlights to achieve this ~aesthetic~ with the ice on the beach.
Day 6: Haukafell Campground > F Roads 910 & 902 > Sigurðarskáli in Kverkfjöll
Hofn for groceries (quaint coastal town)
Nykurhylsfoss (Sveinsstekksfoss)
Road 939
Hengifoss and Litlanesfoss Hike
F Road 910 (Austurleið) & 902 (Kverkfjallaleið)
Camp at Sigurðarskáli in Kverkfjöll
What vacation is complete without a colossal mishap? Lol. Things could have gone SO wrong on this day, but luckily we made it out. Anyway…the day started innocently. We got some groceries in Hofn, a quaint coastal town, and headed to the Nykurhylsfoss waterfall.
The drive along the coast was magnificent, and we soon headed inland to road 939. This road was absolutely breathtaking, and we saw dozens of waterfalls along the drive. Then we turned at the 95, headed north, then headed back down the 931 along Lagarfljót lake.
According to legend, the lake holds a beast called the Lagarfljót Wyrm, a cousin of the Loch Ness Monster. Unfortunately, we did not meet the beast, but the drive was incredible.
We had to stop and hike to see Hengifoss and Litlanesfoss where we met some local ladies named Rose, Olga, and Mary from Reykjavik. Mary was running barefoot and told us she was the best skier and runner in all of Iceland. They were quite the trio, and we continued driving the magnificent 910 to see the backside of the Vatnajokull glacier. We got out at the Kárahnjukar Dam to take some photos.
Soon, the 910 turned into the 902. It was getting late at night, and the road was increasingly challenging. We were tired and sleep-deprived, and the river crossings were much deeper. I started getting snappy, and Jesse stayed calm.
Our goal was to get to the backside of the Vatnajokull glacier and camp at Sigurðarskáli in Kverkfjöll. The landscape turned into a very bleak, desolate, Mars-like vibe. We knew we couldn't stop and would be safer if we made it to the hut. We finally arrived at the campground around 2 AM.
Oh look, if it isn't the consequences of my last-minute decisions. :)
If I could go back and redo the trip, I would entirely skip this part. The roads were scary and desolate, and I felt pretty alone. It was an extraordinary experience, but the glacier is off-limits, so there is not much to see, and it's bleak. Looking back, it's hilarious that my goal was to see the "backside of the glacier" and all the trouble we went to to see it, and in the end, we only got to see a small part of it. We did not get to see the ice cave because it was closed. Even if we could get to it, it was hemorrhaging glacier water.
Please bring all fuel and supplies if you drive the F Road 902. If you break down, anyone will unlikely find you for at least a day or two.
Day 7: Sigurðarskáli in Kverkfjöll > Mývatn
F Road 903 & 905
Möðrudalur
Dettifoss
Mývatn
After much-needed sleep from our treacherous F-Road drive, we had much more fun driving during the daytime. It was relieving to see an actual vehicle since we hadn't seen any since yesterday. We knew the roads better and what to expect and we had a ton of fun drifting in the sand. Our Dacia Duster put in the work for us on this trip. Anyway, slightly scorned by my poor choice of itinerary (LOL), we ended up at Möðrudalur, a cute village with turf houses.
Then we finally reached the Ring Road (1) and headed to see Dettifoss. Honestly, I wasn't as impressed with these waterfalls as others, but it might also be partially due to my scorn from the previous day :)
I decided that we had suffered enough, and since we hadn't showered or seen the inside of a building since the second day, I booked us a room at the Birkilauf Guesthouse Mývatn. This proved to be one of my smarter choices on the trip and the host was very kind. I really enjoyed the vibe of the guesthouse.
From here, I wasn't impressed much by the rolling hills on the drive or Mývatn. Again, there is a lot of geothermal activity where I live, so this might be more impressive for someone who hasn't seen Yellowstone or other geothermal areas.
DAY 8: Mývatn > Siglufjörður > Bátafjör Bakkaflöt Campground
Sightseeing around Mývatn
Godafoss
Gorgeous coastal and tunnel driving to Siglufjörður
We slept in a bit this day and toured around Mývatn including the crater.
After deciding we had seen enough, we drove up to Siglufjörður, another gorgeous and scenic drive. We stopped to get fish & chips in Siglufjörður, then continued through the road tunnels. The ocean, mountains, and sheep running alongside the road added to the quaint blissfulness of this bucolic countryside.
We stopped to camp at Bátafjör Bakkaflöt Campground which also had an obstacle course. Jesse and I decided to walk around the obstacle course, and unfortunately, we walked near an Artic Tern's nest (we didn't see it) and subsequently were attacked by the bird.
Read this article to learn how to avoid getting attacked :)
That was plenty of excitement for the day, so we tucked in for the night to be rested for our rafting trip tomorrow.
Day 9: Bátafjör Bakkaflöt Campground > Viking Rafting, Varmahlíð, Iceland >Tjaldsvæðið Hveravellir
F Road 35
Hveravellir Geothermal Pool & Campground
This. Rafting. Trip. Was. The. Best. Seriously.
It was one of the top highlights of my trip (did I say that already?) Viking Rafting does not mess around. They are one of the few, if not only, companies that take you to the East Jökulsá River which has some class III & IVs. Benji, Mark, and Tarzan were terrific guides.
The rafting trip was 18km, and we definitely got pitted a few times. I was at the head of the raft, so I took the brunt of the force.




We stopped halfway for some waffles and hot chocolate, a nice treat. Then we pulled off to the side and got to cliff jump.
Most guide companies would be more reserved, but I was happy to FINALLY take a rafting trip on which I wasn't bored. A few crew members complained about one section where they feared death, so at a minimum, don't be a super jerry if you book this tour. Most of the guides were on small whitewater kayaks, and one guide even flipped, couldn't roll, and ended up stuck under our raft. I ended up getting him out.
At the end of the trip, our bus broke down LOL, which added to the authenticity. They came back in a Landrover to pick us up and put the rafts on the back of the trailer, but then it popped their tire. I don't even know how we made it back, but it was quite an adventure. Jesse had an Icelandic beer at the Viking Rafting headquarters before we headed to F Road 35 to Hveravellir Geothermal Pool.
The drive was foggy but not tricky. Fog is to be expected in Iceland which of course, can obstruct views, so this was a little disappointing.
We made our way fairly quickly to the Hveravellir Geothermal Pool. I will be the first to say that I am NOT a huge fan of hot springs. Sitting around in warm water with naked strangers isn't my cup of tea. But this….was DIFFERENT.
First of all, there was no one else in the hot springs. Also, I could control the water temperature because they literally had a PVC pipe feeding hot water into the pool. I opted for lobster-boiling temps much to Jesse's demise. With incredible views, no tourists in sight, and absolutely relaxing water temperatures, it's safe to say that this was one of the most relaxing days of the trip.
I didn't bring my phone to the hot spring, and the drive was foggy, so I didn't take any pics. I may add some from Unsplash later.
Not recommended, but Jesse and I snuck into the hostel/hotel for a shower. An irate lady was waiting outside for me, but she said nothing. Whoops. We stepped inside for some soup & food, but don't recommend eating here because it was very overpriced and not that good. I expected it to be expensive, but I'm talking $60 for soup and potatoes.
To be fair, Iceland was not a food destination for us. We mostly ate grocery store food throughout the trip and only ate out twice or so. Most of our meals centered around the camp stove.
Not only did this keep costs down, but it also kept foodie disappointment at bay since most of our other trips (and my life) are centered around adventure + delicious food.
We spent most of the night wondering if we were tripping because we heard pan flutes all night and the wind was howling. We woke up to realize our stupidity and that it was, in fact, the aluminum ladder on our Dacia Duster. #daciapanfluteadventures
Day 10: Hveravellir > Kerlingarfjöll Base Camp
F Road 35 and F Road 347
Hveradalir Geothermal Area
It was once again a foggy day, so we didn't get to enjoy the mountainscapes fully. The drive was not difficult, and we headed toward the Hveradalir. Instead of hiking up the geothermal area, we opted for 4×4 up the road
It was a little bit rough, but Jesse and I are experienced. The Hveradalir geothermal area was absolutely breathtaking, and it was totally worth visiting. I'd even say a hike up to it is worth it.
It was so windy in the highlands that I almost blew off the side a few times, so bring a neck gaiter and a windbreaker.
We headed back down to the Highland Base to camp. It was so windy that we ended up moving the mattress inside the Duster and sleeping inside. The weather was treacherous, so we spent the day reading, relaxing, organizing notes and photos, and sleeping.
Day 11: Kerlingarfjöll > Merkjárfoss Falls > Sólheimajökulll
F Road 35 to Gluggafoss (Merkjárfoss)
A quick drive by Seljalandsfoss
Sólheimajökulll glacier sightseeing
Camp outside Reykjavík
F35 is such a fun road to drive. We decided to check out the Merkjárfoss Falls which took us on our drive past where we started, near Geysir. The Merkjárfoss Falls are often overlooked; most people only see Gluggafoss, the window waterfall. Jesse and I opted to hike up and see all of the waterfalls along the Merkjá river.
Over time, the water that falls from the waterfall is carved into the soft palagonite bedrock, and now it cascades through openings in this stone. The softness of this stone has caused the waterfall to change over time, and it flows through several windows and arches. It's definitely a sight worth seeing.
After visiting the waterfalls, we headed back close to Vik where we visited the Sólheimajökulll glacier. We toured the glacier, visited a few ice caves, were awed at the beauty, and headed back to the car.
We stopped at some turf houses and a cave (Steinahellir) with a spooky tale.
Since tomorrow was our last day, we decided to check out Reykjavík. We opted for a campground about 35km outside of Reykjavík.
Day 12: Reykjavík > Airbnb Near Airport
I'll be the first to say that Jesse and I are hippie rednecks…ish. I don't know why I am always surprised that I am not impressed by touring a city, but I can certainly say that I was not very impressed with Reykjavík. Again we are not city people. You can read about Reykjavík online anywhere, so I'll keep my comments short. We ate, messed around, then drove to our Airbnb near the airport.
We took our virtual Covid tests and sorted our things to fly out the next day. This Airbnb and the host were absolutely spectacular, and it was the perfect spot to rest before flying out.
Day 13: Fly Home to Durango
Pretty straightforward day. We presented our passports and Covid tests and flew back to Durango, CO.
What was the best part:
4x4ing and the isolation away from the Ring Road. It was so crowded.
Snowmobiling the glacier
Brennistalda/ Landmannalaugar
Glacier ice climbing
Hiking down the river near Múlagljúfur
Jokusarlon and Diamond Beach
Skaftafell Glacier
Guesthouse in Myvatn
The scenic drive to Siglufjörður
Bird trying to attack Jesse at the obstacle course (maybe not for him)
RAFTING AND CLIFF JUMPING
BIG ASS GEESE (do they take steroids?)
4×4 up to Hveradalir & Kerlingarfjöll
Cute sheep along the roads
Merkjarfoss falls
What was the worst part:
Most of the Ring Road along the North/Northwest portion
F Road 902/Sigurðarskáli in Kverkfjöll (funny story now, though)
Seljalandsfoss – totally commercialized now and way overcrowded. Same with Fjaðrárgljúfur.
I completely modified the trip, removed Askja/more of the desolate area, and ended up moving our rafting trip up and canceling our time along the Northwest/West portion of the Ring Road. Why? I felt like I'd seen enough after driving F 905 & 902 lol. We ended up spending a lot less because our Airbnbs were 100% refunded and the paragliding trip was canceled, so we spent more like $2,400 including food and gas.
This trip could easily be stretched into a 16 day trip or more, but Jesse and I hike (and drive) fast. Whatever GPS/driving directions you have, add about 25% to that time or more if you are driving an F road, especially if you are inexperienced offroading. Most of the F roads were very easy except for 902.
Here are some "good to know" notes I took for the Iceland trip.
Is known for speed traps & drive slow to avoid gravel kick up. Did I get a speeding ticket in the tunnel? No, but Jesse did :)
You must have a 4×4 vehicle to drive F Roads.
By law, you must always drive with your headlights on, even during the day.
You cannot turn right on a red light.
Park your car upwind. Both when short-term parking and overnight. Otherwise, it'll get super noisy if you're sleeping in your car tent or car.
Grocery stores in Iceland are often small but relatively affordable. Your best bet is to stock up on food in Reykjavik or near the airport in Keflavik. Choose non-perishable items such as canned soup, freeze-dried foods, fruit such as apples, snacks such as pretzels, and dried fruit such as raisins. BONUS grocery store is Iceland's cheapest supermarket.
You don't have to worry about tipping in Iceland – this goes for restaurants, bars, and even taxis. Gratuity is already built into the cost of the meal.
Icelandic names can be confusing. Ex: Kerlingarfjöll is the mountain range, while Hveradalir is the actual geothermal area.
To reach the red hills and steam vents of Hveradalir, you can either hike from Kerlingarfjöll Mountain Resort (1.5 hours), or if you have a 4X4 vehicle, drive up a steep dirt road to save time.
Fill your gas tank before entering the highlands or any F Road.