Gulfoss is one of Iceland's most iconic waterfalls, and for a good reason – it's stunning!
Before you visit Gulfoss, there are a few things you should know. This blog post covers everything from the best time to visit Gulfoss to what to wear when exploring this natural wonder. I've also included some history, folklore, tips, and more inside knowledge from my visit there, including other hidden waterfalls nearby and the local Airbnb guesthouse. By the end of this post, you'll be fully prepared to make the most out of your trip to Gullfoss Waterfall.
Our Entire Iceland Trip – And no, it's not the typical Golden Circle or Ring Road Route.
Want to read about and see our adventures in Iceland including snowmobile adventures, glacier lagoons, and glacier hiking and ice climbing, more clifftop cascades, and other hidden gems in Iceland?
We hired a 4×4 rental car and I created my very own custom adventure sightseeing route. It was, of course, without some adventurous mishaps (and a whitewater rescue team), but I'm so glad I didn't stick to the generic Golden Circle or Ring Road route.
Check out this full article on our website.
What's nearby Gullfoss?
We really enjoyed checking out the Faxi waterfall. You can read more about our other adventures on our full Iceland blog here.
Gullfoss Waterfall Is Only 1.5 Hours From Reykjavik On The Golden Circle
Gullfoss Waterfall is a popular attraction in Iceland because of its proximity to Reykjavik and its stunning beauty. Located just 1 hour and 31 minutes from Reykjavik, it is easily accessible and can be explored on a self-drive or day tour. It is located on Iceland's Golden Circle Drive, which takes travelers through the continental divide at Þingvellir national park, Gullfoss and then the Geysir area of geothermal activity.
The roads in Iceland that lead to Gullfoss Waterfall are in very good condition, making it easy for visitors to get there safely, even if they are not accustomed to driving on the "right" side of the road or if they are visiting Iceland in winter and are not used to driving in snow and ice.
For those wanting an adventure, there is an option to combine their trip to Gullfoss with a monster truck, and snowmobile tours experience on the Langjökull glacier.
You can read about our experience on our snowmobile tour here.
With so many options to explore Gullfoss, it is no wonder it is a popular attraction in Iceland.
Visiting Gullfoss Is Unique Because You View The Waterfall From Above Instead Of Below
Visiting Gullfoss is distinct from visiting other popular waterfalls in Iceland, such as Skaftafell and Skogafoss, as it is the only waterfall where you view it from above. From the edge of the ravine, you can observe the 11m (36 ft) and 21m (69 ft) cascades dropping into the 2.5 km (1.6 mi) long crevasse below, creating a spectacular sight.
The view is even more spectacular in winter when the waterfall freezes over into undulating waves of glistening ice. Unlike other falls, the mist from Gullfoss does not reach far so that you won't get SUPER wet from the waterfall spray.
Gullfoss Iceland is open year-round, but some viewpoints aren't always accessible.
Yes, Gullfoss Iceland is open year-round. Roads leading to Gullfoss are well-maintained and make it easy to visit no matter the season. The upper viewing platform is open year-round, allowing visitors to admire the mist-cloaked cascade and see the snow-dappled peaks to the north. However, the lower viewing area is closed in winter due to slippery and icy conditions.
The last viewpoint directly on top of Gullfoss Waterfall is also closed during the winter. Visitors can still get some nice views from the earlier viewpoints, and the trail that leads down to an overlook is typically closed during the winter due to icy conditions.
Using the restroom at Gullfoss waterfall costs money, but there's a way around that.
Visiting Gullfoss Waterfall in Iceland is free, but you may be surprised to learn that using the bathroom facilities can cost money. The restroom facilities in the Gullfoss Visitor Center's parking lot are modern and clean, but they charge a small fee. Thankfully, there is a hack to save money on restroom use at Gullfoss Waterfall, and it's free!
All you have to do is go inside the Gullfoss Visitor Center, where you will find a warm and free restroom. There is a shop and lunch café-style restaurant inside, so you may want to bring some money. But overall, you can use the restroom for free if you go inside the Gullfoss Visitor Center instead of using the outdoor facility.
Gullfoss translates to "Golden Falls," and your GPS might want you to use that search term instead.
The literal translation of Gullfoss is "Golden Falls" due to its majestic sight of the rushing water resembling a golden waterfall when the sun reflects off it. This name is based off the Icelandic words "Gull", meaning golden, and "Foss", meaning falls or waterfall.
The golden hue of the water is the most commonly accepted reason for Gullfoss being named "Golden Falls".
Another explanation behind the name is an old story featuring a farmer called Gýgur, who is said to have thrown his hoarded treasure in the waterfall to prevent anyone from possessing it after he had died.
Additionally, it is also possible that the name Gullfoss derived from the rainbows that form in the water mist on sunny days, in keeping with the old Celtic belief that there is a pot of gold at the end of every rainbow.
Ultimately, whatever the story is, Gullfoss has been made iconic by Iceland and is part of the popular Golden Circle route due to its golden hue and majestic sight.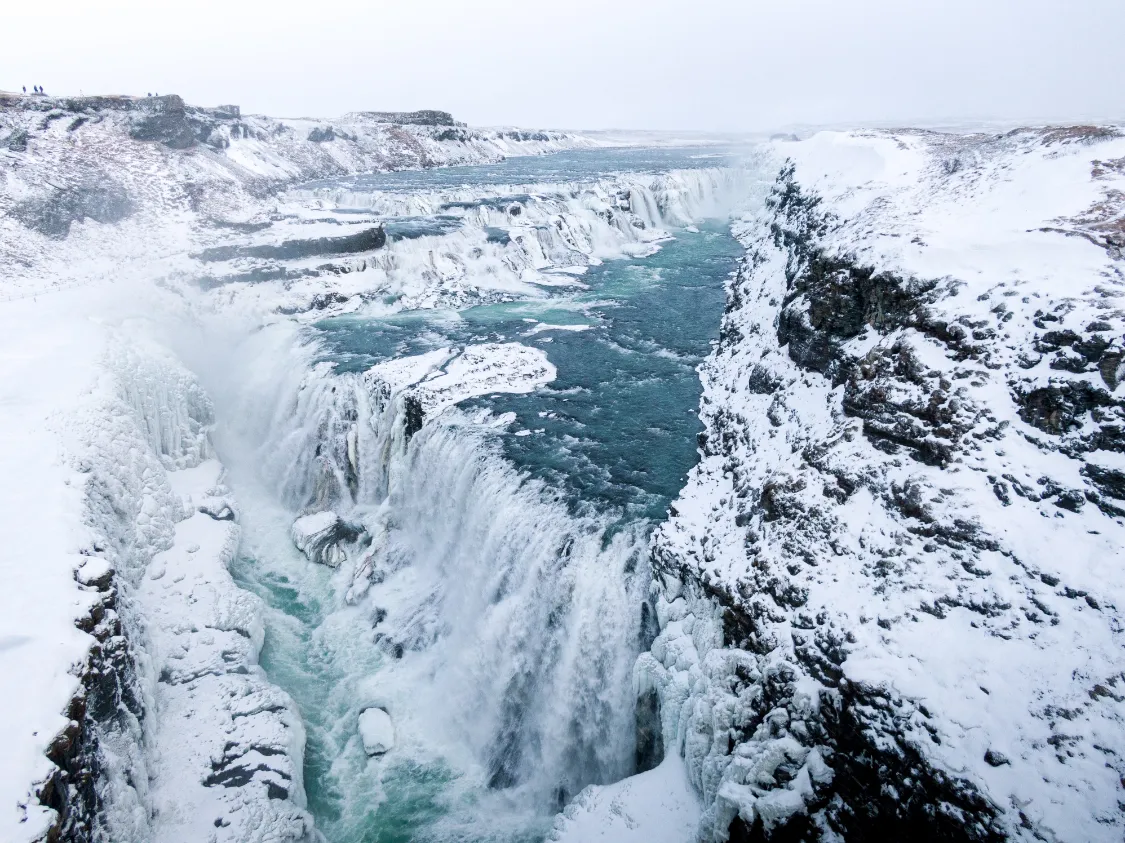 Gullfoss is undoubtedly one of Iceland's most popular waterfalls (even featured on Land Ho!)
The picturesque landscape here is unforgettable, with tall cliffs, lush greenery, and a rainbow that forms over the falls on sunny days. Gullfoss is truly a sight to behold and one of Iceland's must-see waterfalls, making it a beautiful and unique destination.
Is Iceland Gullfoss worth it? Yes!
Gullfoss waterfall is a must-see in Iceland. Located near the town of Hvítárvatn, Gullfoss Waterfall is one of Iceland's most popular tourist destinations. If you're planning a trip to Iceland, add this waterfall to your list. Not only is it gorgeous, but the waterfalls are also known for their deafening sound – making it an unforgettable experience. We hope you enjoyed this article on our website :)