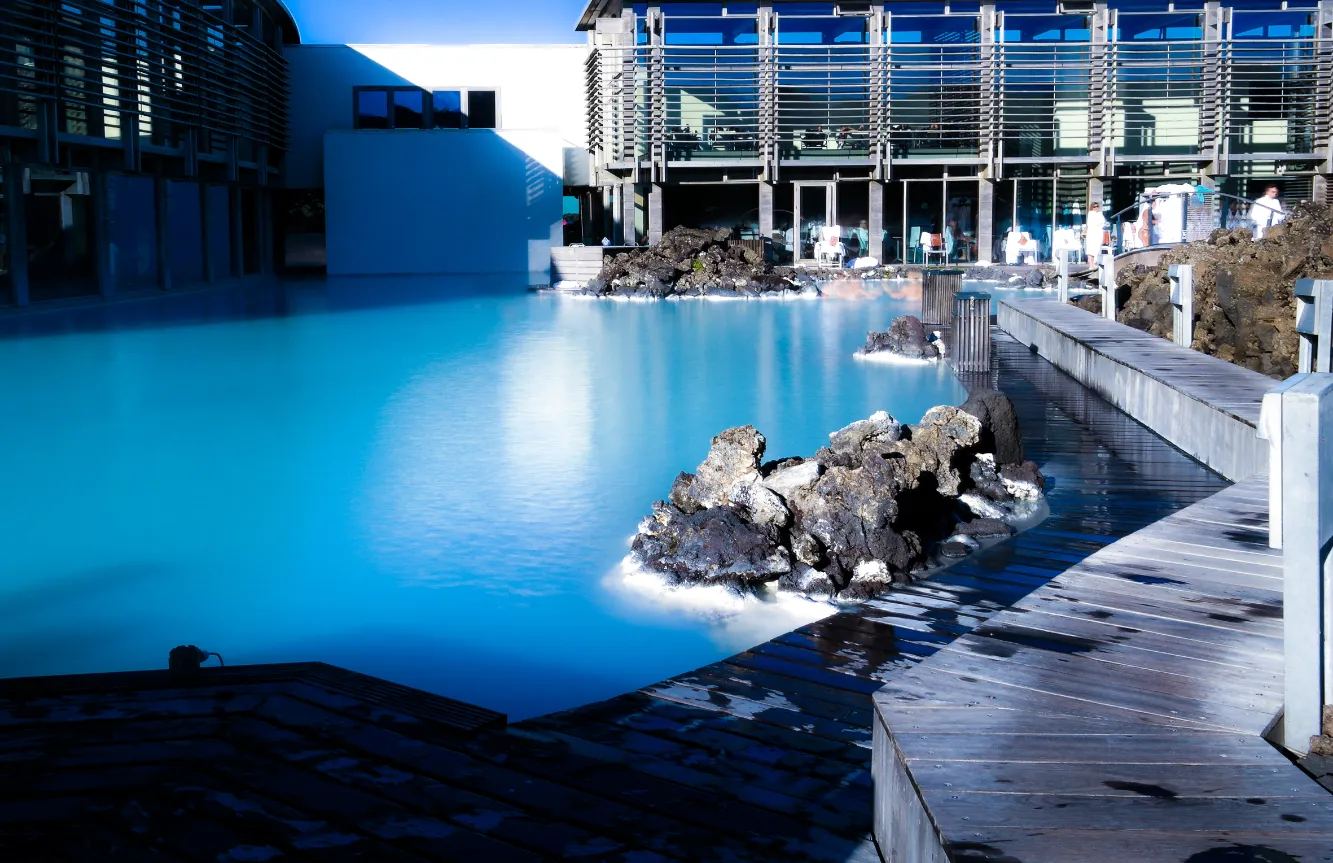 You want to visit the Blue Lagoon in Iceland, but you've heard it's overrated. You don't want to waste your time or money on a tourist trap, but you also don't want to miss out on a once-in-a-lifetime opportunity. The Blue Lagoon may be crowded and overpriced, but are there better geothermal spas in Iceland?
This guide will help you decide if the Blue Lagoon is the proper escape for you and list other geothermal spas in Iceland that are just as beautiful and relaxing.
P.S. – before I jump into The Blue Lagoon, here's our entire Iceland Trip.
Landmannalaugar Iceland driving across small river
And no, it's not your typical Golden Circle or Ring Road Route.
Want to read about and see our adventures in Iceland including relaxing naked in a hidden, hot spring in the Highlands, snowmobiling on the second largest glacier, ice climbing on the largest glacier, and whitewater rafting on the most intense river? If that sounds like too much for you, you can skip those adventure tours and focus on the sightseeing and hiking (because we really felt like we were all alone and it was very special).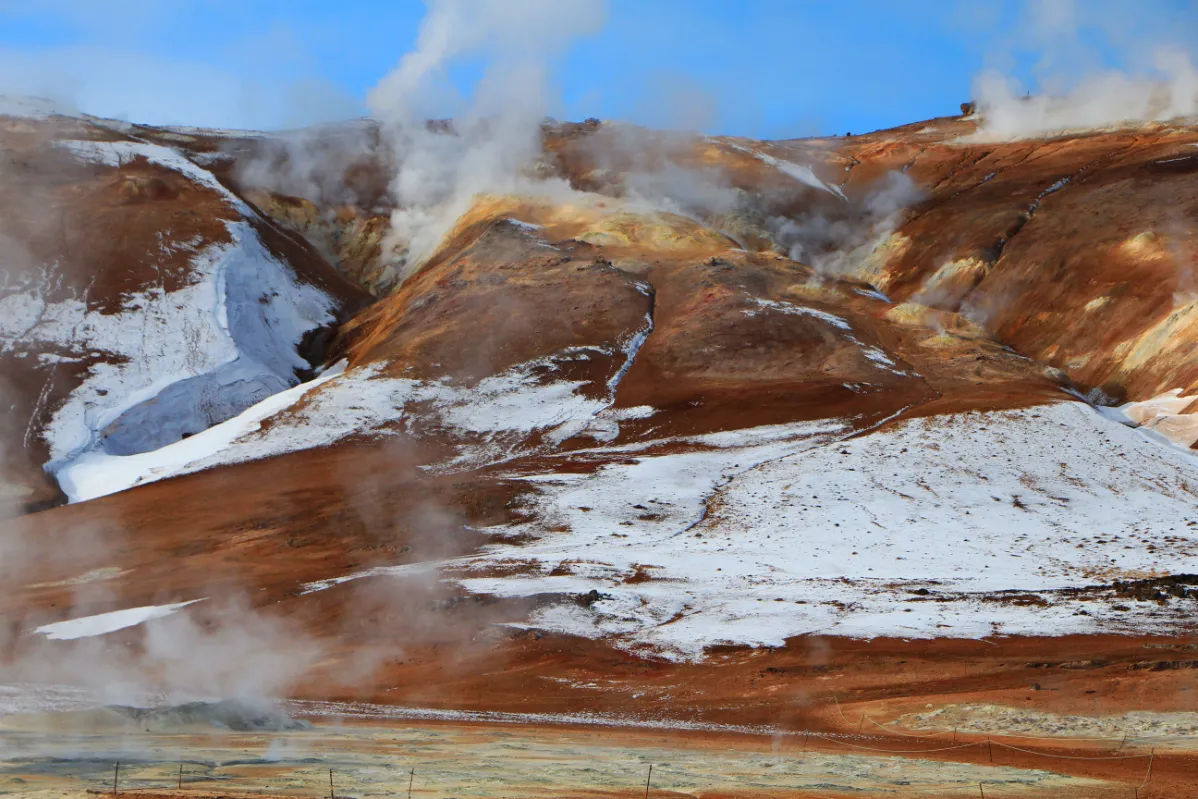 We hired a 4×4 rental car in Iceland, and I created a custom adventure sightseeing route. It was, of course, without some adventurous mishaps (and a whitewater rescue team), but I'm so glad I didn't stick to the generic Golden Circle or Ring Road route.
Check out this full article on our website.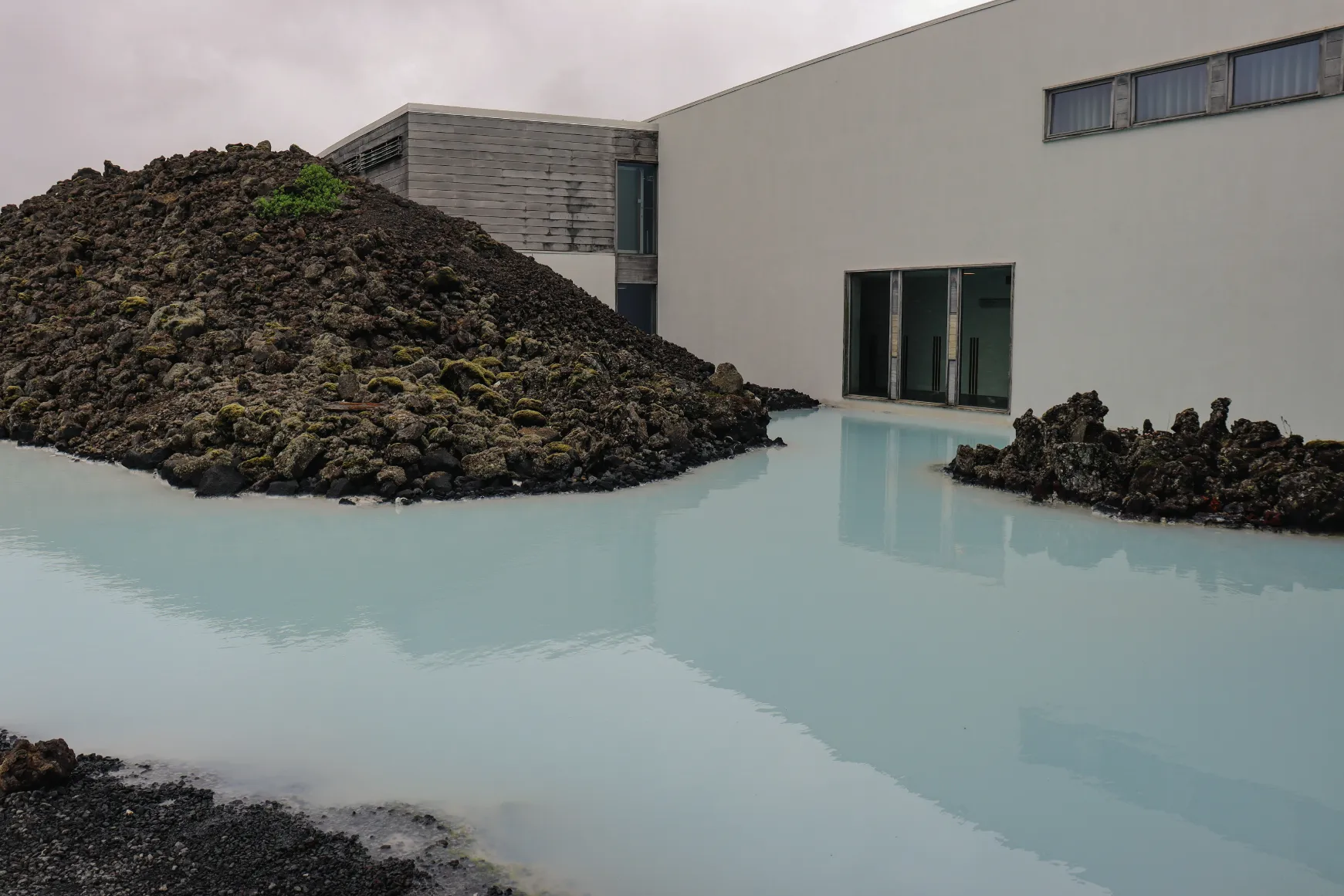 Is the Blue Lagoon overrated?
If you've spent at least five seconds on Instagram, chances are you've seen a (heavily photoshopped) pic of an "influencer" gazing into the distance in a bikini with a smoothie in hand.
The Blue Lagoon in Iceland is often viewed as a must-do experience, but is it worth all the hype? The experience can be different for each individual, but there are some pros and cons to consider.
On the plus side, the Blue Lagoon offers a unique and beautiful experience, with its milky blue waters and steam rising from the Lagoon in a setting surrounded by volcanic rocks. It's also an excellent opportunity to relax and enjoy Iceland's geothermally heated waters.
However, there are some negatives to consider as well. The Blue Lagoon WILL get crowded, and it can be pretty expensive. It's a pretty commercialized take of Iceland whereas many more authentic experiences can be found.
So, is the Blue Lagoon overrated? It depends on your expectations, budget, and what kind of experience you're looking for.
Suppose you're looking for a more budget-friendly option. In that case, other geothermal pools or spas throughout Iceland can provide a similar (and better) experience. Ultimately, it is up to you to decide whether the Blue Lagoon is worth the hype. For me, it's not.
Why travelers didn't love the Blue Lagoon
Here are some actual takes on the Blue Lagoon. I left names out for anonymity.
"Despite the hype and pictures of tourists lounging in the milky blue waters and taking advantage of the spa-like atmosphere, my experience at the Blue Lagoon disappointed me. I found the logistics of the place to be inefficient and confusing, with long lines and disorganized staff, and the locker rooms to be overcrowded and uninviting."
"The sulfur-like stench of the steam room was too pungent for me to handle, and I didn't find it to be a pleasant or peaceful experience. All in all, I could have spent my limited time in Reykjavik or Iceland in a better way to get a more enjoyable and memorable experience."
blue lagoon reykjavik
Blue Lagoon Spa Treatments – Treat yo'self.
If you're looking for a luxurious experience, consider booking the Luxury Retreat Spa experience and setting aside enough time to enjoy the Lagoon. This isn't your typical Icelandic experience in that it's not authentic, but some of y'all enjoy the finer things in life. I can respect that not everyone wants to camp for 13 days on the freezing and drastic Highlands as we did.
blue lagoon iceland
By the way, your hair will get destroyed at the Blue Lagoon.
Visiting the Blue Lagoon in Iceland can significantly impact your hair. The water at the Blue Lagoon contains high levels of silica, which can make your hair stiff and rigid to manage after it gets wet. To prevent this, it is highly recommended to apply a generous amount of conditioner to your hair and leave it in before entering the Lagoon. You should also secure your hair in a ponytail or bun to keep it out of the water. You can also purchase or rent a swim cap from the Blue Lagoon to protect your hair from the silica-filled water.
If you forget your conditioner or swim cap, don't worry! The locker rooms at the Blue Lagoon offer lots of conditioners and swim caps for sale. After your dip, wash your hair thoroughly, and condition it again. If your hair is still dry and unmanageable, you can use a deep conditioning hair mask the next day to help revive it.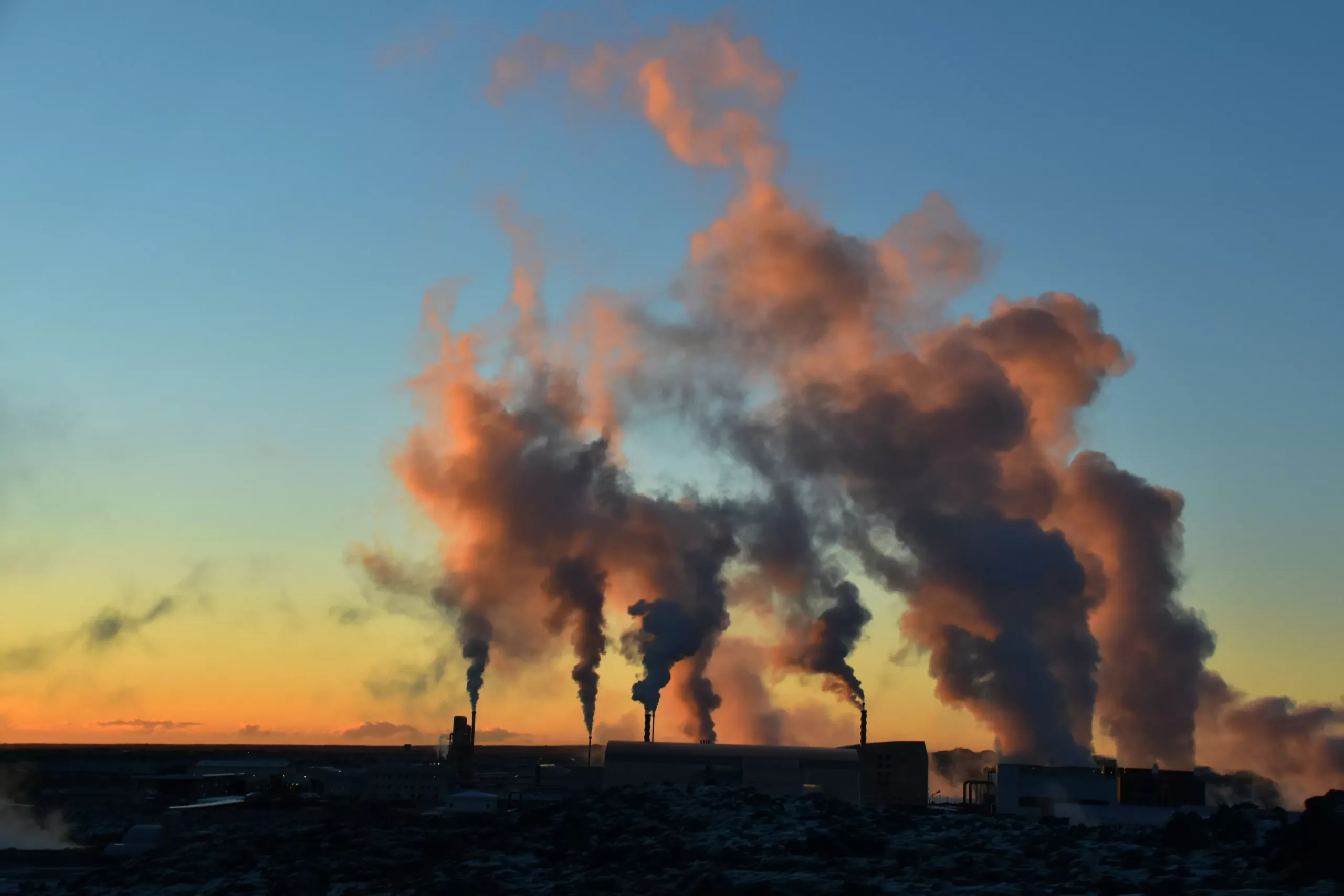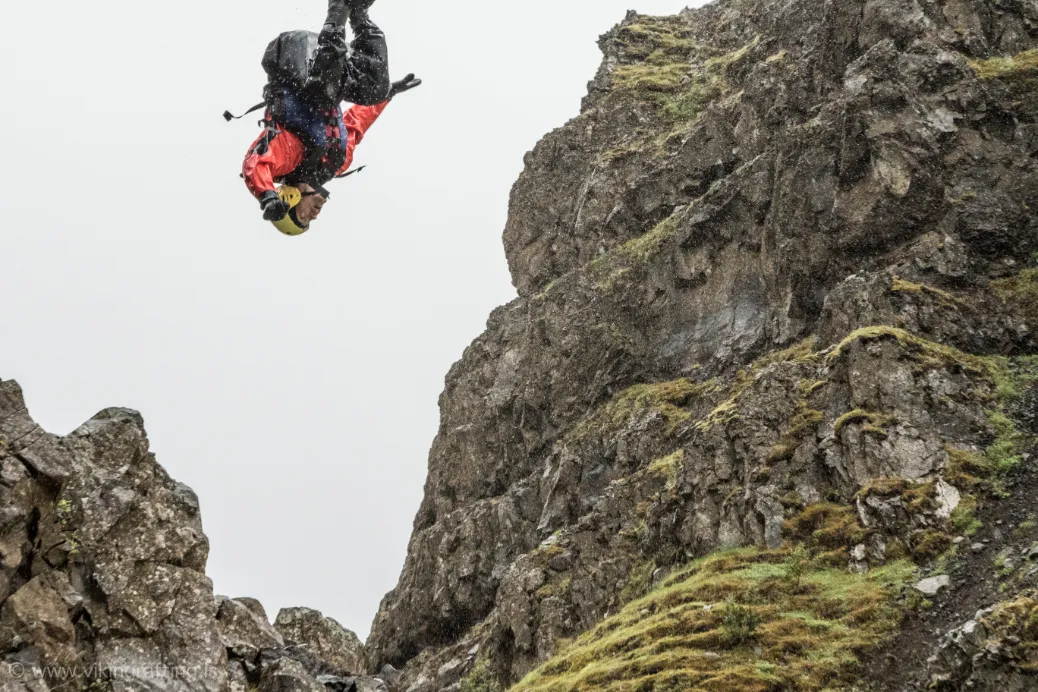 Things to Do Near the Blue Lagoon
There is plenty to do near the Blue Lagoon in Iceland. The Blue Lagoon is a unique experience, with its milky blue water heated by geothermal power and its rich minerals known to have healing benefits and rejuvenating effects. You can swim, relax, and even book a massage or spa treatment. If you're looking for something to do outside the water, try the sauna and steam room, or take a break and relax in the viewing area with chairs.
For dining, you can choose from the fine dining of the Moss Restaurant or the a la carte lunch and dinner menu of the Lava Restaurant. You can also enjoy a drink from the swim-up bar or buy a souvenir from the gift shop. There are also many activities to choose from, including mud mask bars, massage treatments, and a stand beneath the waterfall. For more adventure, check out the nearby natural phenomena, such as hot springs and land formations caused by geothermal activity.
Similar Experiences in Iceland
What are some similar experiences to the Blue Lagoon in Iceland? Iceland has plenty to offer if you're looking for natural wonders and outdoor activities.
From snorkeling in the cold, clear waters of Silfra between the European and American tectonic plates, to horseback riding in the lava fields, to exploring the South Coast with its waterfalls and cliffs, to a food tour in Reykjavik, to a Northern Lights chase, to a beer and booze tour, to a road trip around the Ring Road, there's something for everyone.
Lake Kleifarvatn, Reykjanes peninsula, Gunnuhver, and Brimketill are some of southwest Iceland's most impressive natural spots. The nearby town of Keflavík also offers plenty of opportunities for exploration, with its cute shops and cafes.
Looking for More Activities in Iceland?
Besides the Blue Lagoon, there are plenty of other unique activities in Iceland. From snorkeling Silfra with professional photos to horseback riding in the lava fields, there is something for everyone! You can also take a South Coast tour in a jeep to experience spectacular waterfalls, cliffs, and a black sand beach.
If you're looking to capture a stunning photo, you can sign up for a Northern Lights Hunt and Photo Shoot for a once-in-a-lifetime experience. Alternatively, after some fun, you can join a Reykjavik Beer and Booze Tour and taste Icelandic beers and spirits.
If you're looking to explore even more of Iceland, why not embark on a small group tour of the Golden Circle or take a self-drive tour? This is a great way to visit Thingvellir, Geysir Hot Spring, Gullfoss, and the Kerid volcanic crater in one day.
For a more relaxed experience, you can also explore the Reykjanes peninsula, lake Kleifarvatn, and the geothermal area of Gunnuhver Brimketill. After a day of adventures, why not take some time to explore the second-largest town in the region, Keflavík, which is bustling with life.
The Blue Lagoon is definitely a tourist hotspot in Iceland for a reason.
It is a beautiful year-round geothermal spa with many amenities to make your experience enjoyable. However, if you want to avoid crowds, many other geothermal areas around Iceland are more stunning, affordable, and relaxing. So think about it before you add it to your itinerary. Are you in Iceland for champagne and cocktails or for adventure?
Be sure to do your research before you book your trip so you can find the perfect one for you! Take care of your wellbeing :)
Made it this far? Hey again. Thanks for reading my blog :)
Looking for an adventure destination on your Iceland travel? Although my journey didn't include dining experiences, spa journeys, or entry to anywhere that required bracelets or a wristband (or a tier entry slot, for that matter), my trip did include some gale force winds, epic midnight sun phenomenon adventures in the highlands, and free-of-charge mist showers from some secret waterfalls that are NOT on the Ring Road.
Road Trip Around Iceland (Not the Ring Road)
Don't settle for basic contentment. Be adventurous :)
See all the adventures, downsides, epic fails, and secret spots RIGHT here.