I've done a tandem jump at Skydive Moab and also started my A-License there. Assuming most people will prefer a tandem skydive, I'll share all my beta about what it feels like, what the Skydive Moab dropzone is like, and what to expect.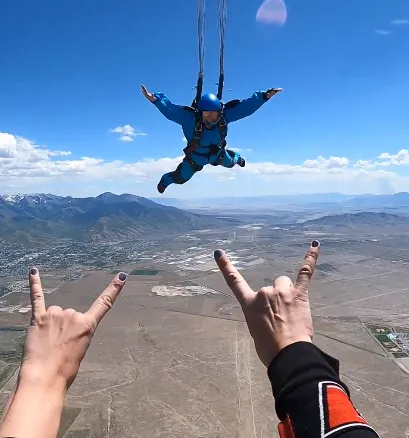 If you're new to all this, tandem = means you're strapped to someone. A License means you are becoming licensed to jump alone and with others.
Key Tandem Takeaways
Skydive Moab is a fun and safe place to skydive, whether you are there for tandem or fun jumping.

I'm talking over 50,000 jumps, all successfully made to the ground alive :)

Pay extra to get the video of your tandem. It's worth it to look back on. and it's more fun to jump with a tandem video jumper because they'll interact with you during your freefall.
The views of the Arches are incredible.
It gets extremely hot in the summer, so you'll want to do an earlier tandem.
Your nerves will be at their highest on the plane ride up, and you may forget the first few seconds of your freefall, but after that is when most people relax and enjoy the ride down.
Keep your body relaxed and listen to your instructor before the jump, and follow any cues during the freefall or under canopy. You will not be able to hear each other in freefall.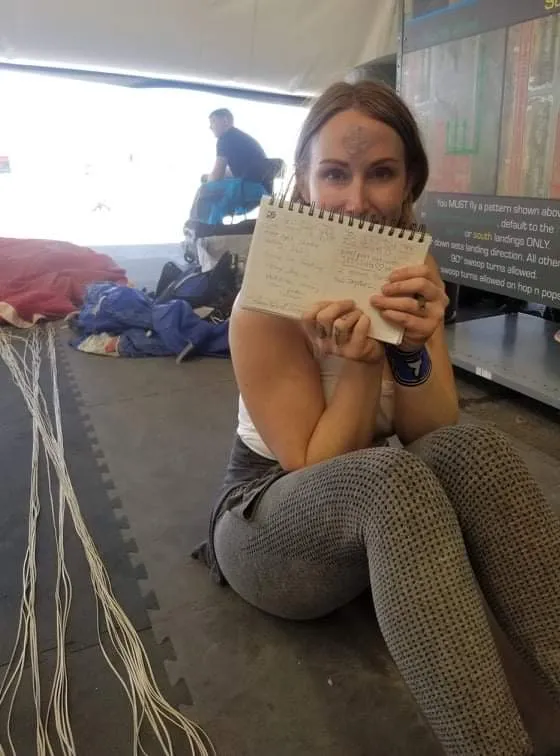 Key A-License Takeaways
Skydive Moab is an affordable option to get your license. The instructors are highly trained, passionate, and the group is tight knit.

If you want a more organized experience and are flexible on location, head up to Skydive Utah.

Most instructors have thousands of jumps and can help you progress into your B, C, D license and coach you to wingsuit.
Your biggest threat is wind and dust devils. The thermals can make your under canopy feel a little uneasy when you're starting out.
No grass landing, so wear clothes you don't care about getting dirty if you don't flare and land on your ass.
There is tons of free camping nearby if you're visiting to get your license, but there is no shade or protection.
Tandem Skydiving: The Gateway to the Sky
Tandem skydiving serves as the perfect introduction for beginners, allowing you to experience the thrill of freefall while under the guidance of a certified instructor. During a tandem jump, you'll be securely harnessed to a tandem master who will handle the technical aspects, enabling you to focus on the breathtaking adventure around you [1]. This method is highly recommended for first-time skydivers due to its simplicity and safety measures.
The tandem skydiving process typically involves a brief orientation and gear briefing before boarding the aircraft. Once airborne, you'll ascend to the desired altitude, and upon reaching the jump spot, you'll take the leap into the sky. The initial moments of freefall, where you'll experience speeds of around 120 mph, are an unparalleled rush of adrenaline and excitement. After approximately 60 seconds, the tandem master will deploy the parachute, and you'll enjoy a serene canopy flight, offering breathtaking views and a chance to catch your breath. Finally, you'll gracefully descend and land with the assistance of your tandem instructor [2].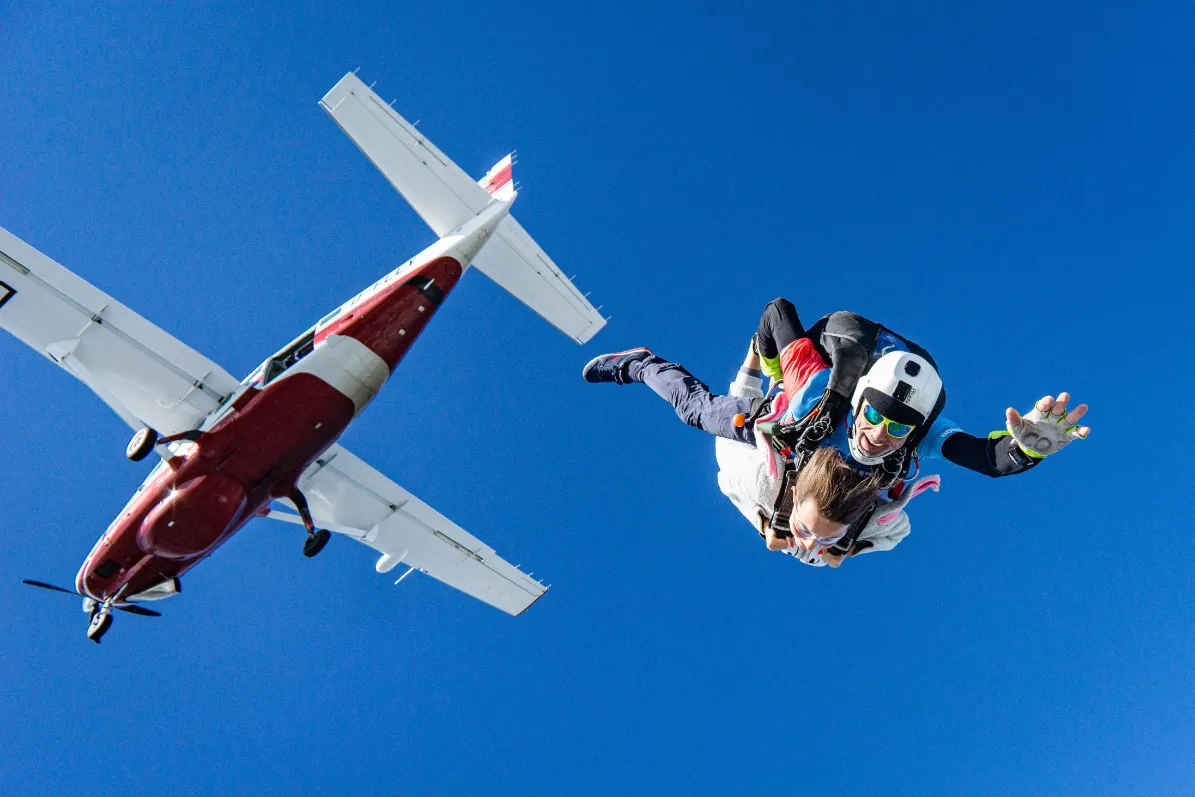 Making the Most of Your Tandem Experience at Skydive Moab
Imagine floating 13,000 feet above the ground, experiencing the world like never before. It's the altitude where the pros jump from, giving you ample time to soak in the incredible views, feels the thrill of freefall, and embrace the present moment. It's the ultimate adventure for those who want to make the most of their skydiving experience. And hey, don't worry about capturing the moment just yet—photo and video options can be decided on the spot!
If you're looking for a more budget-friendly option, Skydive Moab also offers an 8,000-foot skydive that's guaranteed to get your heart racing. It may not be as high as the 13,000-foot jump, but it still packs a punch with an adrenaline-pumping freefall and a memorable parachute flight. Although I'd recommend full sending at 13k because if you do 8k, you will probably regret it.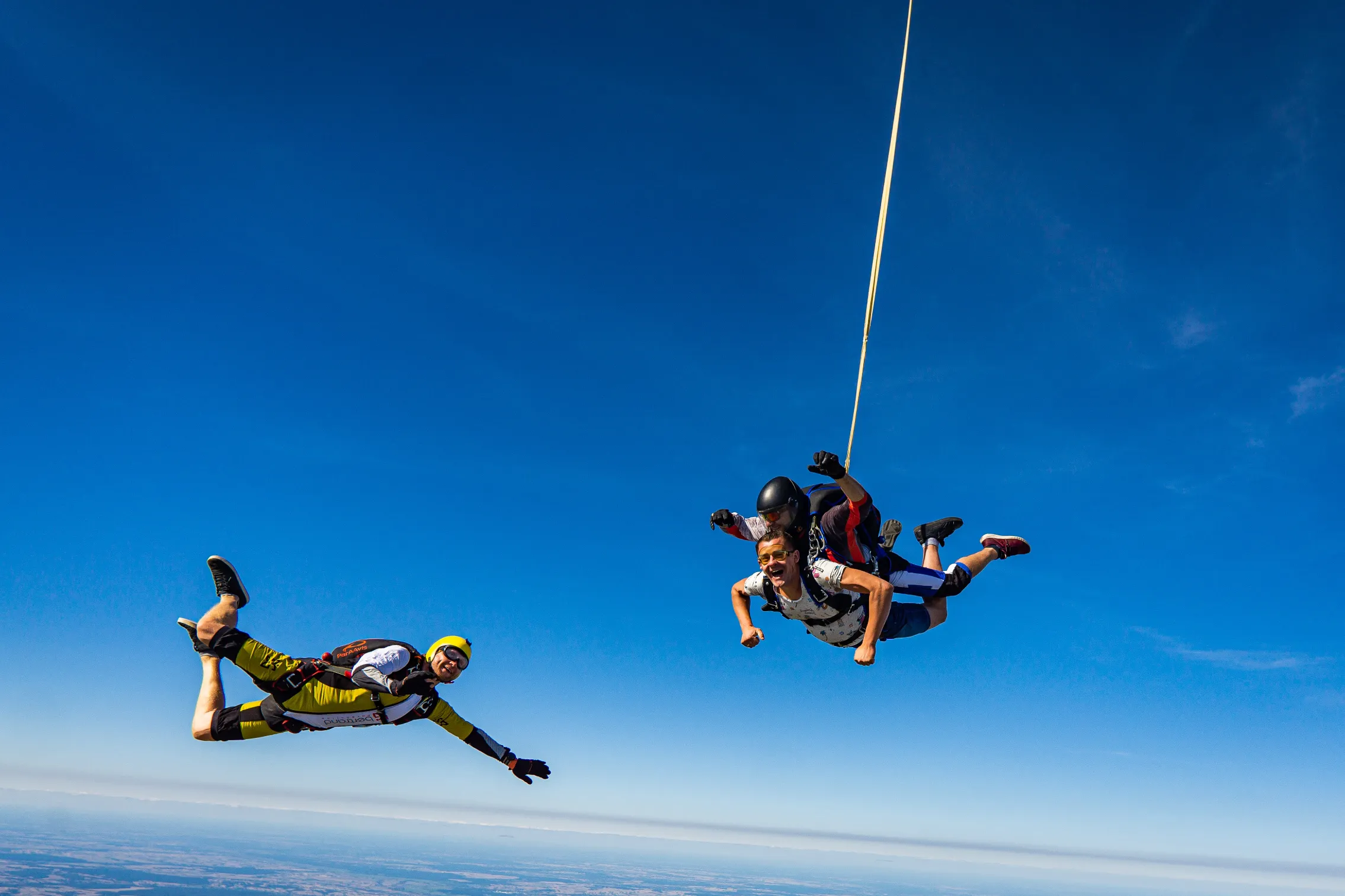 Experience Tailored to You: Skydive Moab's Options
You want to get the photo/video if you complete your first skydive. Here are your options:
The Whole Shebang: For those who want their skydive captured in stunning 4K quality. This package is perfect for influencers or anyone planning to showcase their footage on the big screen. Price: $199.
Combo Deal: Combining amazing exit shots, breathtaking scenic views, and the added experience of having a second professional skydiver with you during freefall. It's the best of both worlds! Price: $159.
Outside Flier: Get ready for a unique perspective! A professional videographer jumps alongside you, capturing a panoramic view of your skydive during freefall. It's like having your very own 3rd-party action scene. Price: $105.
Handycam (Photos): Your instructor becomes your personal photographer, equipped with a wrist-mounted GoPro action camera. You'll receive around 150 photos that capture your skydiving adventure from start to finish. Price: $69.
Handycam (Photos & Video): The classic skydiving selfie experience! Your instructor wears the latest GoPro action camera, recording the entire duration of your skydive. This package includes both photos and an edited video. Price: $89.
Video Pricing as of 2023
| | |
| --- | --- |
| Skydiving Option | Price |
| The Whole Shebang | $199 |
| Combo Deal | $159 |
| Outside Flier | $105 |
| Handycam (Photos) | $69 |
| Handycam (Photos & Video) | $89 |
Embark on the Adventure: Booking and Information
Skydive Moab is open seven days a week, offering thrilling experiences for adventurers.
Group Rates and Discounts
Planning a skydiving adventure with your friends or colleagues? Skydive Moab offers group rates that add an extra element of excitement. Group discounts are available only for the 13,000-foot tandem jump, and all photo/video packages are sold separately.
Here's a breakdown of their group rates:
1-4 Jumpers: $250 each
5-9 Jumpers: $225 each
10+ Jumpers: $209 each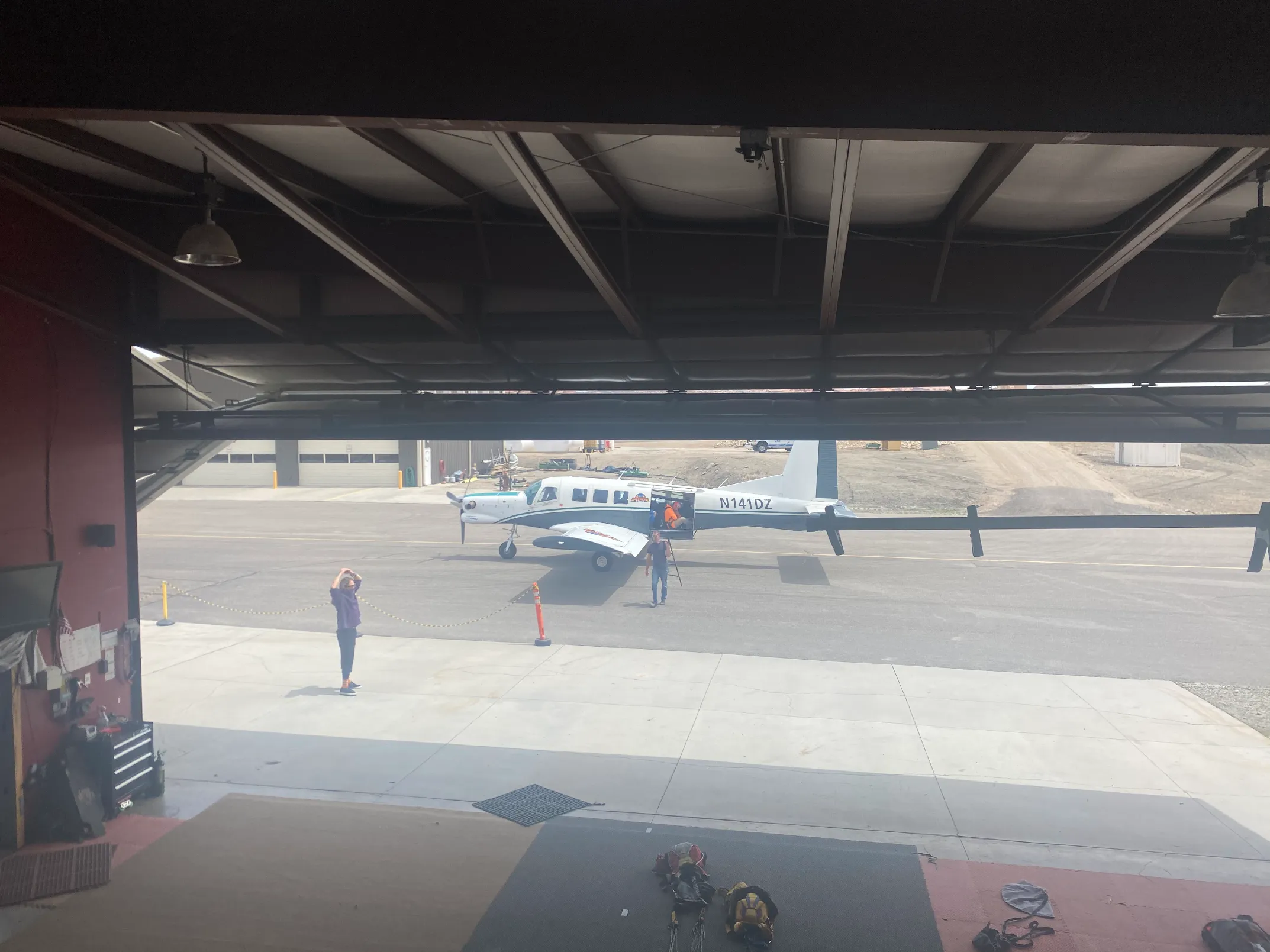 Insider Tips: Prepare for Your Tandem Skydiving Adventure
Here are a few insider tips to help you make the most of your jump:
Fuel Up: Enjoy a normal breakfast before arriving. Starving yourself won't help with potential nausea—it'll just leave you feeling hungry and nauseous.
Follow Instructions: If you plan to take anti-nausea medication, follow the instructions provided for optimal results.
Dress for the Occasion: Dress appropriately for the weather conditions. If it's cold, bundle up; if it's hot, feel free to rock those shorts. Don't forget to wear closed-toe athletic shoes for safety.
Gateway to Adventure: Skydive Moab is conveniently located at Canyonlands Airport, approximately 16 miles north of Moab. Call them at 435.259.5867 from the gate to be escorted to the hangar when you arrive.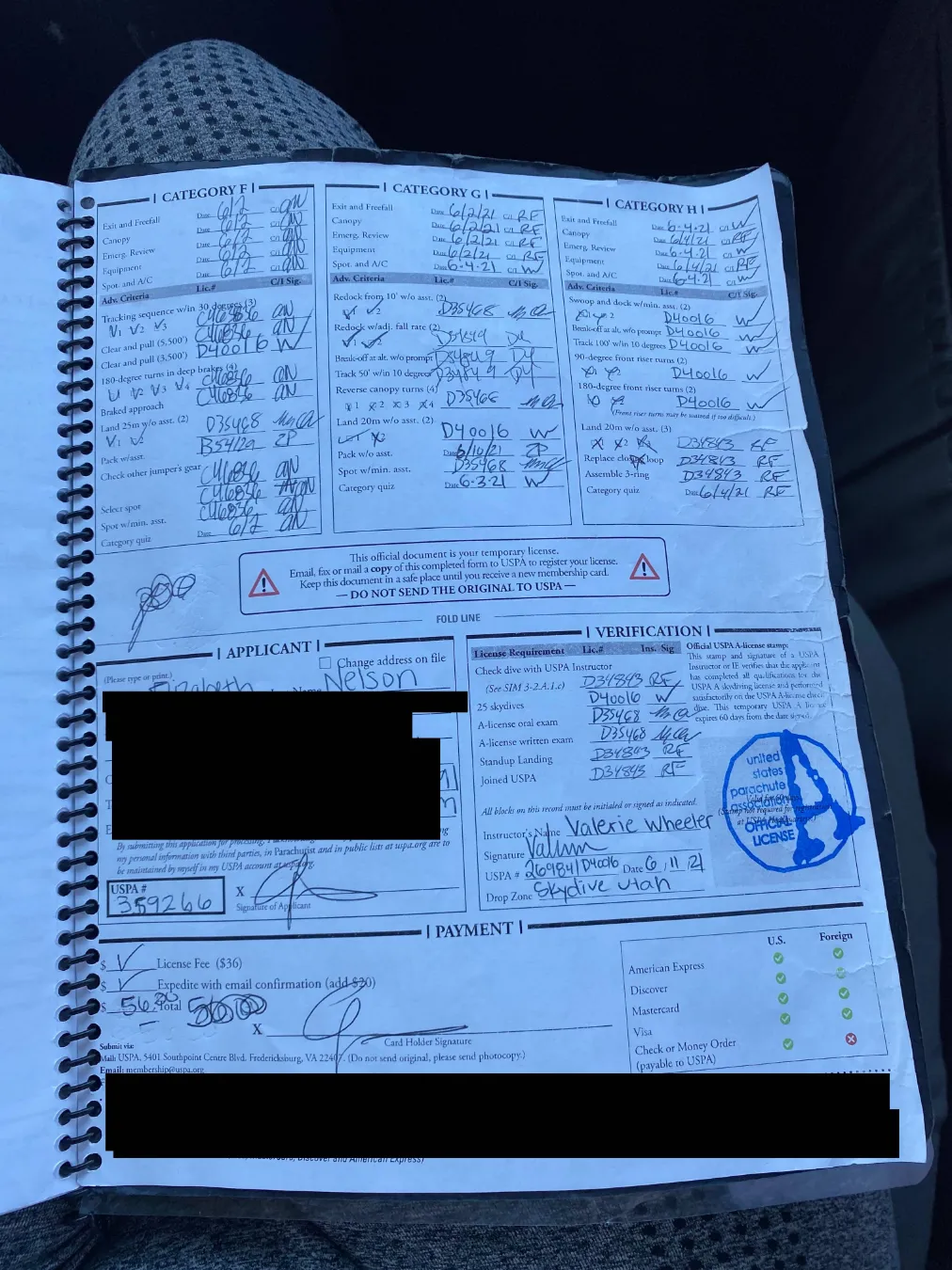 The Journey to Solo Skydiving: A-License Skydiving
Obtaining an A-license is an important milestone for those seeking to delve deeper into skydiving. Unlike tandem skydiving, solo skydiving requires comprehensive training and the acquisition of essential skills to ensure a safe and enjoyable experience.
To earn your A-license, you'll typically need to complete a minimum of 25 jumps, pass a written exam, and demonstrate proficiency in various aspects of skydiving. The training program, such as Accelerated Freefall (AFF) or Static Line, will equip you with the necessary knowledge and skills for solo jumps. It covers freefall techniques, canopy control, emergency procedures, and aircraft protocols [3].
While progressing towards an A-license, you'll experience the unparalleled thrill of freefall and the satisfaction of mastering the art of skydiving. Each jump will bring you closer to becoming a competent and confident skydiver. Along the way, you'll gain valuable experience, refine your techniques, and gradually earn the trust to jump independently.
A License Cost at Skydive Moab
First Jump Course – $100

Cat A-2 Instructors: Intro to Freefall – $235
Cat B 2 Instructors: Forward movement and team turns – $235
Cat C1 – 2 Instructors: Hover control/release dive – $235
Cat D1 – 1 Instructor: 90, 180, 360 degree turns L/R – $175
Cat D2 – 1 Instructor: 90, 180, 360 degree turns L/R continued – $175
Cat E1 – 1 Instructor: Backflip, front flip, barrel roll, and instability recovery – $175
Cat E2 – 1 Instructor: Backflip, front flip, barrel roll, and instability recovery – $175
Cat E3 – Self-supervised: Plan solo dive flow – $50
Cat F1 – Tracking – $175
Self-supervised – $50
Self-supervised: Practice poised exit for hop and pops – $50
Hop and pop 5000 feet – $70
Hop and pop 3500 feet – $70
Self-supervised: Body awareness, forward movement, and leg awareness – $50
Cat G1: Forward movement to redock x2 – $125
Cat G2: Levels/Fall rate changes x2 – $125
Cat G3: Docking with fall rate problems x2 – $125
Self-supervised: Solo depending on progress – $50
Self-supervised: Work on weaknesses – $50
Self-supervised: Work on weaknesses – $50
Self-supervised: Prepare for Cat H – $125
Cat H: Swoop to dock x2 – $50
Self-supervised: Work on weaknesses – $50
Self-supervised: Work on weaknesses – $50
Self-supervised: Prepare for check dive – $175
A license check dive: 360 L/R, Backflip, dock with instructor – $2995
Total Cost: $2,995
You also need to squeeze a packing course in there. I guess it's worth noting that if you fail a skydive, which we all have (I failed #1), you have to pay to redo it. So $2,995 is the cost if you succeed in every single jump. Most people fumble 103 jumps, so consider that in your cost – and that is at any dropzone.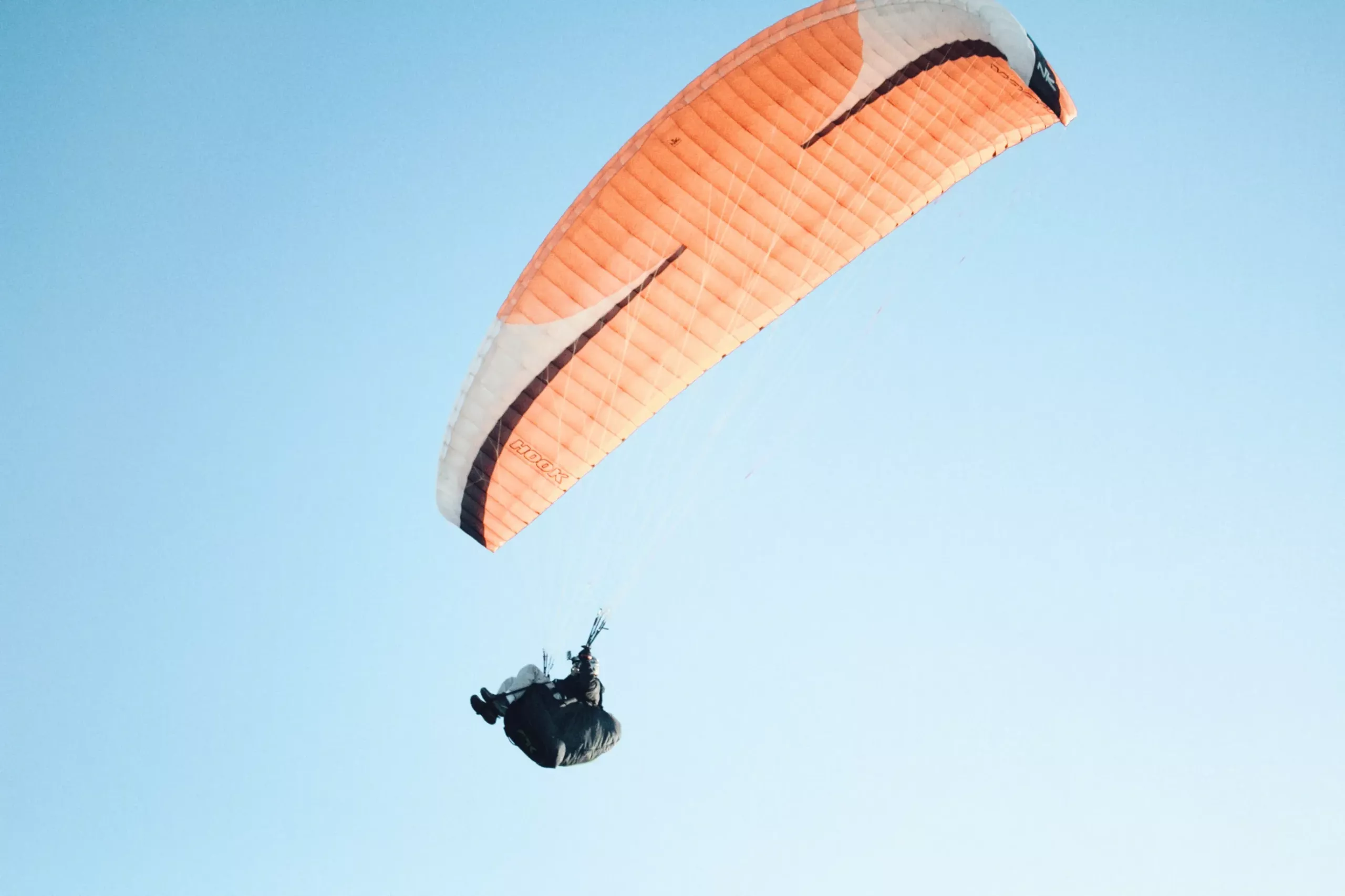 FAQs About Skydiving and Skydive Moab
What's it like to skydive?
I'll speak from my perspective as a tandem student, having done one tandem and 85ish jumps at the time of writing. You may be waiting around for a while before you get on the plane. Weather can be extremely unpredictable and has to be close to perfect to skydive (blue skies). You will use a simple harness without the chute as a tandem student.
Before people get on the plane, everyone hypes you up, especially tandem instructors. The plane ride can be a little nerve-wracking or awkward, depending on if your instructor is talking to you to distract you. Your tandem instructor will hook up to them at a certain altitude ont he way up, so you two will be attached in multiple places. Typically, fun jumpers sit at the front of the plane, so you'll watch them jump out first. Then you and your instructor will slide to the front of the plane and likely fallout. Most people don't remember their first few seconds of skydiving, but your instructor will be in control of everything.
They may allow you to pilot the canopy a bit, but when it comes to landing, keep your feet up and focus on landing n your feet. You may slide in on your butt, but it's less than ideal at Skydive Moab since it's just a patch of dirt lol.
How do I get to Skydive Moab?
It's just north of Moab at 114 W Aviation Way, Moab. Walk up to the gate and call them. They will come to open the gate and walk you to the dropzone.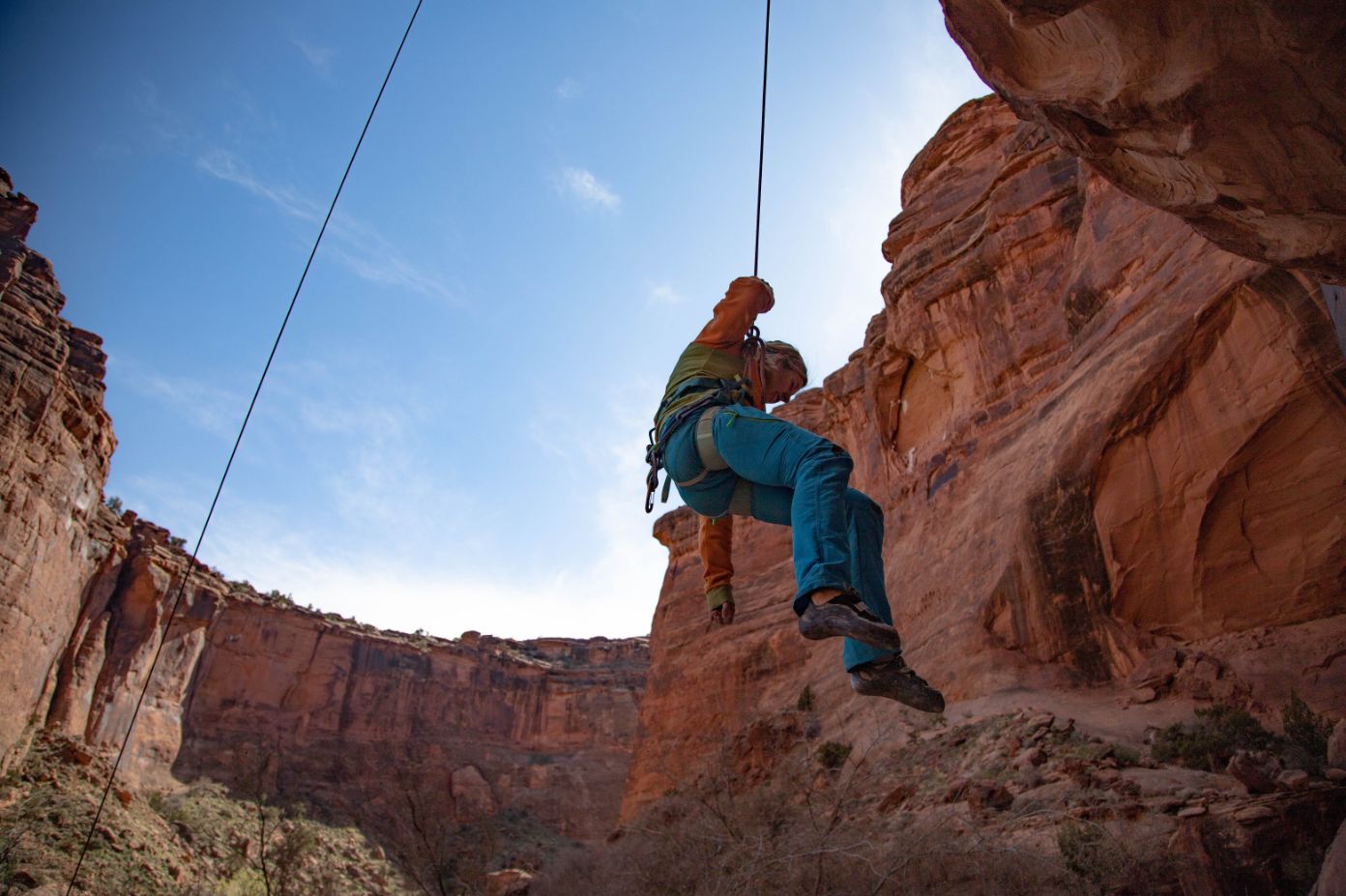 Other Adrenaline Sports in Moab
Redtail Aviation: Experience the beauty of Moab from above with scenic airplane flights and drop-offs provided by Redtail Aviation. Marvel at the stunning landscapes and get a unique perspective of the area.
Pinnacle Helicopters: Take a thrilling helicopter tour in Moab with Pinnacle Helicopters. Soar through the sky and witness the region's breathtaking scenery from an exhilarating vantage point.
Base Jump Moab: For adrenaline junkies, Moab Base offers the opportunity to embark on tandem cliff jumps in Moab. Feel the rush of freefall and enjoy an unforgettable adventure.
Xtreme 4 X 4: Embark on an extreme, thrilling guided tour in Moab offroad. Ride through rugged terrains, conquer obstacles, and experience the excitement of off-roading in this beautiful desert landscape.
Moab Jett: Experience the thrill of New Zealand-style boat rides on the Colorado River with Jet Boat. Hold on tight as you zip through the water, taking in the scenic views and enjoying an exhilarating ride.
Epic Flight Academy: If you've ever dreamed of becoming a pilot, Epic Flight Academy offers private pilot and commercial pilot training. Learn from experienced instructors and start your journey toward a career in aviation.
See you in the sky!
I hope you're more excited now than ever about your tandem skydive or have been inspired to get your A License. Blue skies!