Snowbird Utah Information and Beta
First of all, we're kidding about Snowbird being a nightmare. But do you remember that fantastic one-star ad campaign that Snowbird did way back when? That's what initially drew me to the resort.
Disclaimer: My favorite conditions are waist deep and sh*t your pants steep tree runs.
Snowbird is a world-class ski resort located in the Wasatch Range of Utah. It features an Aerial Tram that takes skiers from 8,100 feet to 11,000 feet in about 8 minutes, making it one of the fastest lifts in the world.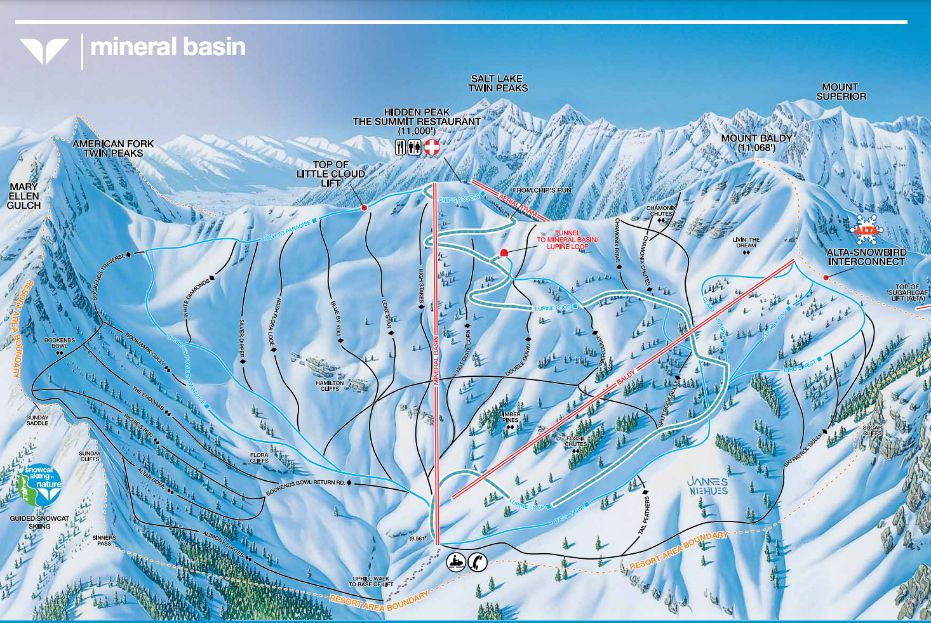 Here are some mountain facts about Snowbird:
Vertical Drop: 3,240 ft.
Base Elevation: 7,760 ft
Summit Elevation: 11,000 ft
Skiable Area: 2,500 acres
Average Snowfall: 500 in
Total Trails: 169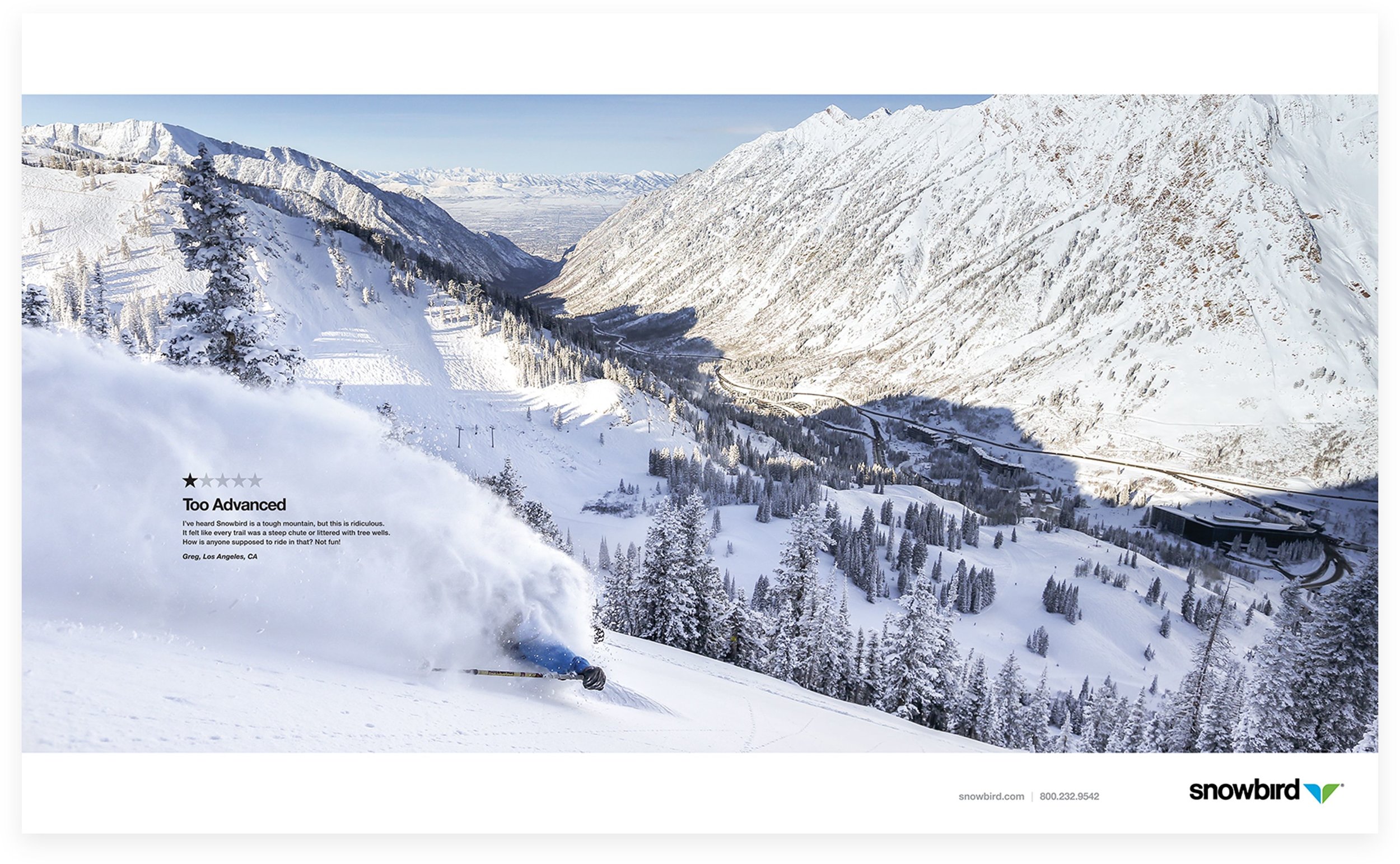 Snowbird also offers a variety of amenities including restaurants, bars, and shops. It's no Park City, but we like it that way. The scenery is unparalleled with amazing powder and superb customer service.
Driving Conditions
Snowbird is a ski resort located in the Wasatch Range of Utah. It's six miles up Little Cottonwood Canyon and is one of Utah's most popular ski resorts. The drive from Salt Lake City to Snowbird is breathtakingly beautiful, but you might need a 4WD car to get into the canyon if there's been a lot of snow. There have been a few times when it snowed too much and shut the canyon down! Bummer.
Snowbird Ski and Snowboard Terrain
Snowbird has a "variety of terrain" for all levels of skiers and snowboarders. Well, some would disagree – looking at you, one-star reviewers. You see, it's up to the resort to grade their terrain. What might be considered a "Black" back at your ski hill in New Mexico could very likely be a "Green" at Snowbird.
The skiing terrain is 27% beginner, 38% intermediate, and 35% advanced/expert. Snowbird Resort is known for its deep powder and steep chutes, bowls, and trees, making it a favorite resort for expert riders.
Pros and Cons of Snowbird Utah
Snowbird is a great ski resort for those like me who love powder. The resort's high elevation ensures that the powder is enhanced, and there's plenty of it to go around. There's also lots of terrain variety, so skiers and snowboarders can find something to their liking. However, the high elevation can also be a downside, making the temperatures very cold. Some of my favorite runs are unmarked, and there's a lifetime of exploring here.
There's one gully somewhere on the resort's front side, and I can't remember how to get there, but it's fun. If you're a snowboarder, you might get stuck and piss off the skier behind you :) I'll come back and edit this article if I can ever figure it out.
Snowbirds can be crowded on weekends. Additionally, the resort may not be the best choice for beginner skiers. Finally, while Snowbird is accessible with the Ikon Pass, crowds have increased due to the pass's availability. Locals LOVE IKON pass holders.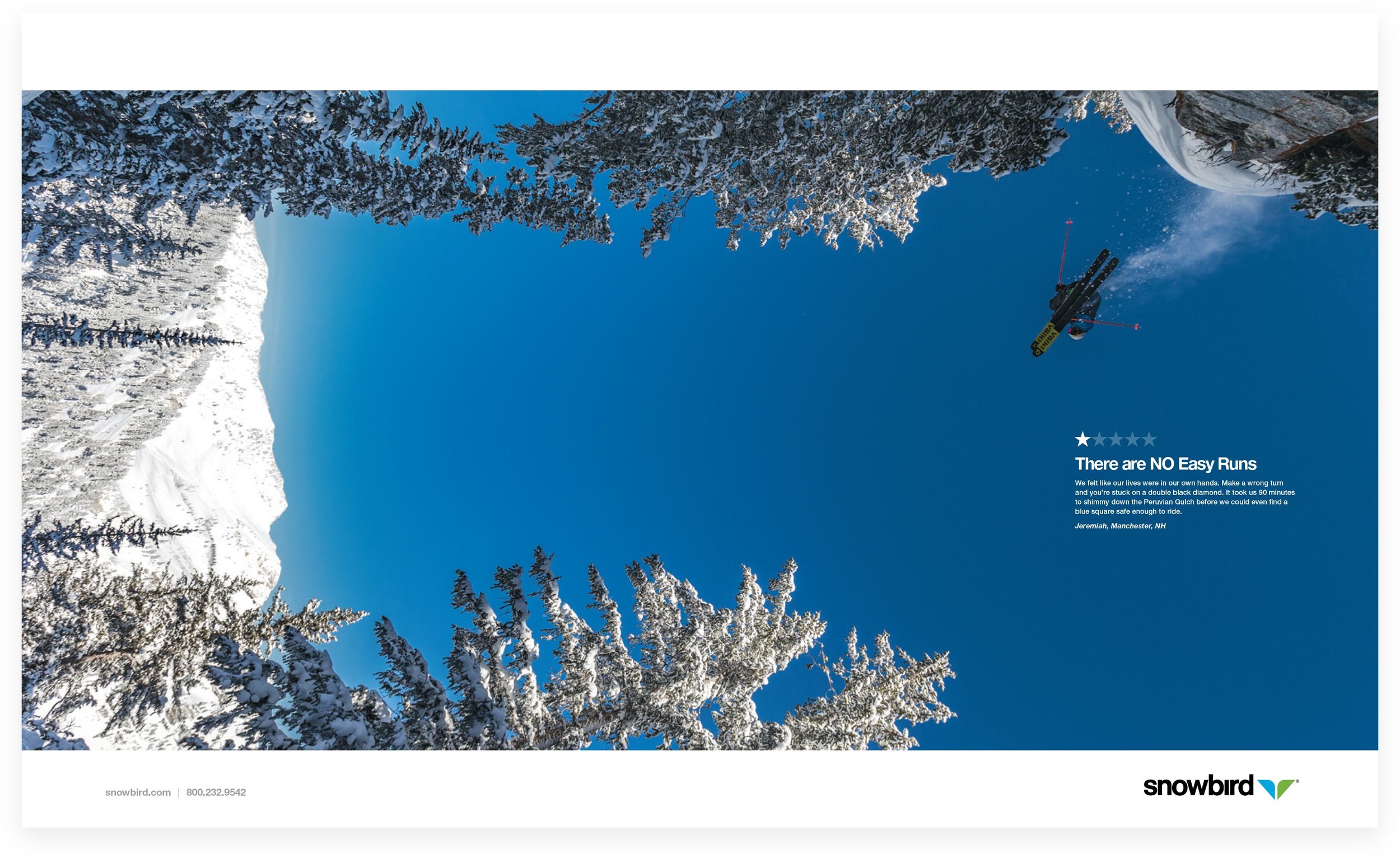 All Winter Activities at Snowbird (and Most World-Class Utah Ski Resorts)
Winter Scenic Tram Rides
Ski and Snowboard Lessons
Cliff Spa
Heli-Skiing
Snowcat Skiing
Avalanche Education and Training Center
Guided Backcountry Skiing
Interconnect Tours
Mountain Tours
Cat Skiing Tours at Snowbird Utah
Snowbird Ski Resort is a great place for cat skiing tours. The resort offers 8-12 epic guided runs, lunch, snacks, and the use of an avy beacon. Prices may vary depending on the season.
Snowbird Scenic Tram Ride to Hidden Peak
If you're riding the tram in the winter and not a skier/rider, be prepared to get some dirty looks. Kidding! We think it's fun to slide down mountains, but if you'd rather download, you can purchase a scenic tram ride. Ride the iconic Snowbird Aerial Tram to the 11,000-foot summit of Hidden Peak for some breathtaking views and photo ops.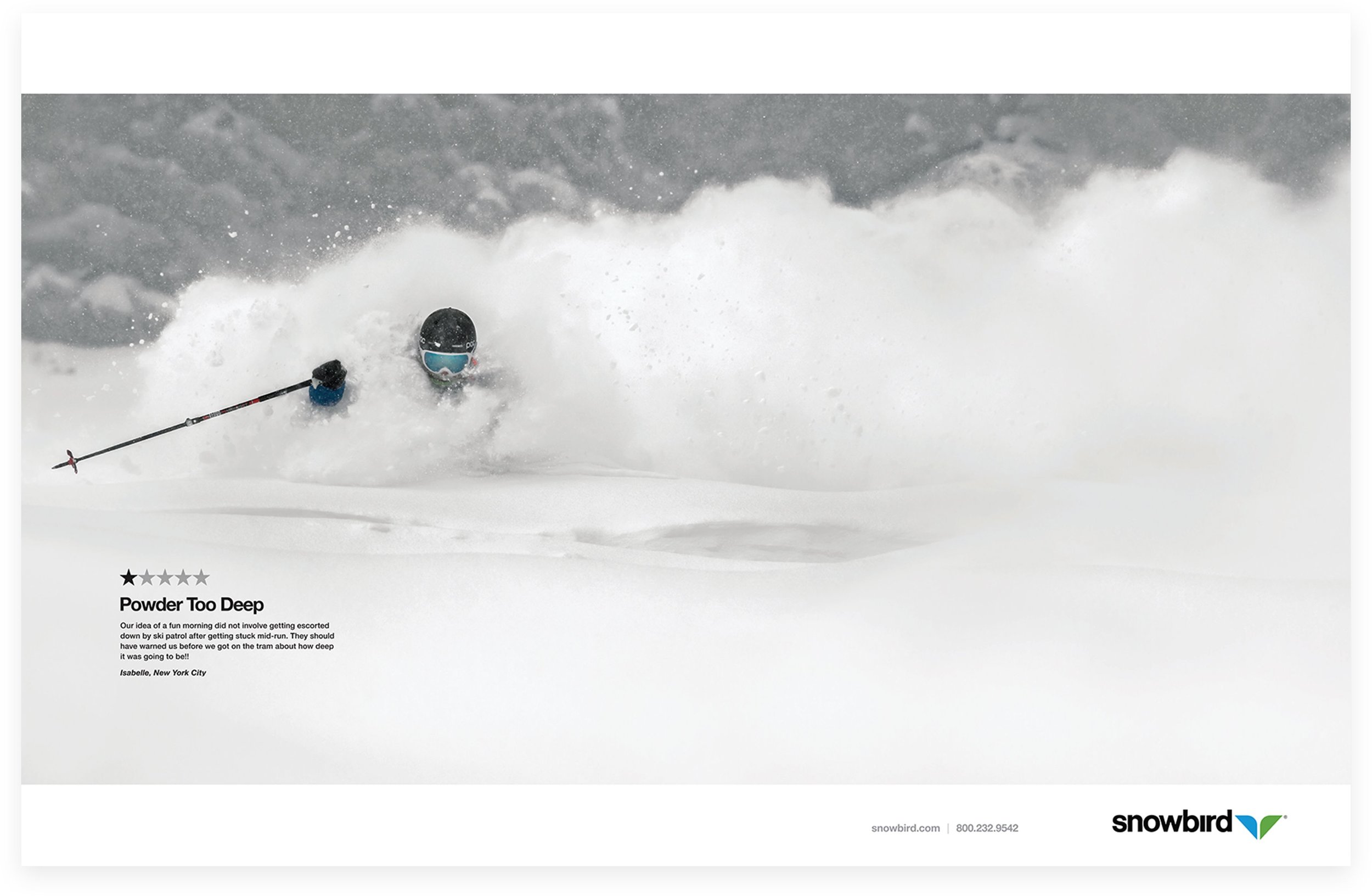 On-Mountain Services
On-mountain services are an important part of any ski resort. They provide the necessary amenities and activities that skiers and snowboarders need to have a good time. Some of the most common on-mountain services at Snowbird are lodging, food and drink, retail shops, and rental shops.
Snowbird Lodging
It has four slopeside lodges- the Cliff Lodge, Lodge at Snowbird, The Inn, and Iron Blosam Lodge. These lodges offer rooms by the night, week, or longer, as well as timeshare opportunities. Snowbird also offers 882 total rooms.
Snowbird Cliff Lodge
This is definitely on the pricier side. Snowbird Cliff Lodge is one of the best ski resort condos in Utah. Not only do they have amazing skiing right outside your door, but they also have a heated indoor pool and hot tub complex. This is the perfect place to relax after a long day on the slopes. Cliff Spa has some great spa services if you have the money to fork out for it.
Cliff Spa
Snowbird Spa has been renovated with numerous restorative treatments and relaxation areas, an improved yoga studio, and upgraded fitness facilities with mountain views. The Cliff Spa has a pool, hot tub, outdoor decks, and outdoor fire pits. The solarium offers an awesome place to enjoy a massage with stunning views and a eucalyptus-infused environment. The boutique offers exotic Cliff Spa items, luxury yoga apparel, and high-end skincare. Located on the 9th and 10th floors of The Cliff Lodge, The Cliff Spa delivers luxury spa experiences in a hotel that perfectly matches the mountain.
The Lodge at Snowbird
The Lodge at Snowbird is a slopeside hotel and condominium unit that offers guests easy access to the ski resort. Amenities include an outdoor heated pool, large hot tub, and bistro that offers a full bar.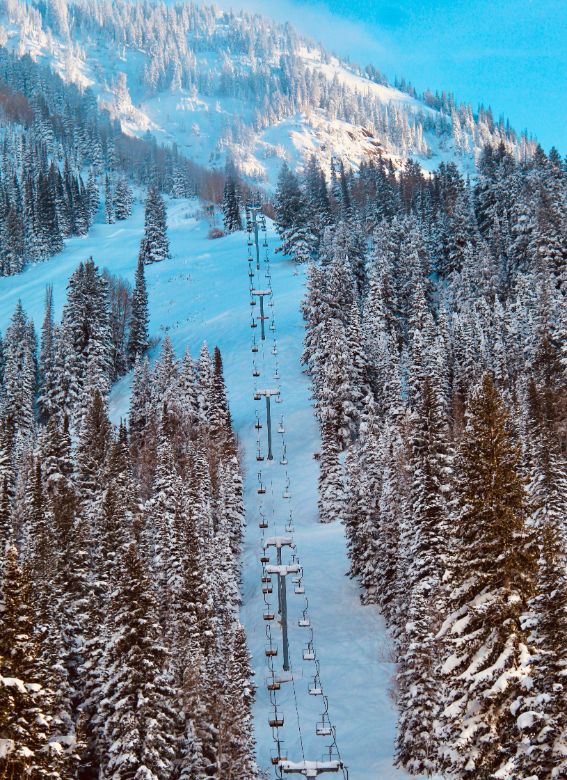 Snowbird Summer Activities
Snowbird is a world-renowned ski resort open during the winter months for skiing and snowboarding. In addition to the ski season, Snowbird offers summer activities such as tubing, an alpine slide, a mountain coaster, vertical drop, and ropes courses.
The Alpine Slide
The alpine slide is a dual-track down the Chickadee ski slope. The mountain coaster is 3,120 feet long and fits up to two riders.
Snowbird Mountain Biking
Snowbird Resort is a great place to go mountain biking. There are a variety of trails that cater to all levels of riders, from beginner to expert. The trails are well-maintained and offer exciting challenges and beautiful views.
Where is Snowbird, UT?
Snowbird Utah is a ski resort located in Little Cottonwood Canyon, just 45 minutes from Salt Lake City International Airport. Those driving there can take I-80 east to exit 6. From there, they will go east on 6200 South, which will lead them right to the ski resort.
Alta Snowbird
Alta and Snowbird ski resorts are located in the Wasatch mountains of Utah. Together, they make up one of the most popular ski destinations globally.
Snowbird Mountain Guides is a helicopter skiing operation that has been in business since 1973. They offer some of the most exciting recreational adventures anywhere.
Ski Resorts Nearby
In the Little Cottonwood Canyon and right next to Snowbird lies Alta. The resorts connect. In the Big Cottonwood Canyon, there's Solitude Ski Resort and Brighton Ski Resort.
Snowbird Ski Resort is a world-class destination for winter sports enthusiasts.
With various restaurants, festivals, and retail opportunities available on-site, visitors will never find themselves bored. If you're looking to explore the area in the Summer, mountain biking and hiking trails are available. And it's easily accessible with Salt Lake International Airport is 29 miles away. Winter sports enthusiasts could spend a lifetime at Snowbird and never grow tired. I hope you enjoyed reading this :)