I love Snowbird, hands down. But there are still some tips you might want to know to make your ski trip to Snowbird Ski Resort as fun and comfortable as possible. Keep reading for Snowbird's features, the pros and cons, and my favorite runs.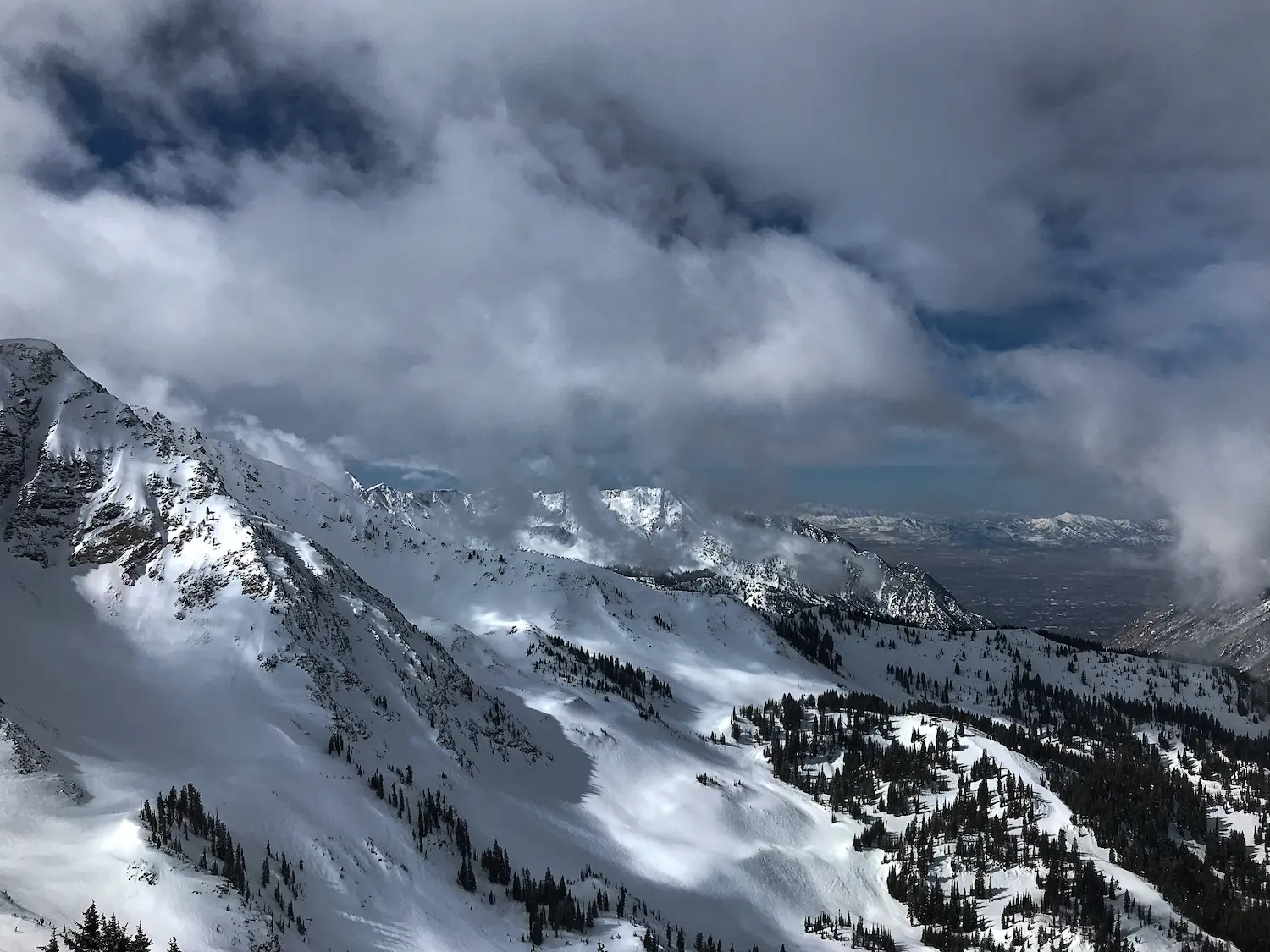 Snowbird Terrain: Skiing in Snowbird Features
Snowbird Ski Resort is a world-renowned year-round ski and summer resort located in the Wasatch National Forest, Utah.
It is situated 29 miles from Salt Lake City International Airport and 24 miles from downtown Salt Lake City, making it easily accessible.
The resort covers 2,500 acres of skiable terrain with a vertical drop of 3,240 feet, offering the most vertical terrain in Utah.
Snowbird receives an impressive 500 inches of snowfall annually, known for its dry, powdery snow, making it a top destination for powder skiing.
The resort offers a variety of terrain, with nearly half of the mountain rated as advanced, making it ideal for intermediate and expert snowboarders.
Snowbird features a decent halfpipe and a fantastic terrain park that attracts snowboarders from all over.
Visitors can take an aerial tram to the summit of Hidden Peak, where they can enjoy panoramic views of the Wasatch Mountains from the mountaintop restaurant.
The resort's steep terrain, abundant powder, trees, bowls, and gullies make it a haven for riders who seek challenging slopes.
Snowbird's unique location, vast terrain, and exceptional snowfall make it a top ski destination.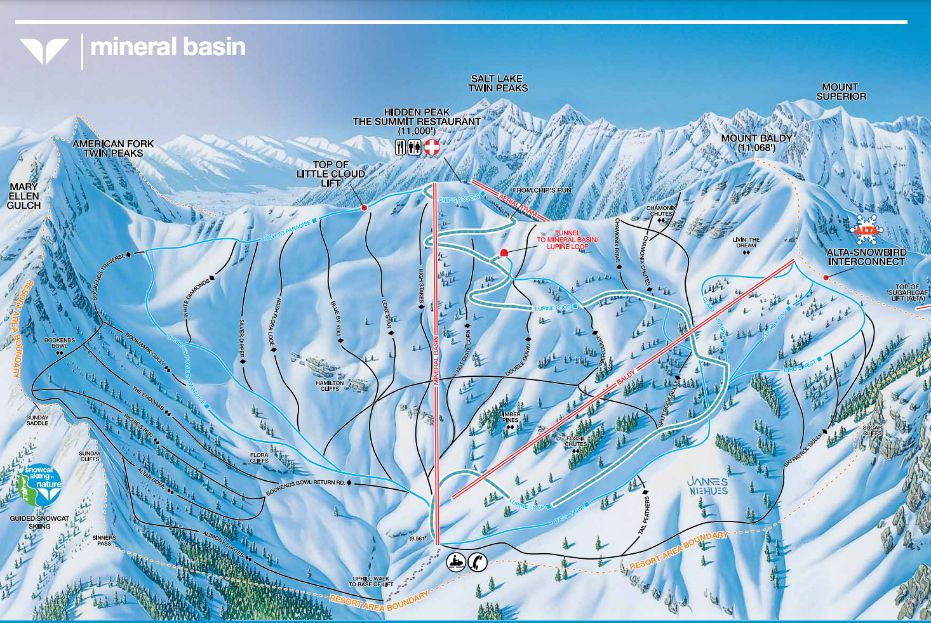 23 Best Runs at Snowbird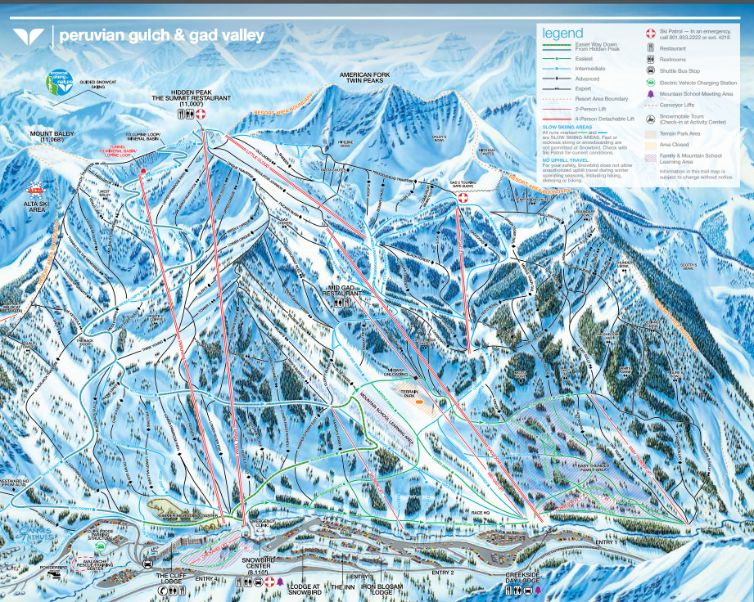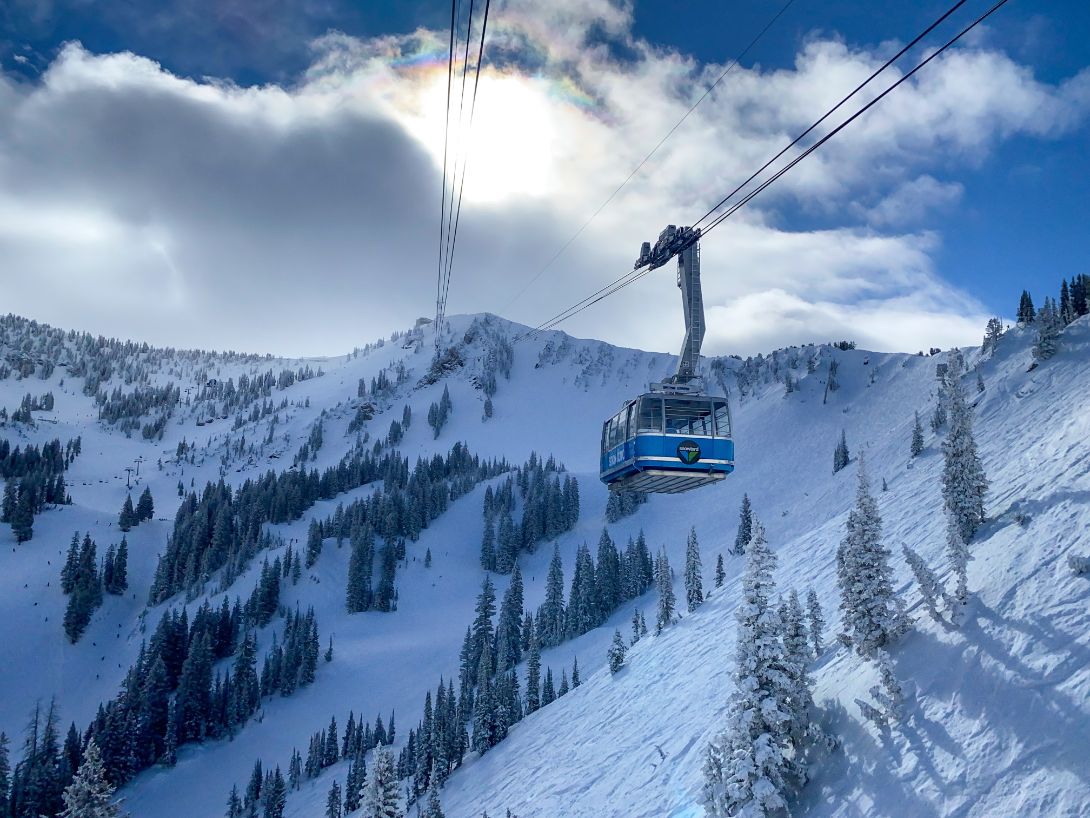 Snowbird Lifts
| | | |
| --- | --- | --- |
| Lift Name | Terrain Served | Popular Runs |
| Peruvian Express | Intermediate and Advanced | Chip's Run, Primrose Path |
| Wilbere Express | Intermediate and Advanced | Wilbere Chutes, Wilbere Bowl |
| Gadzoom | Intermediate and Advanced | Mid-Gad, Lower Silver Fox |
| Gad 2 | Intermediate and Advanced | Big Emma, Upper Silver Fox |
| Little Cloud | Intermediate and Advanced | Gad Chutes, Lower Cirque |
| Mineral Basin Express | Intermediate and Advanced | Powder Paradise, Silver Dipper |
| Baldy Express | Intermediate and Advanced | Devil's Dip, High Ivory |
| Aerial Tram | Intermediate and Advanced | Regulator Johnson, Lower Cirque |
| Baby Thunder | Beginner | Bassackwards, Big Emma |
| Chickadee | Beginner | Big Emma, Bassackwards |
| Creekside | Beginner | Mid-Gad, Lower Silver Fox |
| Mid-Gad | Beginner | Mid-Gad, Lower Silver Fox |
| Wilbere | Beginner | Wilbere Chutes, Wilbere Bowl |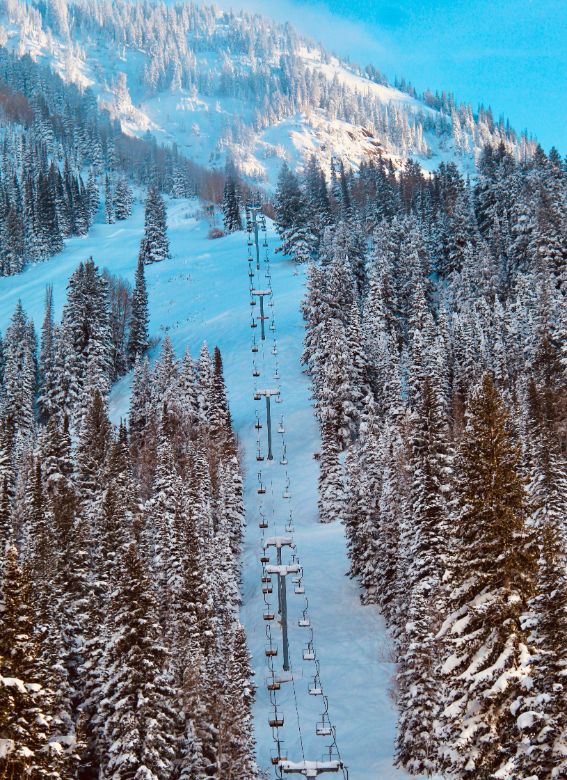 Getting There: Where is Snowbird Mountain?
Snowbird Ski Resort is located in the Wasatch Mountains in Utah and is easily accessible from Salt Lake City. The resort offers a variety of skiing options for intermediates and advanced skiers. To get to Snowbird Ski Resort from Salt Lake City, follow these step-by-step directions:
From the airport, head south on I-15 S towards Provo.
Take exit 298 for 9000 S.
Turn right onto UT-209 W/9000 S.
Continue onto Little Cottonwood Canyon Road.
Follow the road for approximately 7.9 miles until you reach Mile Post 7.9.
Turn right into the Snowbird Ski Resort parking lot.
Awards
Ski Magazine's Resort of the Year (2012)
OnTheSnow.com's Visitor's Choice Award for Best Overall Resort (2012)
Powder Magazine's Ski Town Throwdown Champion (2013)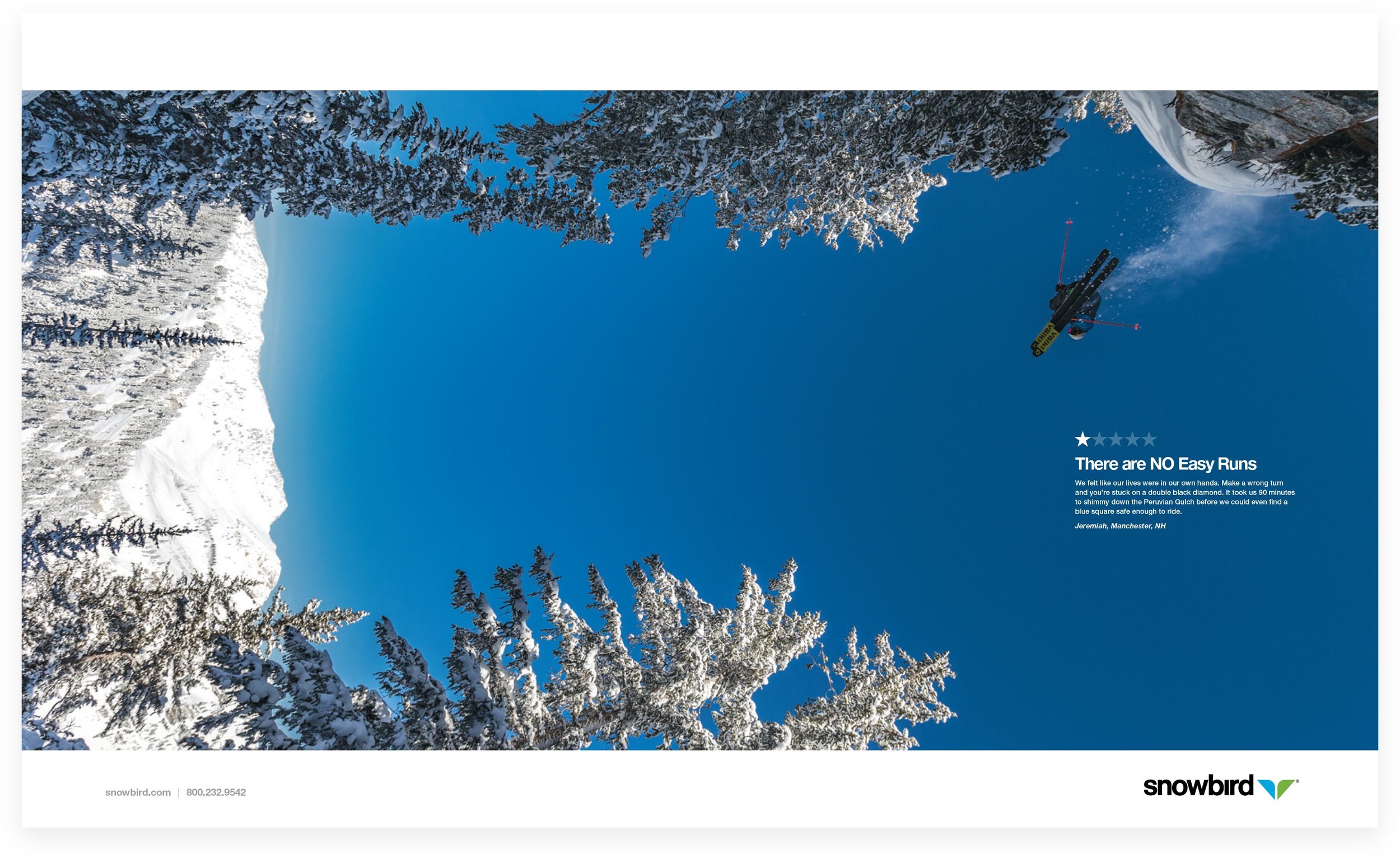 Aprés-ski
Limited Aprés-ski scene: Snowbird Ski Resort has a limited Aprés-ski scene compared to some other resorts.
Tram Club sports bar: The Tram Club is a popular sports bar at Snowbird, offering billiards and darts for entertainment. It's a great option for unwinding after a day on the slopes and often has happy hour specials.
Aerie Lounge: The Aerie Lounge provides a cozy atmosphere with a fireplace and live music on weekends. It's another great spot to relax and enjoy the Aprés-ski experience.
The Lodge Bistro: The Lodge Bistro is an excellent casual drink option at Snowbird, serving local beers and wines.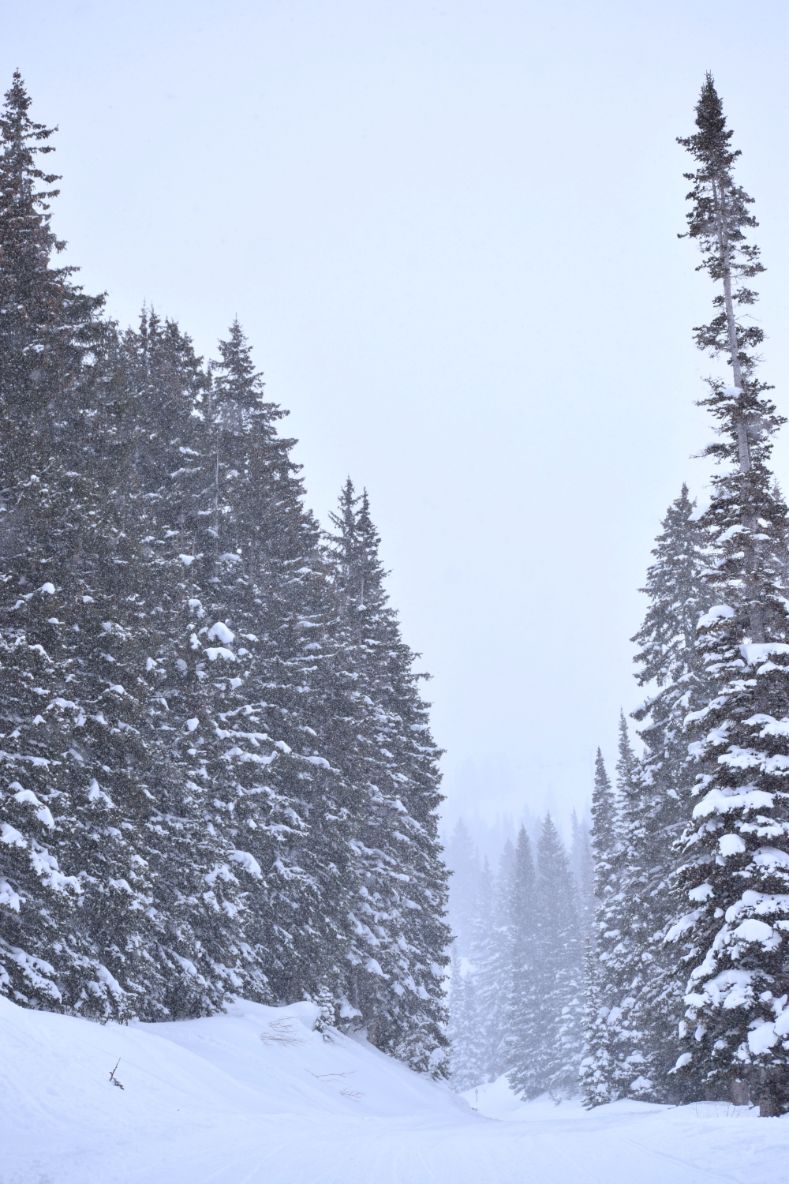 Pros and Cons of Snowbird Utah Ski Resort
This is more for fun, but here we go…
| | |
| --- | --- |
| Pros | Cons |
| Abundant Powder! | Cold Temperatures |
| Terrain Varieties like Tree Runs, Chutes, and Gullies | Crowded Weekends |
| Easy access from Salt Lake City (also a con) | Not Ideal for Beginners |
| Affordable with the IKON Pass (also a con) | Increased Crowds with Ikon Pass |
| Interlodge: keep all the pow to yourself! Potentially a con? The Shining, anyone? | Interlodge Conditions (potential for being stuck in the canyon during storms) |
| Access to Alta, which is also epic | Overpriced for non-IKON Pass Holders |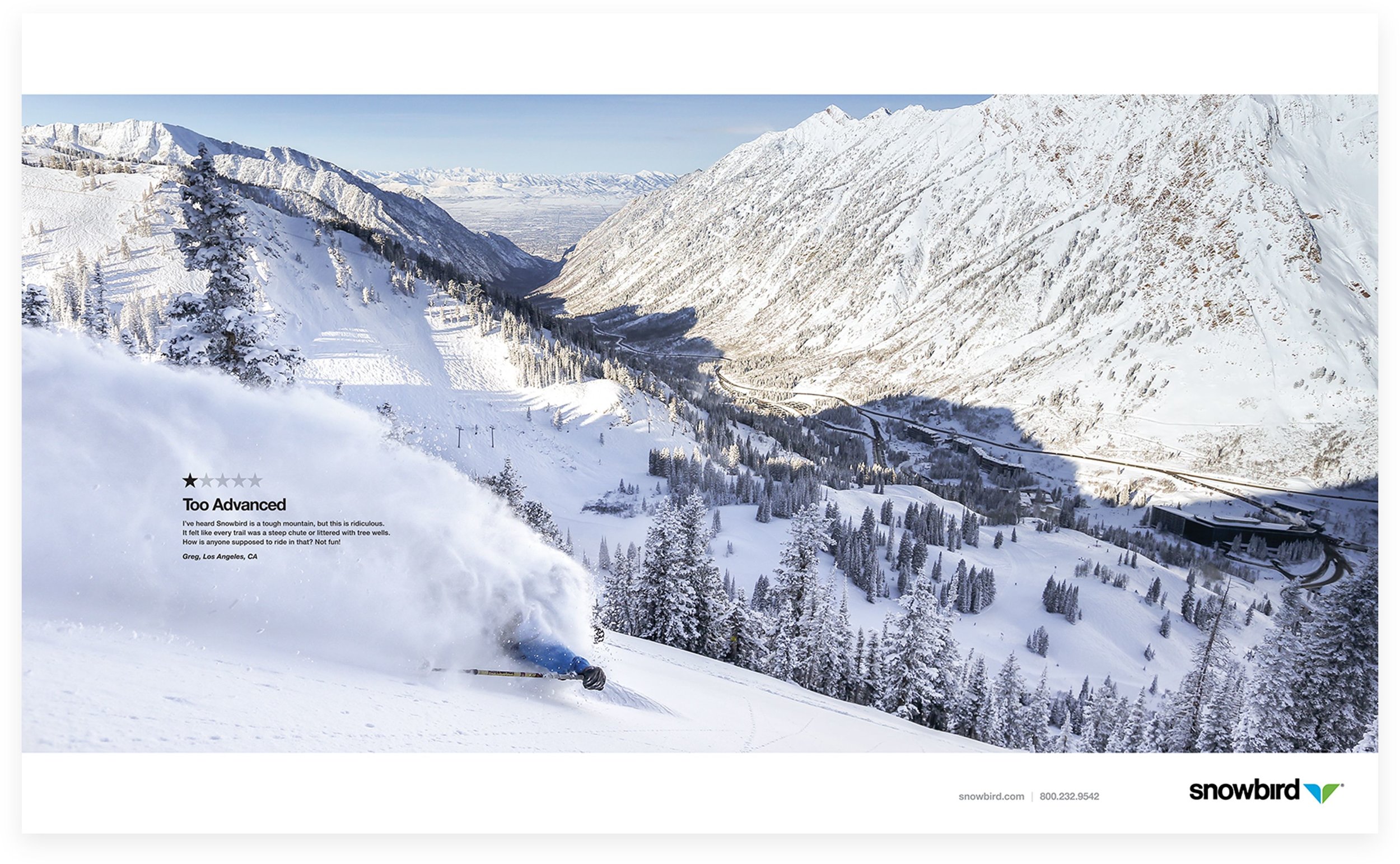 Snowbird/Alta: Do you have to choose?
Unfortunately, if you are a snowboarder, you have to choose. If you are a skier, you can pop right over to Alta and ski between the mountains. I've considered tele-splitboarding to Alta on two separate feet, but probably the cons outweigh the pros :)
Can you snowboard at Snowbird?
That's a mouthful, and yes! Just not Alta.
Alta: A Skier's Paradise
And a snowboarders nightmare :). But don't be too mad, it is honestly so flat in many spots that it would be a nightmare to get around on one plank. Alta is a skier's dream destination, offering a unique experience for skiing enthusiasts. With its focus on preserving the skiing tradition, Alta remains exclusively for skiers, creating a pure skiing environment. The resort is known for its exceptional snow quality, thanks to its high annual snowfall and north-facing slopes. The dry, fluffy powder snow at Alta attracts powder hounds from around the world.
Terrain and Skiing Opportunities
Alta provides a diverse range of terrain suitable for all skill levels. Beginners can enjoy the separate beginner zone with new lift upgrades, ensuring a comfortable learning experience. Intermediate skiers can explore groomed cruisers throughout the mountain, while advanced and expert skiers can challenge themselves with Alta's steep runs, chutes, and cliffs. The resort's navigation logistics are well-designed, with trails ending back at the same lift, providing a seamless skiing experience.
Alta Lodge
Alta Lodge is a fantastic accommodation option for those seeking a cozy retreat after a day on the slopes. Situated in the heart of Alta, the lodge offers ski-in, ski-out access, allowing guests to maximize their time on the mountain. The lodge provides a warm and inviting atmosphere, with comfortable rooms, delicious dining options, and stunning mountain views. Relax by the fireplace, indulge in hearty meals, and immerse yourself in the charm of Alta Lodge.
AltaSnowbird Connection: Snowbird Resorts
If you want to explore Alta and Snowbird, the AltaSnowbird connection makes it convenient. Skiers can access both resorts with a combined ticket, offering a total of 4,700 acres of skiable terrain. The connection between the two resorts was made possible by constructing two high-speed quads, providing easy access to intermediate terrain and exclusive powder-filled lines along the two-mile ridgeline.
What Canyon is Snowbird in?
Little Cottonwood Canyon is a winter paradise for skiers, with Alta and Snowbird offering unparalleled skiing experiences. While Snowbird has its own unique offerings, Alta stands out as a skier's paradise with its focus on preserving the skiing tradition, exceptional snow quality, and diverse terrain catering to all skill levels. Whether you're a beginner or an expert, Little Cottonwood Canyon promises an unforgettable ski adventure.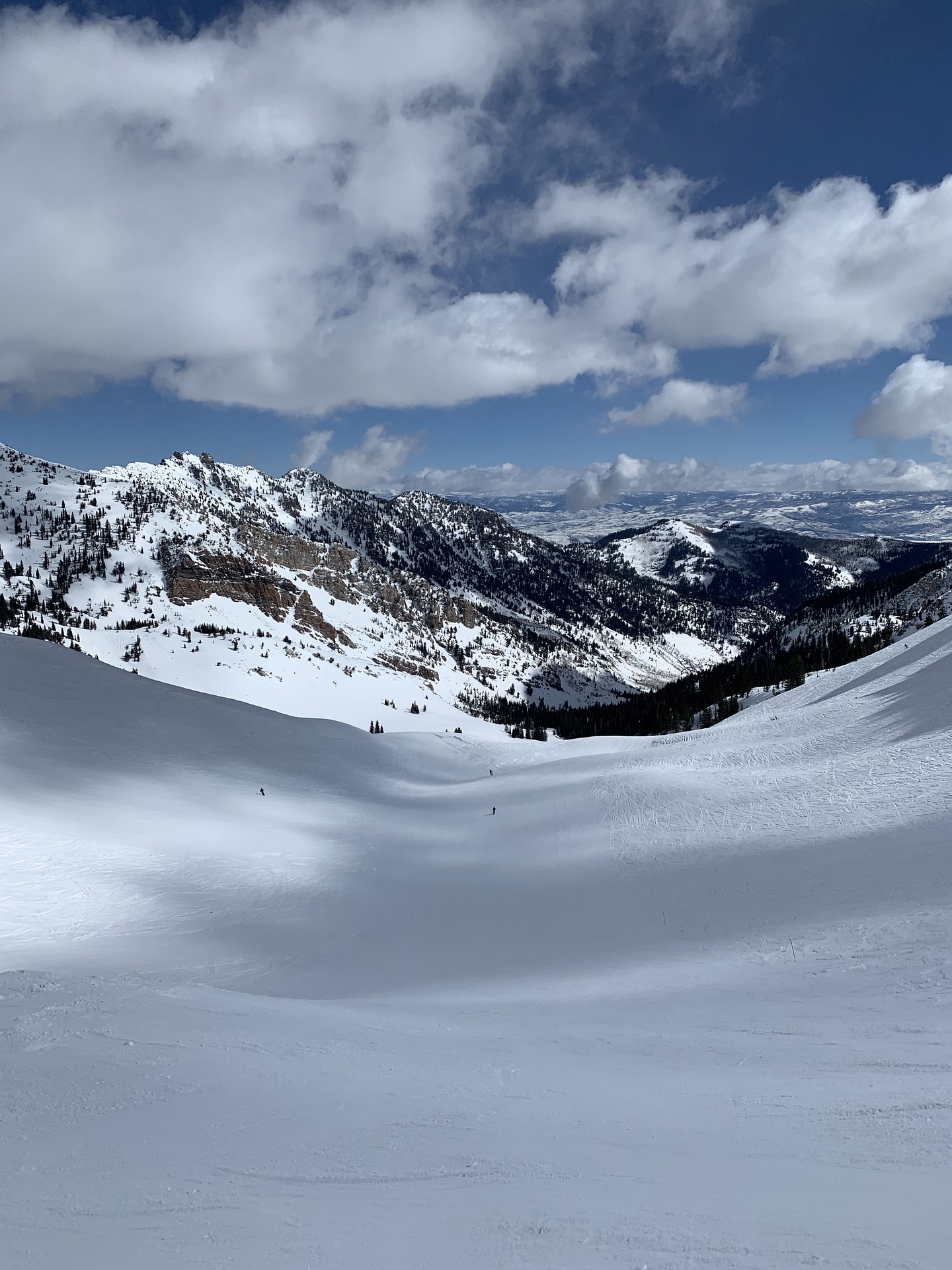 Ski you later!
Visitors will never be bored with various on-site restaurants, festivals, and retail opportunities. Mountain biking and hiking trails are available if you want to explore the area in the Summer. And it's easily accessible with Salt Lake International Airport is 29 miles away. Winter sports enthusiasts could spend a lifetime at Snowbird and never grow tired. I hope you enjoyed reading this :)