In today's technologically advanced world, planning a wedding includes creating a hashtag, and the quickest method to generate one is to use a wedding hashtag generator. Fortunately, hashtag generators are a dime a dozen online, so coming up with a wedding hashtag that perfectly captures your love story should be simple. 
But as with anything, all hashtag generators are not equal. So, if you need a wedding hashtag, or what we like to call a "slogan for life," stick around; today, we're dishing on the 5 best wedding hashtag generators for 2022.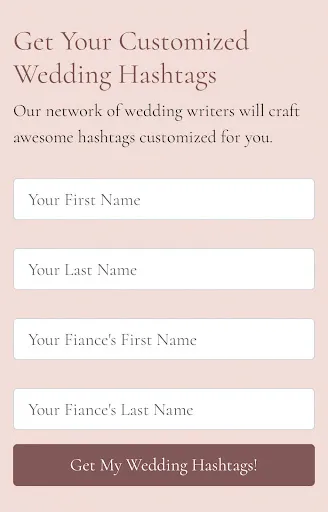 What Is A Wedding Hashtag?
We get it! There are tons of wedding lingo and jargon floating around the internet; it's enough to make your head swim. A hashtag is probably a term you're familiar with unless you steer clear of the social media world (or live under a rock). But, you may not know what a "wedding hashtag" is and how it can benefit you and your love. 
So, what's a wedding hashtag?
Using the # symbol and your "wedding hashtag" or slogan, you can group all of your posts and photos from your wedding day. Then, simply utilizing your unique wedding hashtag, you'll be able to make an online mobile photo album. 
But, your wedding photos shouldn't be buried in the sea of countless other images that are tagged with general terms like "beach weddings" or "the name of your location wedding." Instead, you should design a unique wedding hashtag that will enable you to digitally share your love story. 
What Are Wedding Hashtag Generators?
Let's start by defining a wedding hashtag generator. When you need a wedding hashtag, there are a few ways to get one. Create it yourself, hire a writer, ask a friend, or use a wedding hashtag generator. It's an online application that assists you in coming up with appropriate wedding hashtags by using some basic information provided by you. 
Essentially, it's a computer-based app that takes the information you provide and spins it together into "hashtags" or phrases. A hashtag generator aims to develop genius phrases that match your love story and can become your wedding hashtag. 
This can then be used to share and organize your posts and wedding photographs. Think of it as an artificial intelligence (AI) application that examines some primary data you submit and provides suggestions for hashtags you might use for your wedding.
Wedding hashtag generators are typically free, which is excellent! But, there are some downfalls to that as well. For example, since they are using only basic information, they may generate common hashtags that other couples may already be using or will use in the future. So, using only the best wedding hashtag generators is always a good idea.
5 Best Wedding Hashtag Generators
Your wedding is one of the most important days in your life, so you want it to be perfect. And while a hashtag for your wedding may seem like a tiny little detail, it can have a significant impact as it will be used to group your wedding photos in an online social media album for all to see. So here are the best wedding hashtags generators. 
Wedding Hashers Generator 
To be the "best" at anything, you have to specialize in it, and that's exactly what Wedding Hashers does. They live and breathe wedding hashtags. And while they have a talented team of professional writers on staff that whip up some ingenious wedding hashtags, they also have a free simple and easy-to-use wedding hashtag generator!
The free wedding hashtag generator at Wedding Hashers uses simple yet key pieces of information you provide to create a selection of hashtags that may be perfect for your day. Their algorithm quickly spits out results that you can begin to use immediately or use them to inspire your own creative juices to develop one on your own. 

But, for a truly one-of-a-kind wedding hashtag, using the talented writing team at Wedding Hashers is the way to go.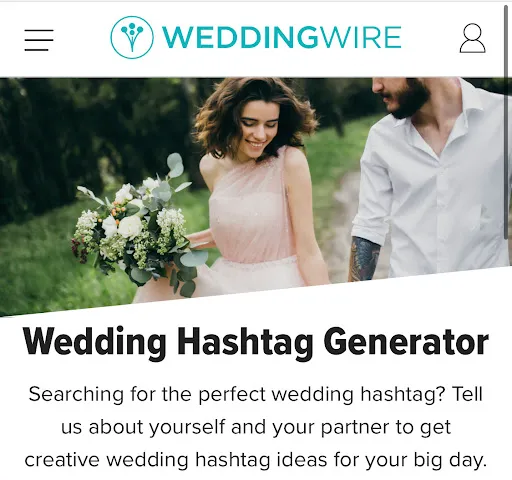 Wedding Wire 
The algorithm used by the Wedding Wire hashtag generator uses more phrasing and alliteration than some of the others below; however, you can still anticipate some of the traditional wedding hashtag variations that are already in use to be included in your options. The names and nicknames of both spouses, the married name, the wedding day, place, and venue are all taken into account.
There is, however, one catch. You must provide your email to receive your complete list of hashtags from the generator.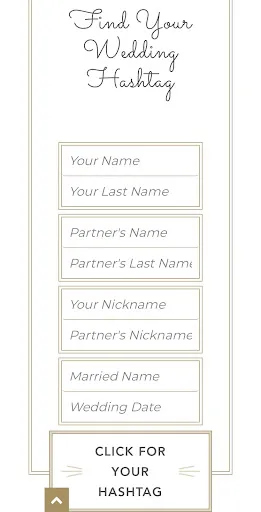 Shutterfly
Shutterfly is a well-known company, best known for its photo books, personalized cards, and gift selections and less known or never even considered for generating a wedding hashtag. They offer an organized generator by requesting both partners' names, married names, nicknames, and the date of the big day. They tend to provide a selection of hashtags that are more fun than some other generators.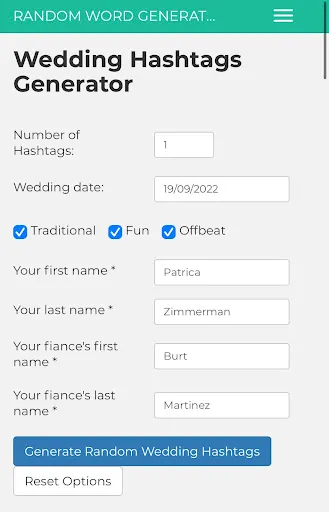 Random Word Generator 
Random Words Generator offers two choices that we haven't before stated! First, it allows you to select the hashtag's tone (traditional, punny, fun, or offbeat tone). You can also choose the number of hashtags created (up to 50). 
Using this generator to create hashtags is straightforward. All you have to do is supply the date of the wedding and the names of the couple tying the knot. The generator will use the information provided to generate a predetermined number of hashtags following your chosen tone.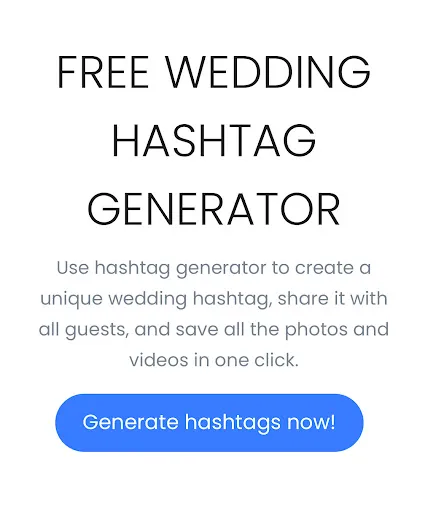 Wedding Generator from BigBangram
This is another example of a wedding hashtag generator that provides couples with a selection to choose from based on superficial information (first and last name of both partners and wedding date). It's that easy. But, the results can be somewhat generic. This is because minimal information is entered, so your results may be lackluster. 
Find Your Slogan For Life
These are just a few wedding hashtag generators that exist on the internet. And, of course, some are better than others. If you want a hashtag that can become your slogan for life, that fits your love story, is unique and catchy, work with the company that specializes in hashtags – Wedding Hashers. When all you do is brainstorm and wordsmith hashtags, you'll be the best at it.