Real Estate SEO Services and Real Estate SEO Tips
Do you want to learn the real estate SEO strategies that work? This blog post is going to cover real estate agent SEO and how it can help your real estate website rank higher in Google.
It will discuss a few different strategies, such as keyword research and on-page optimization, both of which are important if you want your website to have a high conversion rate.
NOTE: This blog will not cover Google Ads as that is SEM (search engine marketing), not SEO.
There are 11 effective ways to strengthen your search engine optimization.
JUMP TO:
1. Begin keyword research for real estate agents.
A realtor needs to find the best keywords that will generate traffic and leads, which is also called long-tail SEO. This can be done with Google Analytics or other keyword research tools like Spyfu or Ahrefs.
Besides the obvious keywords like "real estate," "homes for sale," and "property," realtors should target keywords that are specific to their location and services. For example, a realtor in Miami might want to target keywords such as:
– "luxury real estate Miami"
– "condos for sale Miami"
– "waterfront homes Miami"
The more specific the keyword, the easier it will be to rank for it on Google. So make sure you do your research.
Once you have targeted some good keywords, use them throughout your website and content. Try using them in titles, headings, meta descriptions, and of course in the text itself.
2. Create on-page optimization of real estate websites.
This is the process of optimizing your website so that it will rank higher on search engine results pages. It includes adding the correct keywords to your titles, meta descriptions, and images, as well as improving your site's loading speed.
Perhaps the most important factor is how your website looks on mobile devices. If your website is not optimized, it will rank lower in mobile search (and desktop search).
You can also improve your site's on-page optimization by adding internal links to other pages on your website.
This will help Google and other search engines understand your website's structure, and it will also help visitors find the information they are looking for.
These tips will increase your on-page SEO and organic search results.
If you need help optimizing your real estate website, consider hiring a professional real estate SEO company.
They will be able to optimize your site for you and ensure that it is ranking as high as possible in search engine results pages.
3. Improve site structure for real estate agents.
A site structure is the real estate agent's online map.
It helps real estate agents to have clear navigation on their website and gives users an idea about the content of your site before landing on it.
The search engines crawl this map when ranking real estate websites in organic results, which means that if you create a bad structure, no matter how high quality your web content is or what you do with optimization SEO , it will be difficult for people to find your website via search engine listings.
This also impacts realtor directory submissions because Google sees these types of links as external links – which they like less than internal ones.
Internal links work by linking pages together within the same domain (i.e., between examplerealtysite .com/ real-estate -agent /home.html and examplerealtysite .com/ real-estate -agency ).
External links are to websites outside of your domain (i.e., linking from realtysite.com to agentdirectory.net).
This can be confusing, but basically, if you have internal links on your site it is good for SEO, while external links are not so great because they go against Google's guidelines about what kinds of sites should link together in the search engine results pages (SERPs).
Anchor text is the clickable text in a hyperlink.
When you create links, you should use anchor text that accurately describes the page you're linking to.
For example, if I were to link to my real estate agent website from this blog post, I would use "real estate agent SEO" as the anchor text because it accurately describes the web page I'm linking to.
If you're using a third-party site as a reference for your content (which you should be!), make sure to use their title as the anchor text rather than copying and pasting the entire URL.
This will help your readers know where they're going when they click on your links, and it also helps the search engines understand the context of your links.
You've probably heard that duplicate content is bad for SEO.
But what does that mean, and how can you avoid it?
Duplicate content is simply content that exists on more than one page on your website.
It can be caused by a variety of things, such as having multiple versions of a page (i.e., desktop and mobile), identical titles and meta descriptions, or copied and pasted text from other websites.
Google doesn't like it when there are multiple pages with the same content because it makes it difficult for them to determine which page is the most relevant to show in their search engine results pages.
This can hurt your SEO.
A good site structure will improve real estate SEO and make it easier for Google to crawl your website. You can use tools like Screaming Frog or Xenu's Link Sleuth to identify which pages aren't getting indexed and fix the problem.4. Create a blog for real estate agents.
A realtor needs to have great SEO if they want their website to rank higher in search engine results, so it is important that you create a real estate blog with your best real estate tips.
You can use a tool like WordPress to get started.
A realtor needs to have great SEO if they want their website to rank higher in search engine results, so it is important that you create a real estate blog with your best real estate tips. You can use a tool like WordPress to get started.
4. Create a blog for yourself (or your real estate agents).
The best ways you can create blog content for your real estate agency are by writing about real estate industry news, sharing your real estate expertise with readers, or writing about neighborhoods you specialize in.
You can also post videos and infographics on your blog to help engage readers.
Make sure that you add a blog to your website, and be sure to write fresh, original content on a regular basis! This will help improve your SEO ranking and bring more visitors to your site.
– Add images: Whenever possible, include an image with your blog post.
Not only does this break up the text and make it easier for readers to scan, but it can also help improve your SEO ranking.
Google loves visual content, so adding images to your posts is a great way to get noticed by search engines.




– Make sure your real estate blog posts are between 300 and 2,000 words, as Google favors these lengthier articles.
– Use keywords: As you write each article for realtors be sure to incorporate the keywords that realtors will search for when looking to buy or sell a home.
These include things like "buying", "selling", "realty" and more.
– Utilize social media: Be sure to share your real estate blog content on all of your social profiles after it is published!
This includes Facebook, Twitter, Pinterest and even Instagram. Using hashtags will help bring in visitors from outside sources as well!
5. Optimize your images for real estate SEO.
– When you upload images to your website, be sure to add the correct keywords and ALT text so that they will show up in Google Image Search. You can use a tool like PictureSEO to make it easy.
The top tips for optimizing your images for real estate SEO are:
– Add good titles, descriptions, and ALT text.
– Optimize your images for real estate keywords.
– Do not use too many words in the file name
Don't add too many words to the file name of an image because it will throw off Google Image Search rankings.
For example "dallas realtor company image 2" is better than "realestate12344324232454353zasertf56789".
6. Make social signals work for realtors.
Social signals are defined as the real-world interactions that people make online.
These may include likes, shares, comments, and other engagements on social media platforms like Facebook, Twitter, etc.
In real estate SEO strategies for agents, you have to give equal importance to your website as well as those of some competitors' websites from which you can get traffic through Google SERPS (search engine result pages).
This is because realtors cannot afford not to go where their customers are looking for them or lose out on potential clients who might be engaged with a competitor's brand page/content at any point in time.
So it makes sense to invest time and money into creating great content regularly so that all your target audience has easy access to good information about realtors they can trust.
To make social signals work for realtors, they need to:
– Claim their profiles on all the popular real estate listing sites and ensure that all the business information is accurate and consistent across these platforms.
– Create a blog and populate it regularly with fresh content related to real estate topics of interest to their target audience.
– Engage with people who are talking about real estate online by commenting on relevant blog posts, tweeting links to interesting articles etc.
This way, realtors can not only create awareness about their brand but also build trust and credibility among potential customers who are looking for reliable advice and services when it comes to buying or selling property.
7. Claim Google My Business Listings for your real estate business.
A Google My Business Listing is a free and easy way to list your real estate business on Google. It will help customers find you when they search for real estate businesses in your area. You can also add photos, hours of operation, and more.
Claim your Google My Business Listing here: https://www.google.com/business/
Claiming and optimizing your Google My Business Listing is a great way to improve your real estate SEO. Be sure to include relevant keywords in your listing title and description, and make sure that your website link is included.
Be sure to add relevant keywords when creating your Google My Business Listing.
Add photos of properties so buyers can get a better idea of what they're buying before contacting an agent.
Claim your business listing on both websites and be sure to include all necessary information in order to improve SEO results.
8. Optimize Your Title Tags for realtors and neighborhood/property-related keywords.
When a realtor wants their real estate website to rank higher in Google Search results, they need to optimize the title tags on each of their web pages.
You should include your main keyword at least once in your title tag.
However, real estate website title tags are usually too long to use as the main keyword for realtors. Try multiple variations of your realtor's key terms instead.
For example, if home buyers are looking to buy a house in New York City, they will search using different keywords like "buy houses NYC," or "NYC real estate agent."
But when it comes to optimizing real estate websites with descriptive words and phrases that are relevant to the neighborhood you serve (i.e., Westchester County), SEO services companies should also create SEO-friendly titles based on these popular searches as well.
SEO Services Company can then include their primary keyword once along with other related property/neighborhood terms so that the title tag will read something like this: "SEO Services Company | Get Found in Google for Buying a House in Westchester County."
As real estate agents, you should also include your city and state name (or at least the state) in your website titles as well for your real estate niche areas.
This will help to ensure that you rank higher when people search for real estate services within your area.
For example, if someone is looking to buy a home in Austin, Texas, they might use keywords like "Austin real estate agent" or "buy houses Austin."
So including "Austin" and/or "Texas" in your website title can give you an edge over competitors who are not targeting these specific search terms.
9. Add real estate keywords to your real estate website.
– When you create a real estate website, be sure to add real estate keywords to the titles of your pages and in the metatags. You can also use these keywords in the text of your website.
10. Get links from other relevant sites that have high domain authority.
In order to rank higher in Google, a real estate website needs links from other websites. You can get these links by reaching out to bloggers and journalists who have written about real estate, and by including your link in guest posts on other real estate sites.
11. Use social media to promote your site.
A realtor needs real estate SEO if they want their realty website to rank higher in Google Search results, so it is important that you use social media to promote your website and share real estate content.
– You need realtor SEO if you want your real estate site to rank higher in Google Search results, so it is important that you add a real estate blog with great realty content to your realtors
There are several more real estate SEO strategies that a realtor can implement to get better search engine rankings.
When the realtor uses these, it will be easier for them to have higher search engine rankings and display more prominently in Google Maps.
Connect locally.
– Connect with other professionals in your area or niche through social media sites like Facebook or Twitter because this way you have an opportunity to build relationships and gain exposure while also sharing content across different platforms.
Collaborate locally.
– Collaborate with others by writing guest posts because it has been found that posts written from another author's point of view tend to perform well when they link back to your site.
Optimize for local SEO real estate in the real estate industry.
– Optimize real estate pages for Google Maps and local search results because these are prominently displayed in SERPs. By optimizing your website for Google, it also optimizes it for other search engines.
Use SCHEMA.
– Make use of schema markup on real estate website pages to show additional information about the property or agent, such as ratings, prices, addresses, etc.
Use video to highlight real estate listings and enhance your real estate SEO strategy.
– Use videos on real estate websites as they can be an engaging form of content that can help keep visitors on the page for longer periods of time.
Publish infographics for your real estate agency.
– Publish infographics with real estate data to attract attention from people who may not have been interested in real estate before.
Publish your content around the web to increase organic traffic.
– Syndicate blog content across different online channels like LinkedIn Pulse, Medium, and Quora to widen the reach and potential audience of your real estate blog.
Produce quality content on your website (a strategy recommended by most real estate SEO experts)
– Regularly update website content with fresh relevant information in order to keep visitors coming back for more.
12. SEO Audit and Analysis are essential for your website.
Carrying out an SEO audit is the first step to improving your website's search engine rankings. The audit helps you determine which pages are currently doing well and where there is room for improvement.
Without an audit, it can be difficult to gauge your progress and identify areas that need more attention.
The SEO audit process can be time-consuming, so it is important to set realistic expectations from the start. Keep in mind that the audit will serve as a benchmark for future progress.
Once the audit is complete, you will have a good idea of how your website is performing from an SEO standpoint. Are you ranking locally for your target keywords? Is your website getting organic traffic? These are some of the key questions that the audit will help to answer.
In order to improve your website's search engine rankings, it is important to focus on key areas such as-
site structure
page structure
content
links and usability
There is no "one size fits all" approach to SEO, so you will need to tailor your efforts depending on your website's unique needs. However, by focusing on the key areas mentioned above, you can make significant progress in terms of improving your search engine rankings.
13. Focus on optimization for mobile devices.
More than half of global internet traffic now comes from mobile devices. This means that if your website isn't optimized for mobile devices, you're losing out on a lot of potential visitors.
A responsive design will automatically adjust your website to fit any device's screen, so it's important to have this in place. In addition, make sure that your homepage, hosting speed, site navigation, and site search are all fast and working properly.
Page speed is important for a number of reasons one of which is that it can affect your search engine rankings.
Google has made it clear that the mobile-friendliness of a website is now a ranking factor. To determine how well your website performs on mobile devices, use the Mobile-Friendly Test tool.
This tool will tell you if your site passes the test and provides suggestions on how to improve its performance. Plus, make sure to minify your code and optimize your images for faster page loading speeds.
14. Create high-quality video content to drive massive traffic to your real estate website.
Video content is becoming an increasingly important part of SEO. Not only is it a great way to provide valuable information to your audience, but it can also help you rank higher in search engine results pages.
You can create video content yourself, or work with a professional videographer to produce high-quality videos. In order to maximize the impact of your videos, be sure to:
Launch and optimize a YouTube channel for your business
Upload new videos daily
Share your videos to your website & social media profiles
Rank the YouTube videos to increase organic visitors
15. Use structured data markup for real estate SEO
Structured data markup is a way of providing information to search engines so that they can better understand the content on a web page.
This is done by adding specific tags within the HTML code of a web page. When used correctly, this can help improve the visibility of a website in search engine results pages (SERP), as well as increase click-through rates (CTR).
There are various types of structured data markup, but for real estate businesses, two are particularly useful: Rich Snippets and Real Estate Listing Schema.
Rich snippets include extra information about a webpage such as an offer, product, place or residence. This extra information is then displayed in SERPs in the form of rich snippets.
Real Estate Listing Schema and Real Estate Agent Schema. Both of these schemas provide information about a property, such as the address, price, size, and description. It also includes details about the business itself, such as the name, contact information, and website.
16. Try to find and win featured snippets for more organic exposure.
Featured snippets are a valuable piece of real estate on SERP. It can increase traffic, attract users interested in offers and improve search ranking and conversion rates.
Real estate SEO is all about creating high-quality content that can be featured in the search engine results pages. This can be done by using question-focused heads and subheads, shorter paragraphs that could fit into a featured snippet section, H1-H2 tags, tables, lists, charts, images, etc.
You can create a Q&A (FAQs) section on your site to increase the chance of having it be displayed as a featured snippet.
You can continue reading to see the top FAQs regarding Real Estate SEO.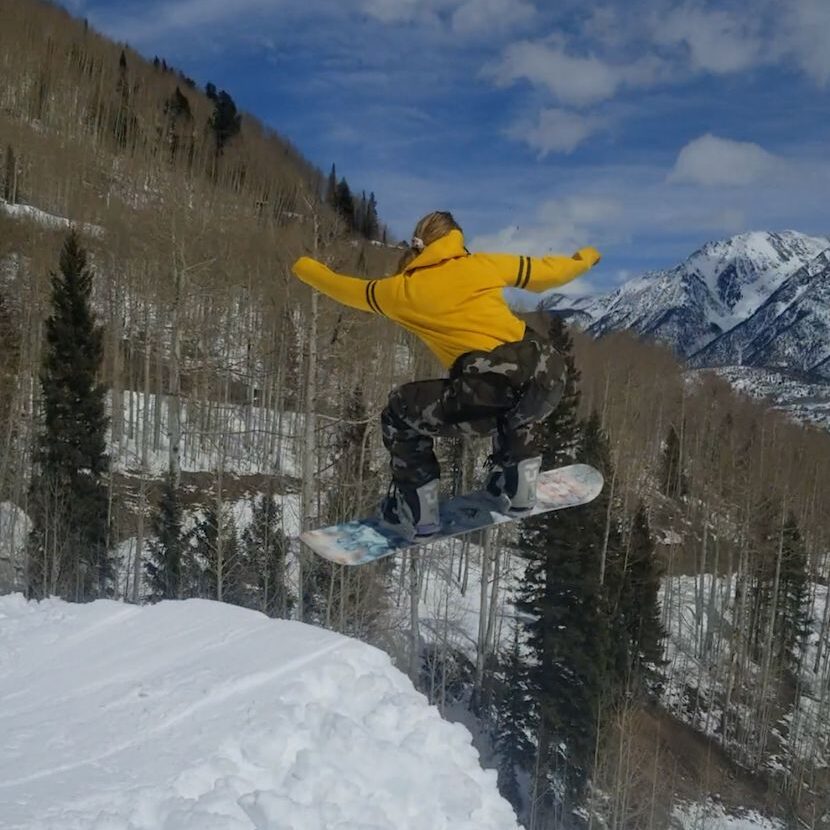 Elizabeth lives at Purgatory Ski Resort near Durango, CO, but you can often catch her in Utah or Jackson Hole. Her favorite activities are backcountry splitboarding, resort snowboarding, skydiving, and rock climbing. Elizabeth was born and raised in Texas until 2016. On a whim, she quit her job, packed her car, moved to Colorado, and started her company, Snowmad Digital. Since then, she's built out 3 camper vans and a teardrop trailer, traveled North America and abroad, became a licensed skydiver, fought fires, and taught herself to snowboard and rock climb. Oh, and she does marketing and SEO and all that fun online stuff, too.